1224. Chalk Mountain (07/18/20)

Hikers (21): Baltazar, Brad, Chinyet, David, Ellen, George, Hong, Jim, Karl, Mihail, Mikael, Pal, Peggy, Peter, Qi, Rich H, Rudi, Sandy F, Sophie, Susan CF, Yipeng
Distance: 21 miles
Rating: 4 difficulty, 9 beauty
Park info: Big Basin State Park near Santa Cruz

Write-up by Peter -- Pictures by Chinyet, Mikael, Pal, Peggy, Qi, Sophie, and Sue
It was nice and cool at the beach when we started the hike. Heat-lovers like Karl were grumbling, but I was happy as a pig in slop. I'd planned to make it a Level 3-ish hike with an optional side trip that added ~1300 feet elevation and a couple of extra miles near the end, but at the outset the vast majority told me they were going to take that option, so I upgraded the official hike to include that section in order to make it a Level 4. A couple of people told me they would likely not do that part, but it was OK since it was a spur of the moment decision. Let's go!
1, 2, 3, ... INCH!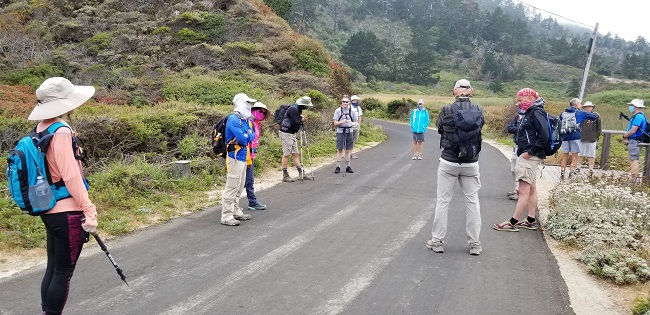 Waiting to get the hike started while observing social distancing. The virus does not stop INCH!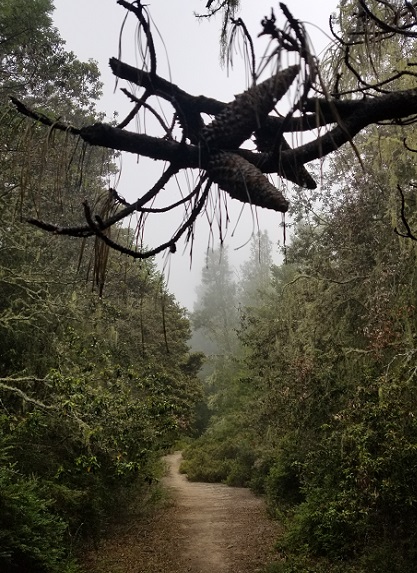 Nice gloomy start to the hike ... it had a Halloween feel to it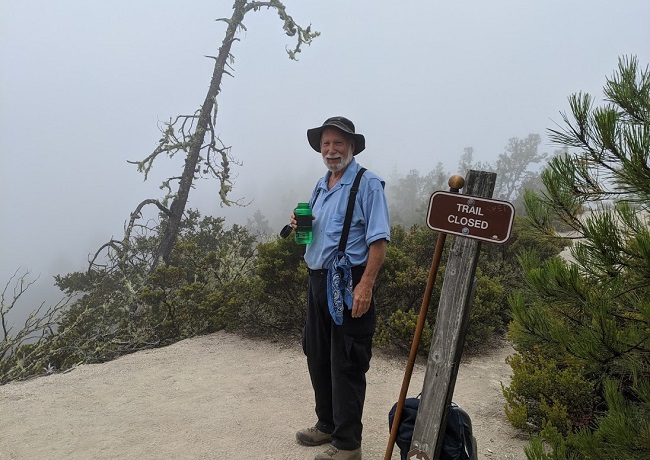 Sandy got an early start and was waiting for us at the top of the ridge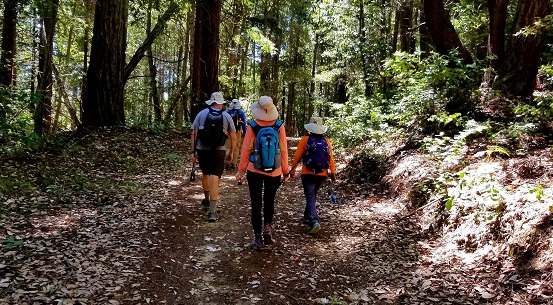 On to Chalk Mountain peak ... nice walk through the redwoods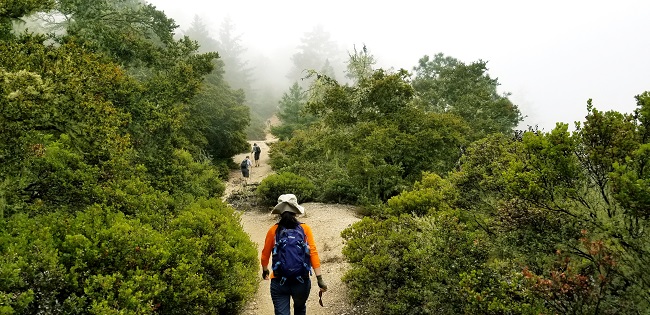 Almost there ...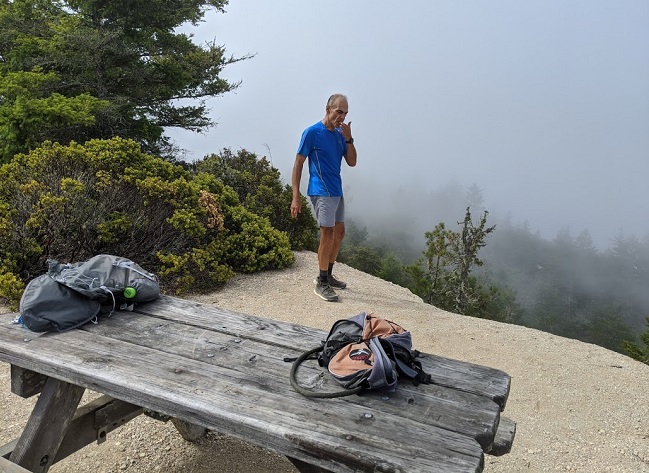 It was still foggy on the ocean side when the front-runners made it to the top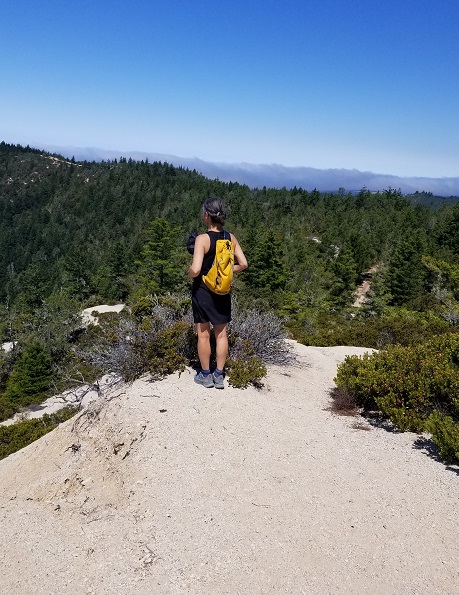 Susan enjoying the blue skies on the back side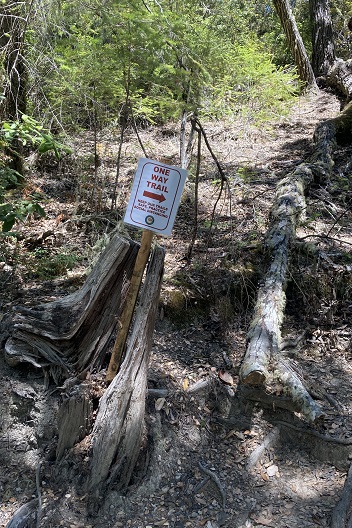 We found that the narrow trails around Berry Creek Falls were made one-way (of course we were going the wrong way)
Helpful arrows were disregarded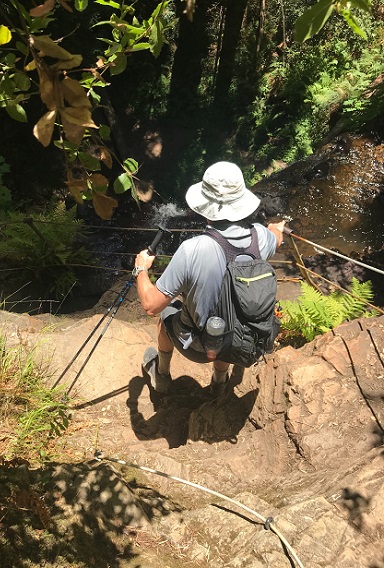 Holding on to the COVID-infested cables to go down the side of the falls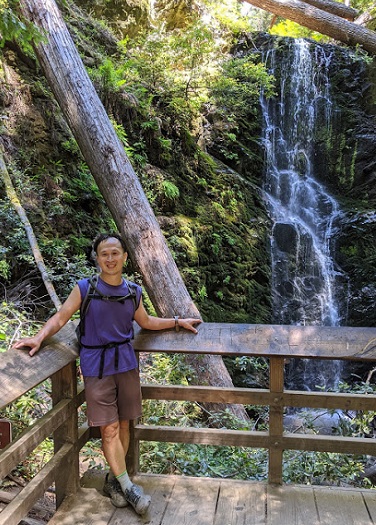 Chinyet looking good at the falls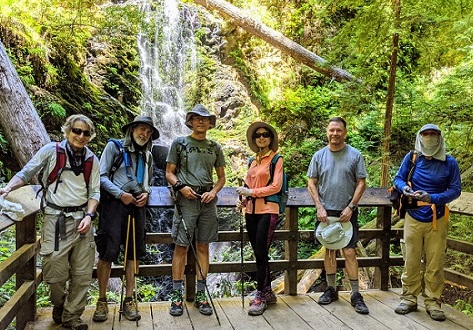 This was the first INCH hike for Rich (far left) -- he used to run track with Karl 40 years ago and now works at Intel with Peter and Steve!
Baltazar is looking good with the beard -- I didn't recognize him at first.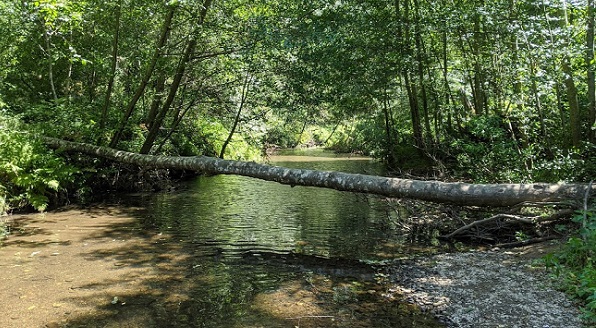 Waddell Creek looked nice ... I was tempted to walk through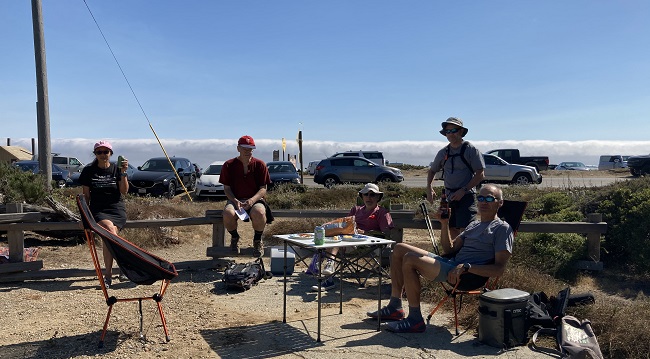 The virus does not stop the hike or, more importantly, the party!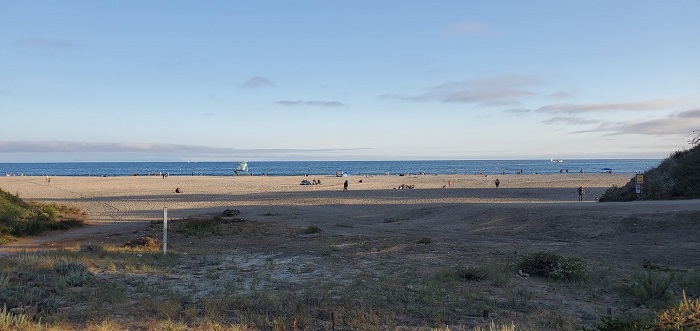 A beautiful afternoon on a California beach -- what more could you ask for?
The last few flat miles along Waddell Creek took forever. Each time a group of cyclists went past me they kicked up more dust. If the virus doesn't kill your lungs, the trail dust will! I finally reached the end of the trail, where a few of the die-hards (Mihail) were still partying. Sophie gave me a nicely chilled Boont Amber to cool my insides, and then I went across the road and took a plunge in the ice cold Pacific to cool off my outsides and wash all the dust off. Aaaaaaahhhh!!! (yes, there was major shrinkage afterwards, but that's TMI)
Milestones:
Brad's 270th leaf
Mikael's 30th leaf
Pal's 50th leaf
Peggy's 40th leaf
Rich H's 1st leaf







Pages maintained by Steve Walstra, Peter Saviz, and Russell Gee.
©2023 Intrepid Northern California Hikers