1226. Tinker Knob (08/08/20)

Hikers (20): Bjorn, Chinyet, Dong, Fred F, George, Giulia, Iris F, Jarda, Jeff, Jim, Jolly, Kendra, Mihail, Milon, Nohemi, Rainer, Sabine, Sophie, Steve, Susan S
Distance: 18 miles
Rating: 4 difficulty, 9 beauty
Park info: Granite Chief Wilderness near Truckee

Write-up by Steve -- Pictures by Giulia, Jolly, Iris F, Milon, George, Chinyet, Susan, Sophie, Rainer, Jarda, Don and Steve
Despite the long drive and CoViD-y conditions, 21 hikers showed up for a fun 5-peak route.
The lower parking lot was full when I arrived, so headed up to the higher lot. Although I was plenty early, it's a popular spot already, and INCH took up a good chunk of slots. There were still many spots to park higher up, and more along the road if needed, in the vicinity of the Summit Haus.
When I walked down to the trailhead, Sandy F was handing out freshly picked tomatoes, much to everyone's delight. Some non-INCH hikers got a few as well. Five minutes later, they returned with a surprise cold beer as a barter offering. Sandy doesn't drink, and didn't have any cold storage, so I enjoyed a beer at 8am. Definitely a record for earliest beer. Now that I know one can trade tomatoes for beer, gardening makes sense.
Because there were no good maps for the area with readable text, I only sent a route. Most people use routes on their phones anyway, so it was mostly welcome. To make sure everyone was on the same page, I quizzed what the peaks were in order. "Donner, Judah, Anderson, Tinker, and Lincoln" "Lincoln last", I alliteratively highlighted, "It might be hot near the end, we'll probably be spread out, and your motivation may be lower. So take a picture at the summit so I know you were there. There is a little hut with the elevation on it. . ."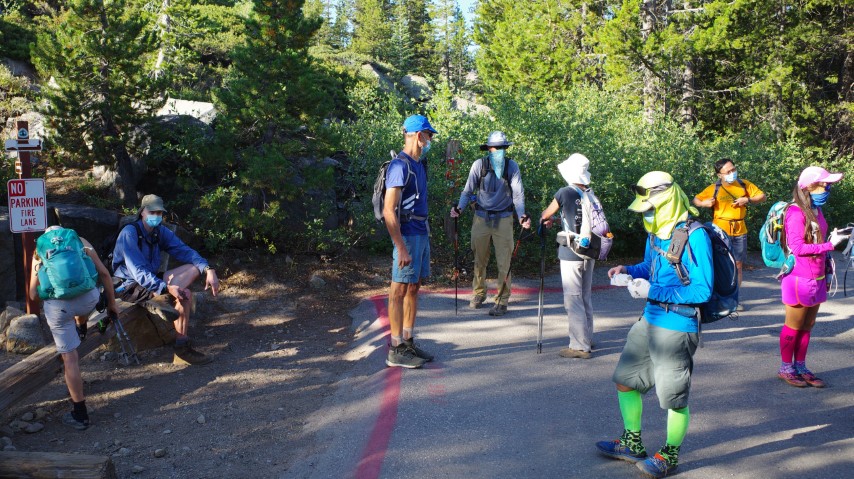 Awaiting the start
Jolly and Fred F were missing at the start.
1-2-3 INCH!
The trails up to the saddle between Donner and Judah were easier to find than I had feared. Of the whole hike, this first section was the only place I thought anyone could really get lost. . .so held up the front runners for a little bit at a sharp turn to make sure we could still see everyone behind. We proceeded to the pass between Donner and Judah, and head off to Donner Peak summit. We signed the giant register there, but could tell there was a higher point. Mihail kept looking at the shortest-path crack that went up to the higher area. Iris F looped around the back and found an easy route, and soon half of us were up there, touching the official USGS marker. Everyone else, however, was satisfied with the "tourist summit", resulting in a large group of INCHers now ahead of me.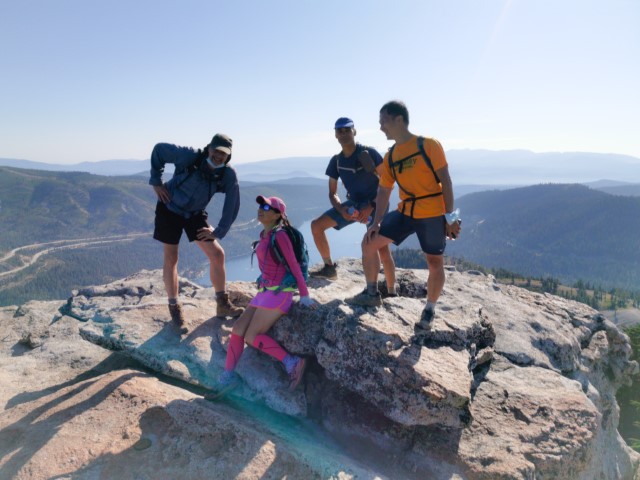 True Donner Peak summit with Donner Lake in the background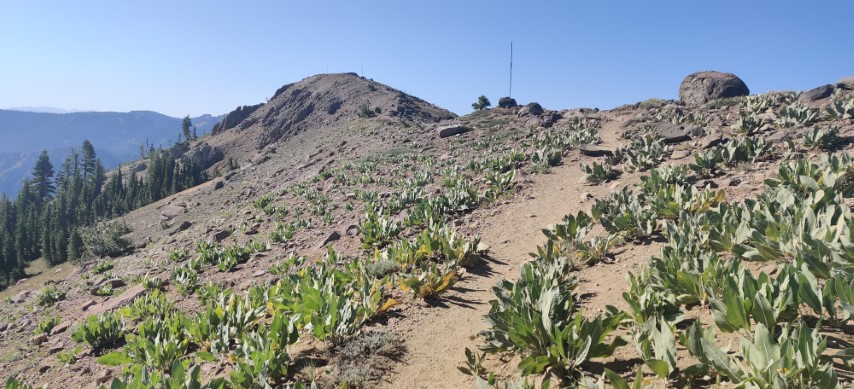 Approaching Mt Judah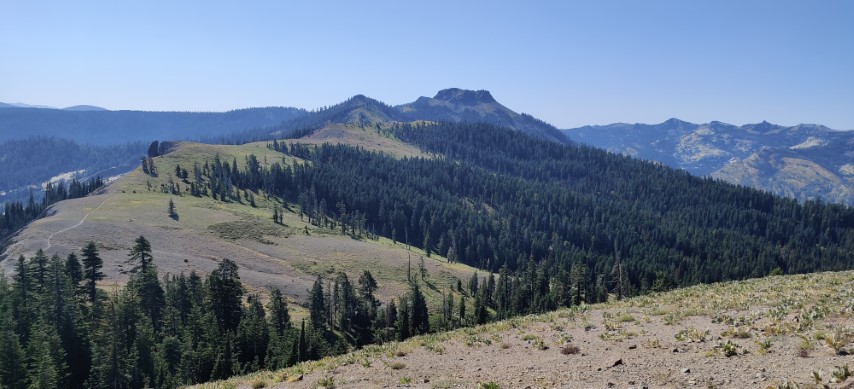 View of Anderson Peak from Judah
I did a geocache off the beaten path and got even farther behind, so when I reached the Pacific Crest Trail (PCT), I was dismayed to see a line of INCHers heading up Mt. Lincoln. What part of "Lincoln Last" was lost on them? Oh well, could see a few INCHers going to the correct way in the distance.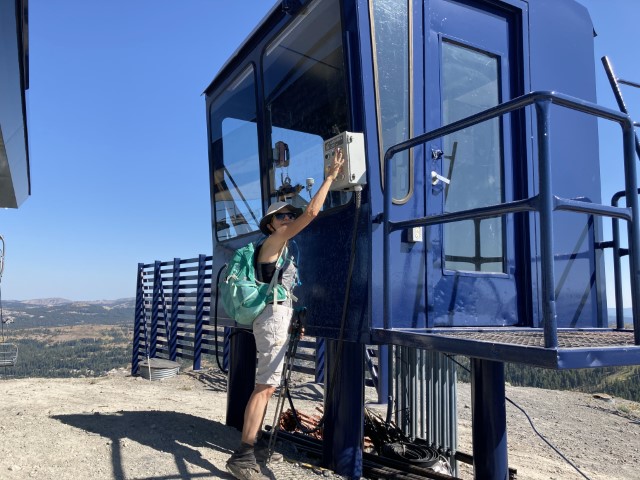 Sophie, at the Mt. Lincoln ski lift, trying to take the easy way down
There is a valley before Mt. Anderson, so down, down, down I went and then up the other side. Passed two people who turned out to be Jolly and Fred F. I found it unlikely they could be so far ahead since they weren't at the start, and indeed, they had skipped Donner and Judah, and planned to hit them on the way back.
As I approached the Benson Hut junction, which is the way to Mt. Anderson, I saw a steep trail heading up a rock spine. There were branches along the start of the trail suggesting this was not the trail, but I figured it was because the hut was closed. It did lead to the hut, but the correct junction was several hundred feet up the original trail, signed, shadier, and gentler. Oh well.
I was happy on the approach to Benson Hut because I could see at least one cut along the talus field that had to be a trail. I couldn't find it after I started out from Benson Hut, but eventually noticed it above me, and once I got on it, things moved quickly.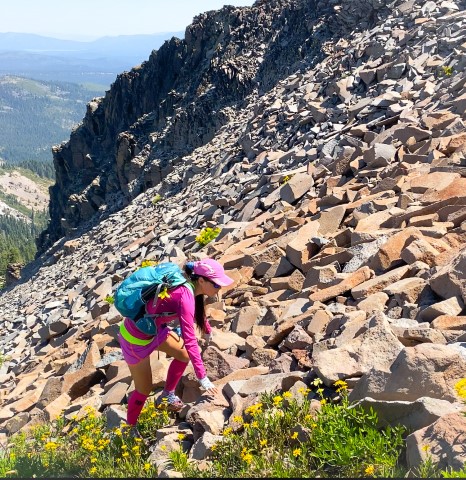 Iris F asked why we don't do more hikes like this Anderson route
It got a little steeper toward the top, and I caught up with Susan S. She was 30 feet to my left. There was no trail anymore, but we were close to the top, and it wasn't too bad. We could see Nohemi, Mihail, and Bjorn peering down from the top. But Susan wasn't liking the loose scree and didn't seem to think my route looked better, so turned back. I delivered the surprise news to the folks on Anderson Peak. She was close enough that I gave her credit anyway.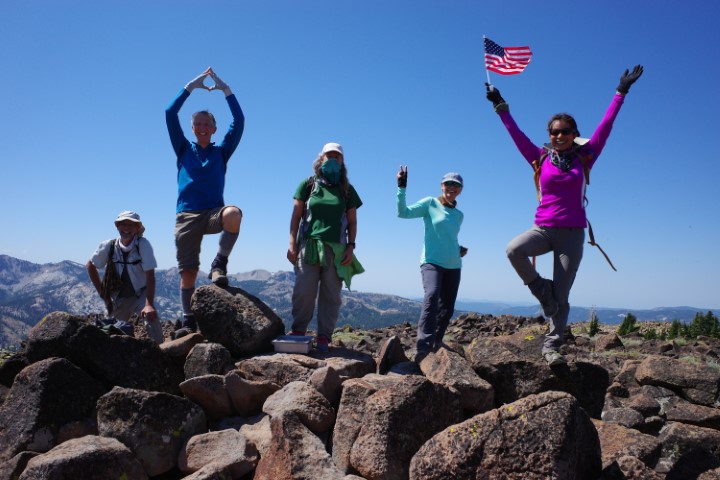 Anderson Peak summit a little later in the day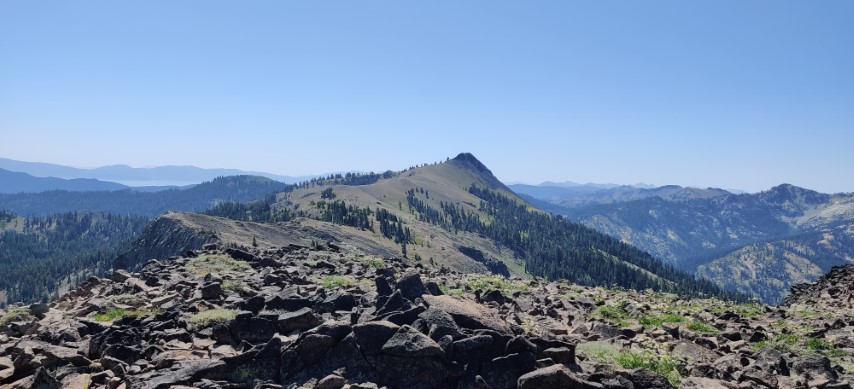 Tinker Knob from Anderson Peak--the next target
Approaching Tinker Knob looks like it will be Class 3, but there are obvious use trails as you approach which make it a piece of cake. The front-running, non-Lincoln INCHers were hanging out at the summit as I came up. Chilled out for a few minutes and then went to find a geocache 70 yards downhill from the summit that hadn't been found in three years. When I got back, everyone was gone. Snapped some pics and headed down, where I found an even easier route. Ran into George and assured him it was easier than it looked.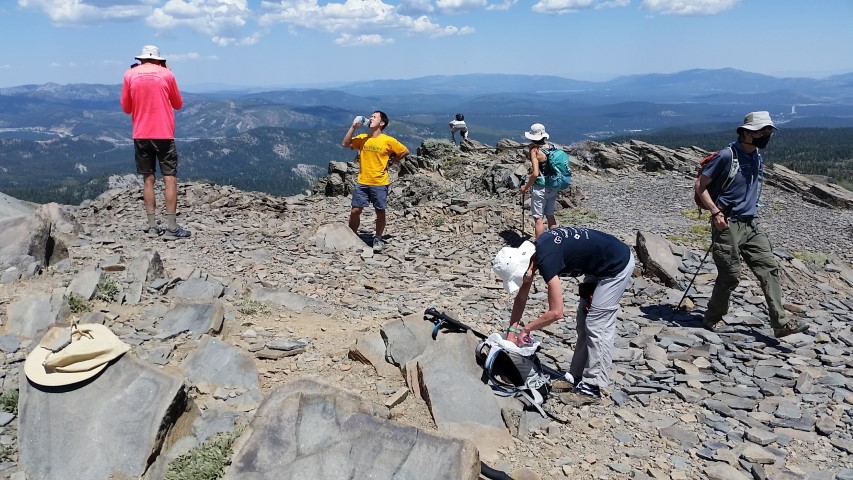 Tinker Knob a little later in the day

Lake Tahoe from Tinker Knob

Granite Chief, Needle Peak, and Lyon Peak (L to R) from Tinker Knob.
We did those in 2015.
Ran into lots of other INCHers on the way back. Caught Sophie, Jeff, Chinyet, and Rainer just as they reached the PCT from Mt. Anderson, so traded notes. Also ran into Iris F and Dong, who I chastised for doing Mt. Lincoln first. Iris F said "We'll do it again!" I said that definitely wasn't necessary. . .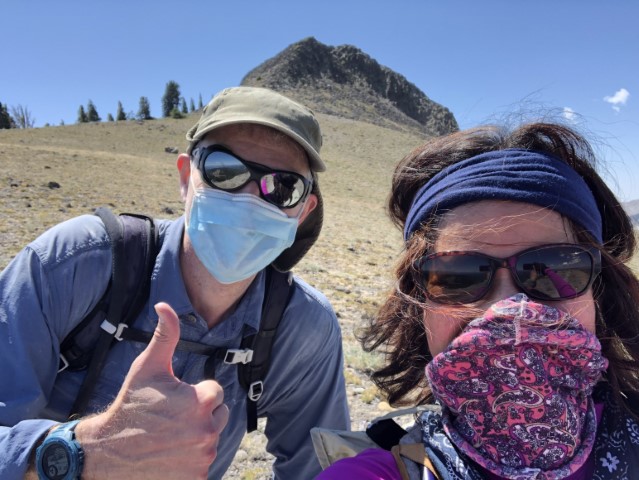 Jolly is always taking pictures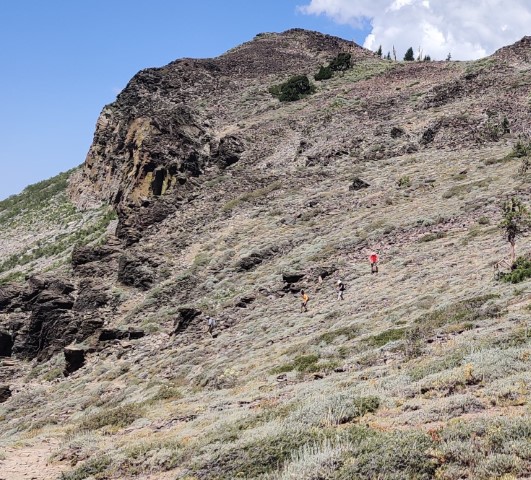 Milon, Chinyet, Giulia, and Jeff (L to R) coming down the shallow route from Anderson Peak
As I made my way back, it was definitely heating up. Fortunately, the clouds came out just as I headed up the steep unmarked trail to Mt. Lincoln. Took a picture of the sign I had mentioned in the morning. It blends in really well with the hut.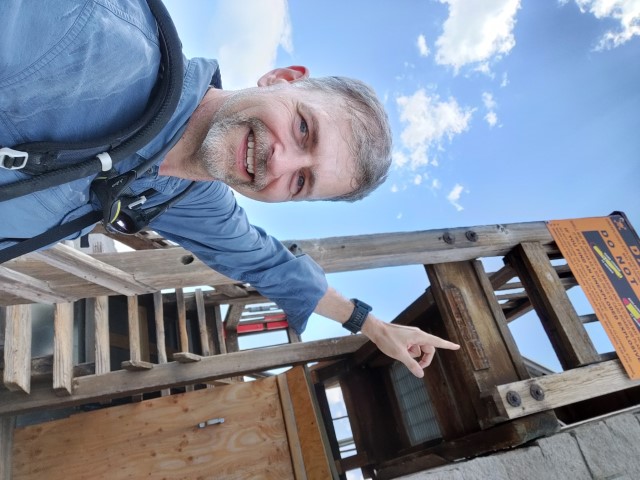 There really is a sign on Mt Lincoln--it says "Mt. Lincon 8383"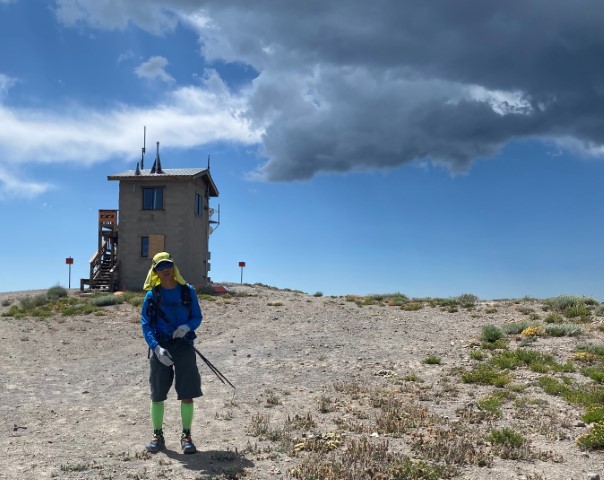 Dong and Iris F did go back and do Lincoln again! Check out those clouds.
Ran into Jarda and Kendra as I came back from a geocache near the summit. On the way down, ran into Sandy F. He had turned back near Anderson Peak, and was coming up the "wrong" way to Mt. Lincoln (relative to the original route), but that didn't matter because he wasn't getting a leaf anyway. He got in a good amount of hiking for the day, and was happy for it. Recommended that he take the PCT back after bagging the summit, as he might not find the Lake Mary trail connection without a GPS.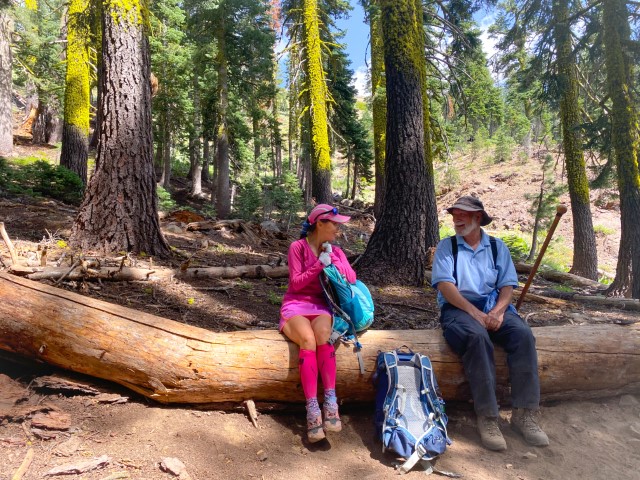 Iris F and Sandy F--no relation--enjoying the shade
But the day wasn't over yet. Lake Mary Road crosses the PCT. It used to connect to the lower segment of Lake Mary Road as a continuous road, but was closed long ago. A trail still exists on the maps, so made that the official route. I did tell people they didn't need to take it. . .
I could see Bjorn, Nohemi, and Susan S a bit ahead of me, and it looked like that had missed the junction, but wasn't sure and they were too far away to yell. There was a group of people standing right at the junction as well. I was thinking they had come up from the way I was heading down, but they were just enjoying the shade. While there was a cairn marking the junction, the trail was fairly faint for an old road. Figured Bjorn et al. would hit Sugar Bowl Road and return on the other side of Lake Mary (which they did).
The old road was mostly a creek bed. It worked out fine, and lots of INCHers took it by the end of the day, but it appeared much less used than I would have expected for something near a popular location that was once a road. The trail eventually dumped out on Lake Mary Road. Turns out this is a private road, which is probably why this trail gets less use. As I reached the end of the road, saw Mihail sitting right at the gate and directly across from the parking lot--so the route worked perfectly.
Headed back up to my car. The Summit Haus was now open, with large outdoor seating, and serving German sausages and beer. Soon other INCHers showed up, and traded stories. INCH asked permission to bring in outside food/drinks, which was granted--what a great venue. Turns out this was because they were shutting down in 30 minutes anyway! Eventually we had the whole place to ourselves. Giulia brought an Italian imperial stout named Spaghetti Western, which was entertaining from many angles.
Later that night, several of us crossed paths at the Old Town Tap in Truckee. Lots of outdoor seating made for a surprisingly crowded-yet-distanced venue. Truckee definitely figured out how to keep their summer tourist season working.
Milestones:
Giulia's 170th leaf
Nohemi's 10th leaf
Sabine's 270th leaf







Pages maintained by Steve Walstra, Peter Saviz, and Russell Gee.
©2022 Intrepid Northern California Hikers