1261. Las Trampas Loop (08/28/21)

Hikers (12): Bjorn, Brad, Christina, Giulia, Jarda, Jim, Kathryn, Milon, Peter, Shuli, Sophie, Yipeng
Distance: 15 miles
Rating: 4 difficulty, 8 beauty
Park info: Las Trampas Regional Wilderness near San Ramon

Write-up by Peter
There were bad air quality and high heat warnings all week. I really should have scheduled a hike closer to the coast, but that would have been un-INCH like. 30 people had signed up as of Friday, but on the morning of the hike, it dropped down to 17. There are 11 smart people and two smart dogs out there somewhere.
Giulia, Sophie, and Milon started early to help beat the heat. In retrospect, I should have started the hike earlier (many "should have's" on this hike). No time to waste -- let's get going!
1, 2, 3 ... INCH!
It was definitely warm and the air was hazy at the start, but it was nowhere near as bad as Mt. Diablo last year. A group of 5 front-runners took a wrong turn about half a mile in to the hike and had to a little back-tracking. At least they got the "getting lost" part over with quickly.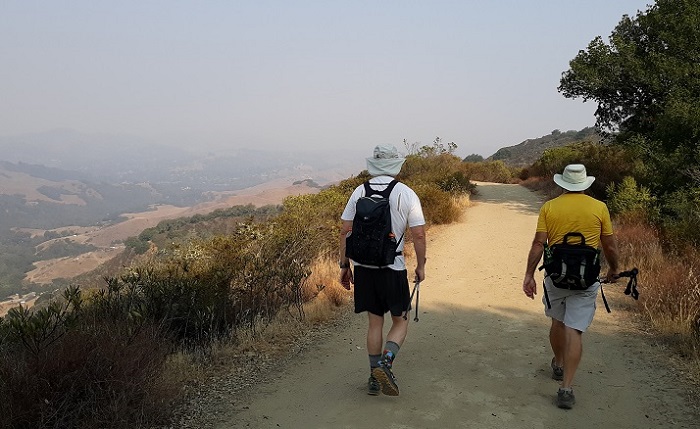 Aaaaah!! Breathe in that fresh morning air!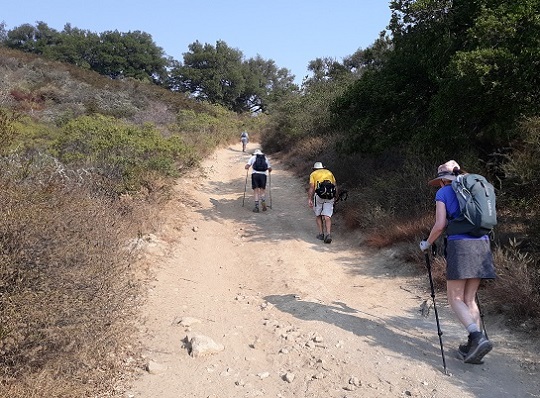 Huffing and puffing up to Las Trampas Peak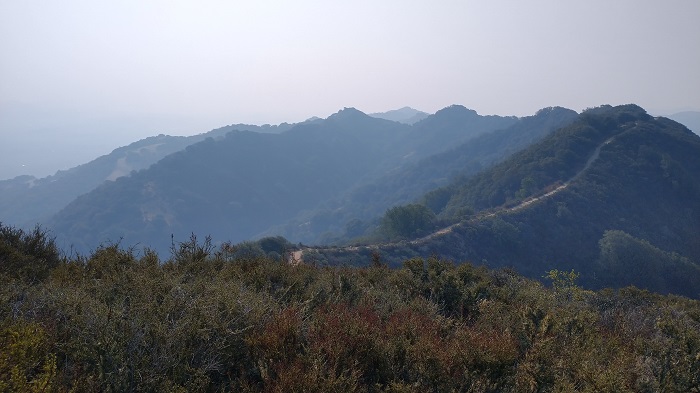 Looking back at the Blue Smokey Mountains
The front half of the hike was fairly uneventful. The group was in good spirits going up to Las Trampas Peak and back down. I ran into Sandy on my way down from the peak and he told me that he was going to cut the hike short -- he's a wise man.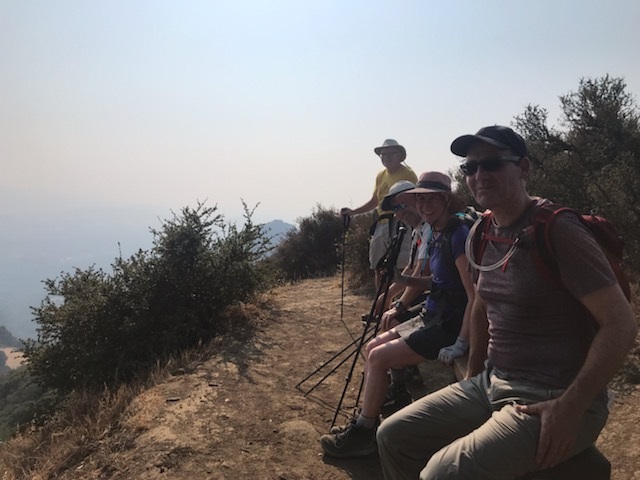 Sitting at the Eagle Peak bench under apocalyptic skies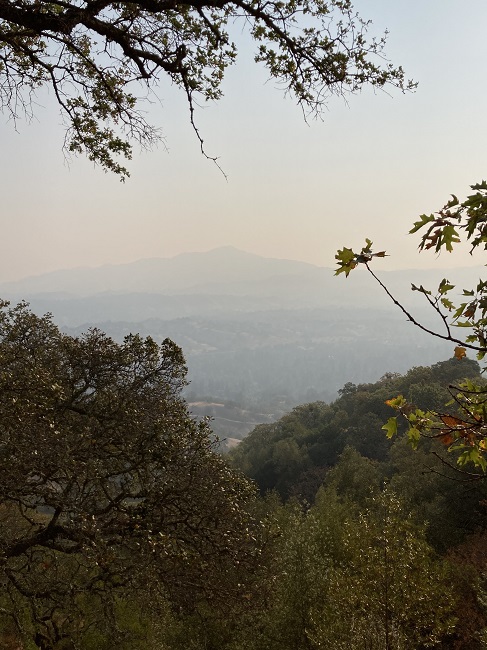 Mt. Diablo was barely visible through the haze
I hiked with Kevin, Arlene, and Arthur most of the way. We had a brief stop at the tree where a group of us got chased by a bull almost 20 years ago and I recounted the incident. The bull gets bigger and meaner each time I retell the story. Good times!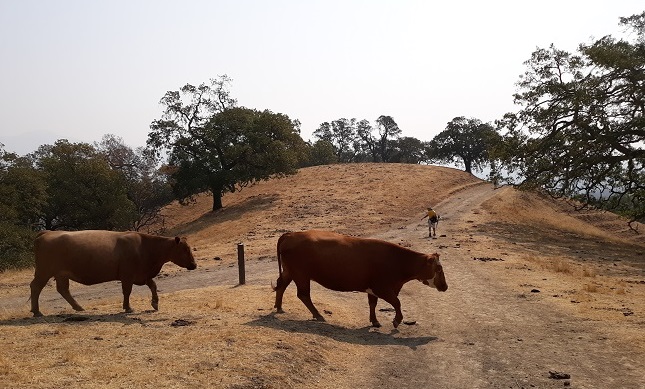 Kevin encounters some of the famous cows of Las Trampas
Speaking of cows, one of the young calves tracked me all the way from the bottom of the hill to near the start of the Virgil Williams Trail. Sandy had told me that he got run over by a cow on last week's hike so I was on high alert. She finally meandered off to join her buddies, so I stopped for a little break. As I was about to get going, Christina came bopping along -- she'd told me she would start early, but ended up starting late. No matter -- it's all easy for Christina. She asked me if I was going to do the whole hike. At this point, I was still feeling pretty good, so I told her to pass the word on to the front-runners that we were going to do the whole thing. No audible!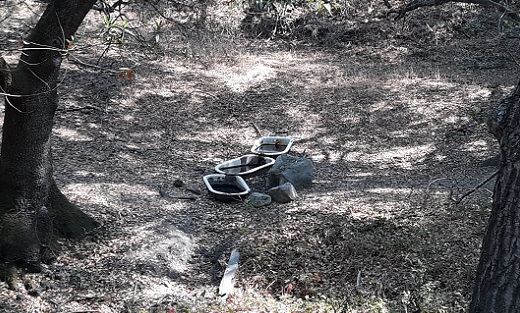 The only water on the trail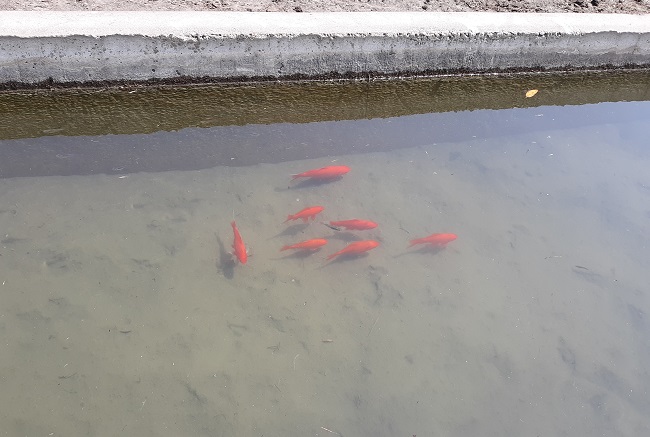 At least someone is staying well-hydrated
Then the Del Amigo Trail hit us! As Karl is prone to say, "Del Amigo is no friend of mine." Arthur looked a little over-whelmed at the start ("Not a good visual" were his exact words), but we tried to convince him that it was not a big deal and it would be over before he knew it. The climb began ... it was about 11am, and the weather was heating up. I slogged up the hill. As I approached the top, I could see Kevin up ahead hunched over. Del Amigo is no friend of anyone's! I kept grinding along, past Sulphur Springs, Trapline, and Mahogany. I knew there was a nice spot under a shady tree before the drop back down to the road, and I had planned on that as my lunch spot, but when I got there, I saw Yipeng had stolen my seat :)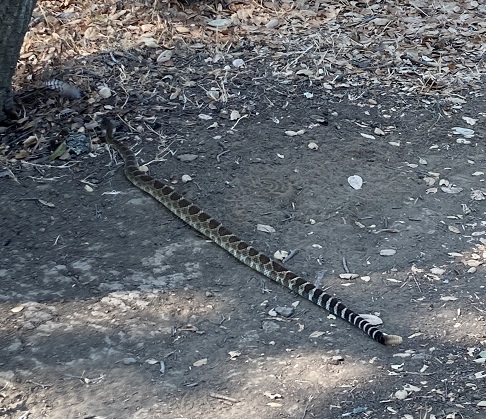 I wish he'd bitten me so I had an excuse to cut the hike short
We sat there for a few minutes catching our breath while waiting for Kevin to roll in. I was badly in need of food at this point as I was starting to run low on energy but I could not bring myself to eat. Yipeng and I were not sure if we'd be able to continue. She pulled out her GPS and we started doing the math ... "1600 more feet of elevation to go, that's about the same as Mission Peak". Kevin decided that he'd had enough and was going to call it day, which was good news for Yipeng because she was running low on water, so Kevin gave her his supply. After some recovery time, I assured Yipeng that I was going to continue -- at least as far as the top of the Rocky Ridge -- so she headed out.
I rested a little longer, finally able to put down some food and gather myself. I figured Kevin, Arlene, Arthur, and Sandy would cut the hike short, so I would be bringing up the rear. It was warming up fast, so I pushed myself to get going. I crossed the road and reluctantly started up the Elderberry Trail. Fortunately, there was good shade and the incline was pretty gentle, so I started feeling better about things. But it didn't last long. I started to drag up the final exposed stretch to the top. I plopped down on the bench at the top of the trail under the blazing 2pm sun (by the way, it's about 20 yards off trail and I really had to debate if I was willing to walk those extra yards). The other bad news is that when you get to the top of Elderberry, you're not really at the top of the ridge. You still have a few more climbs to do. Ugh!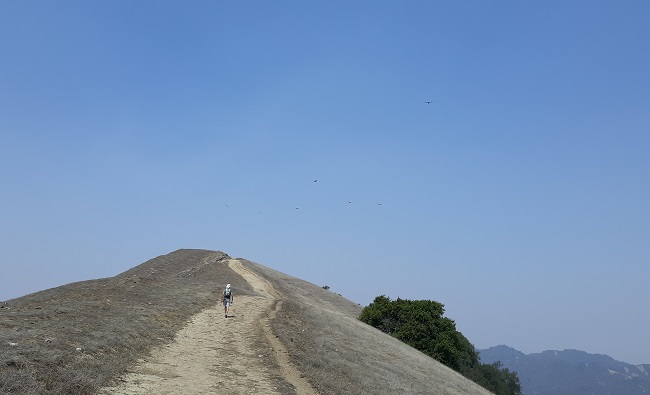 Jim makes it to the top of the ridge with vultures (actually hawks) circling overhead
I really wanted to cut out the Devil's Hole and just walk along the top of the ridge and then cut back down to the car. But I had promised Christina and Yipeng that I would go through with it. I did a check on my water supply. I had iced a few bottles the night before, so I was in reasonable shape. I had no excuses. I had to go down to The Hole.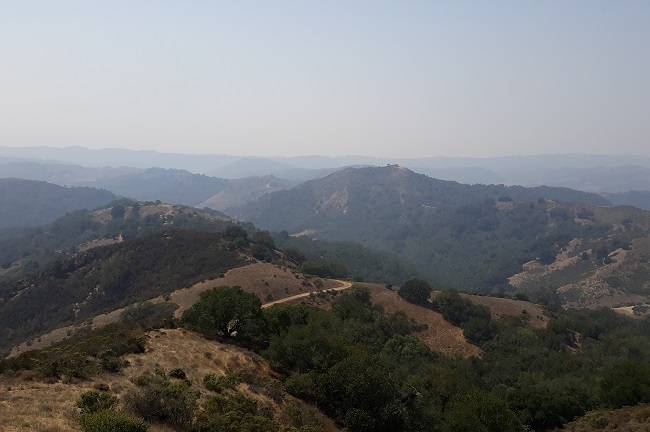 It's a long way down to The Hole -- and back
As I stumbled down towards The Hole, I could see someone in an orange top coming up the Sycamore Trail. I knew it was either Christina or Yipeng -- probably Christina, because Yipeng had not started out too far ahead of me. I hoped she would look back and see me so that she knew that I had kept my word, but I'm not sure if she did. I had to stop under some shady trees about halfway down. I was starting to feel light-headed, so I threw off my backpack and lay down in the dirt. I thought about turning around and going back up Devil's Hole Trail, but that was no picnic either. Damn! I kept going down the steep trail.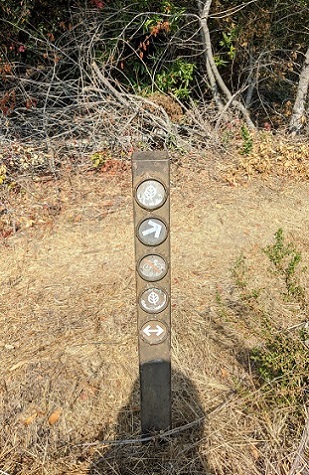 Giulia offering proof that she made it to The Hole
Finally at Devil's Hole, I threw my pack off again and rested in the bushes. I think it was poison oak, but at this point, that was the least of my worries. If Yipeng's calculations were right, I had about 800 feet of elevation to go. That's about two-thirds of the Sizer climb. I figured I would break it up into four 200-foot sections and take it one piece at a time. I started up the trail. The heat was oppressive. I wasn't sure I could even make the first 200 feet without a rest in between. I kept trying to think about other things in order to distract myself from the misery.
My plan was working. There were a few big sycamores providing well-needed shade along the trail. I just had to get from one to the next, and then stop for a break. I had been well-schooled at the hands of Professor Coe, most recently a few weeks ago. I kept grinding along, but in the back of mind I remembered that Karl and I had taken a wrong turn on this trail not too long ago. I could not afford to make the same mistake on this day. Fortunately, I stayed on course and the top of the ridge finally came into view. Whew! It was clear sailing from this point. I sat in the shade one last time and opened up my last bottle of water -- I knew there was no more shade after this, but I really needed to drink a few big gulps. The hawks were circling overhead. Sorry boys -- I'm making it out alive today!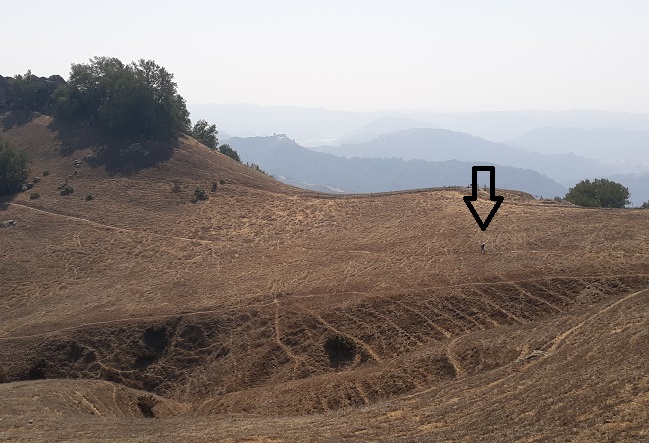 Jim coming up the final stretch on the Sycamore Trail
Almost 4pm. The final stretch! With renewed energy, I pushed my way up the ridge and looked down the other side. Yessss! It was all downhill from here. I took my final sips of water and started stumbling down the trail. I could see the parking lot. So close, and yet so far. After an eternity, I finally made it to the paved road. There were a few cows hanging around, but I was in no mood to slow down or to do extra distance walking around them. I just walked through the middle and didn't look back. Don't mess with an angry hiker!
Finally back at the car, I collapsed into a chair, barely able to speak. Sophie kept offering me beer and food, but I knew I wouldn't be able to hold anything down. I was able to take a few sips of water, and eventually started to feel a little more normal. Yipeng told me her watch had measured 105 degrees in the sun. I believe it. I lost 7 lbs on the day and slept for 12 solid hours that night. It was definitely 4-worthy, if not 5-worthy, based on the 4500+ feet elevation gain, heat, and lack of oxygen. Las Trampas (LT!) sacked me again!
Shuli's comment: This was another near-death march. I ran out of water while dragging myself out from Devil's Hole. My right thigh still has not recovered yet from yesterday's cramp. My leg also got bit by a jumping stick on the trail. Besides, lung damage from vigorously hiking in the smoke is still under investigation. This hike gave me more injuries than Hunting Hollow to Dowdy's death march.
Also ... Thanks to Sandy for the great peaches and tomatoes (was there also a melon?). Unfortunately, I got back late and was not in good physical or mental state after the hike, so I could not enjoy them ... (Dis)honorable Mention to Arlene, Arthur, Kevin, and Sandy for only doing the half-loop on the east side of the park, and to Steve for bypassing the brutal climb down and back from Devil's Hole in hot afternoon sun -- he gambled I would call an audible to skip that portion and lost!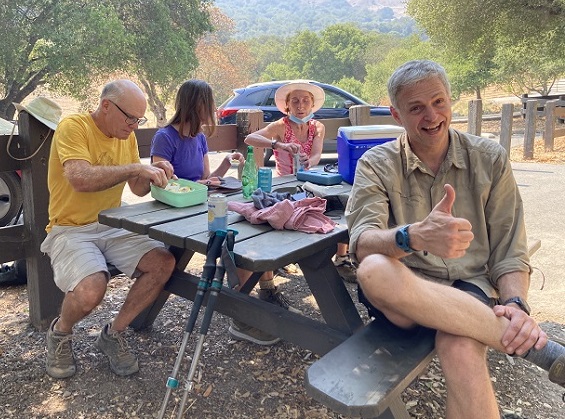 Short-cutters and early starters were happy that they got done early
Milestones:
Kathryn's 270th leaf
Yipeng's 210th leaf







Pages maintained by Steve Walstra, Peter Saviz, and Russell Gee.
©2022 Intrepid Northern California Hikers