1284. Pacheco Falls (02/05/22)

Hikers (22): Arlene, Arush, Bjorn, Brad, Buzz, Crystal, David A, George, Giulia, Hong, Jim, Kevin, Manfred, Mihail, Milon, Nagendra, Peter, Qi, Shuli, Sophie, Steve, Yipeng
Distance: 22 miles
Rating: 5 difficulty, 8 beauty
Park info: Henry Coe State Park east of Morgan Hill

Write-up by Peter -- Pictures by Crystal, George, Giulia, Hong, Jim, Milon, Nagendra, Qi, Shuli, Sophie, Yipeng, and Peter
This was likely going to be my last INCH hike out of Hunting Hollow, so I was hoping it would be memorable. I definitely had to start it off with the classic climb up Steer Ridge. A few stragglers were running late, but the freezing folks in the parking lot could not wait any longer.
1, 2, 3, ... INCH!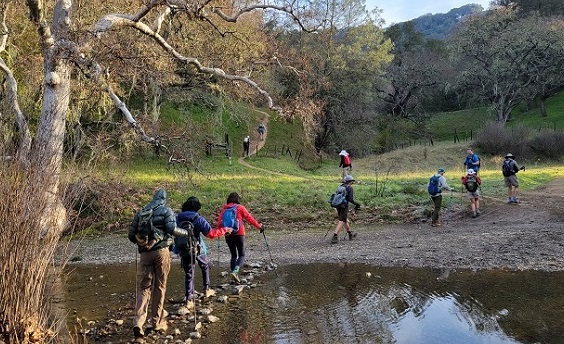 Stream crossing to start things off on a chilly morning (32 degrees in the parking lot)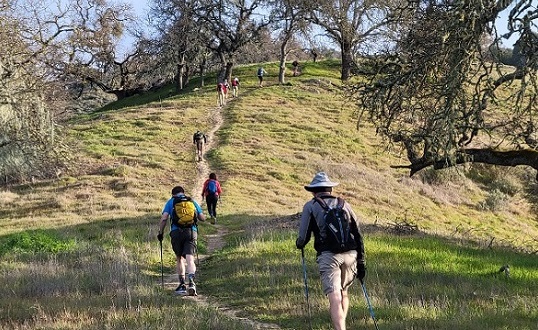 As usual, we began to warm up fast going up Steer Ridge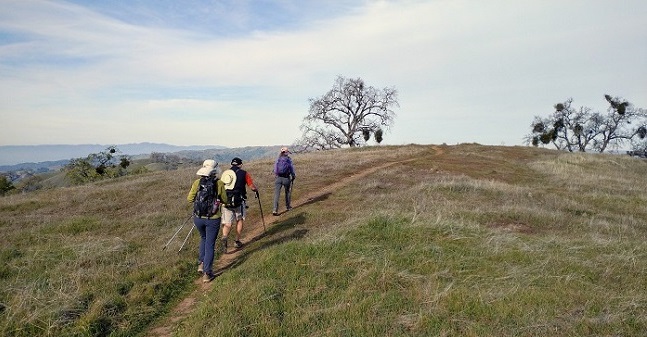 Late-comers approaching the top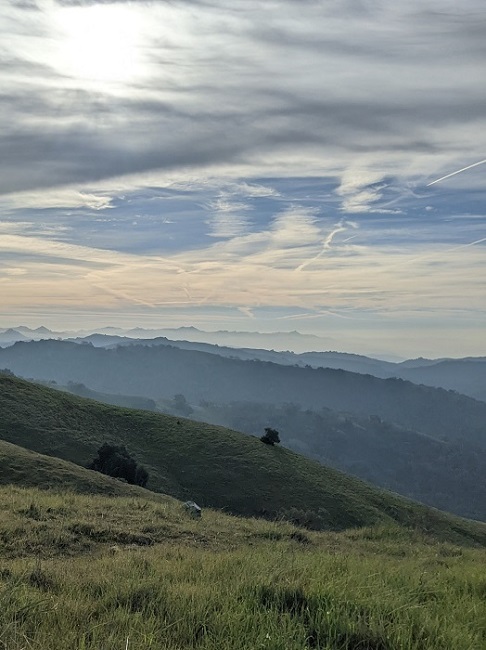 Nice early morning views all around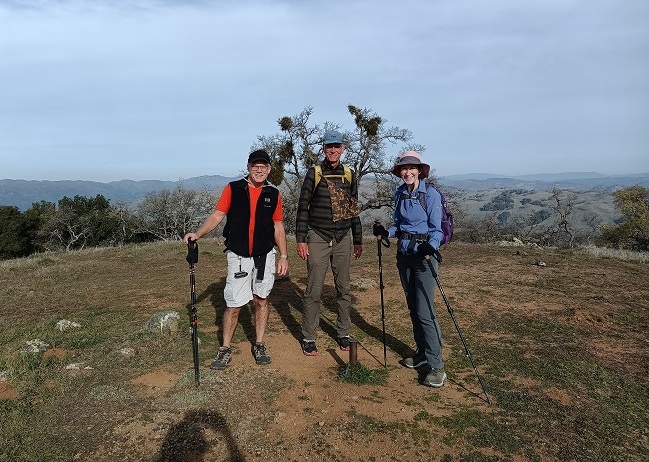 All smiles at Willson Peak (the worst climb of the day is over!)
I fell behind the pack pretty quickly. That's OK -- I was not a big rush to finish my last hike out of HH. Crystal caught up to me on the approach to Willson Peak -- it was her first time there. After a quick second to enjoy the view, she took off. At this point, I knew I would likely be hiking solo most of the day, so I took my sweet time to look around and savor the moment before heading down the hill. About halfway down to Grizzly Gulch, Crystal caught up to me again! She had taken a wrong turn and gone down Serpentine before turning around. Good thing she's a fast hiker, because she takes a lot of wrong turns!
David A passed me as I was ambling along the Gulch. After this, I did not see anyone else for a while. As I approached the start of the climb up Dexter, I could see Yipeng up ahead. I don't remember the last time we climbed up Dexter, but it had been a while. I definitely prefer going up to coming down. As I approached the top, something caught my eye off to the side of the trail. I took a small use trail to the right and came across a bunch of animal bones -- I originally thought it was a deer, but later learned that it was the remains of one of the wild pigs that has been tearing up the park. Good riddance!
Remains of a mountain lion feast on wild pig near the top of the Dexter Trail
From here, it was a quick downhill to Kelly Lake -- another trail that we almost always take going the other way. I stopped at the lake to enjoy the view and have a snack. At this point, Arlene, Kevin, and Nagendra caught up to me. All who had signed up were now accounted for.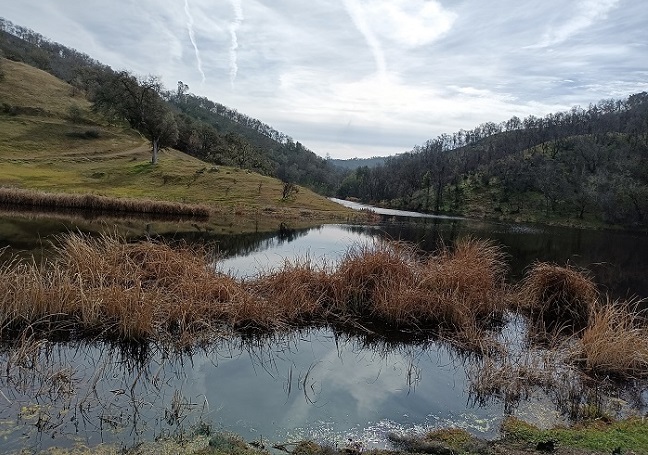 Kelly Lake was looking good thanks to all the December rains
Rejuvenated after my little break, I picked up the pace to Coit Lake and began the little adventure around the east bank. Like some of the aforementioned trails, I had done this in reverse last time, so it did not look all that familiar. I knew the connector trail that would lead up to the top of the eastern ridge was nearby, but I turned too soon and ended up bushwacking my way to the top of the ridge. A few scratches later, I emerged onto the Dam Trail, but then missed the second connector to Wagon Road and ended up overshooting and adding about a half mile to the hike. Oh well ...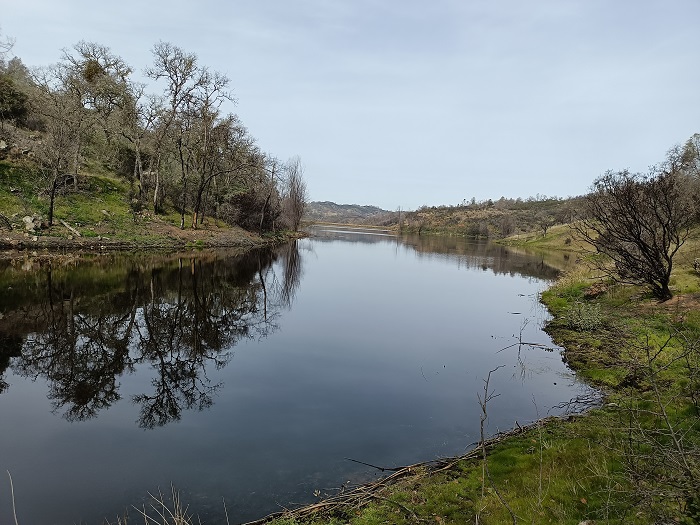 So was Coit Lake -- much better than last time we were here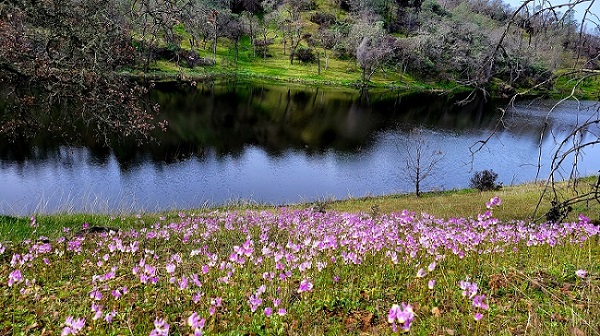 California dreamin' on such a winter's day!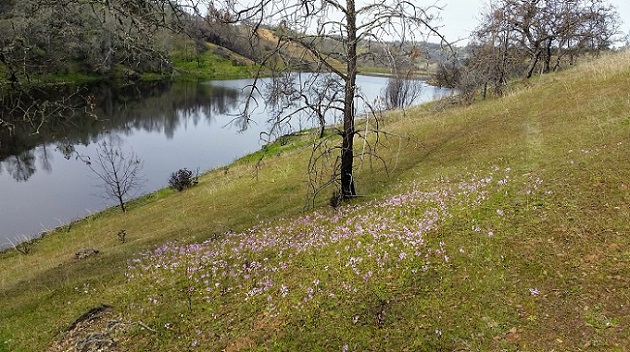 A little easy off-trail around the lake ...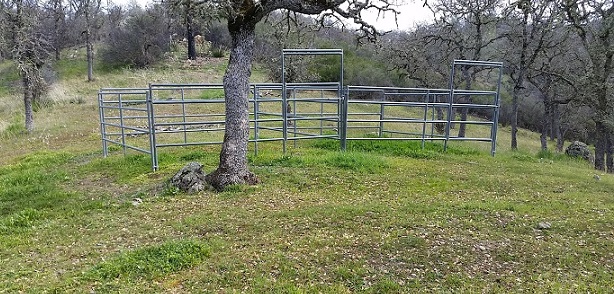 ... up past the old corral ...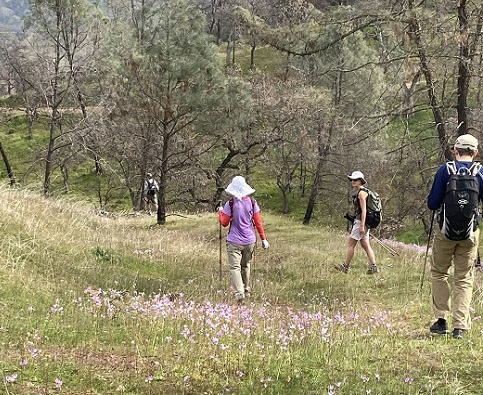 ... and over towards Pacheco.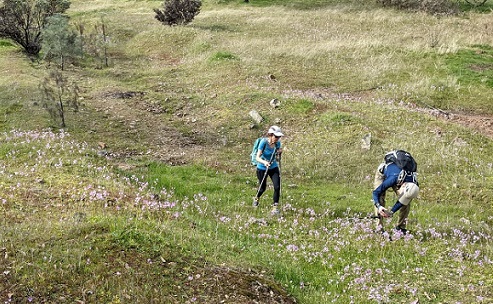 INCH sometimes does stop to smell the flowers!
Arlene, Kevin, and Nagendra had gone the right way, so I ended up behind them after I finally got onto Wagon Road. I picked up the pace and caught up to them just before the turn down the hill towards Pacheco Falls. On the way down, we encountered a few INCHers who were on their way back up from the Falls. Of course, the faster ones like Mihail were long gone.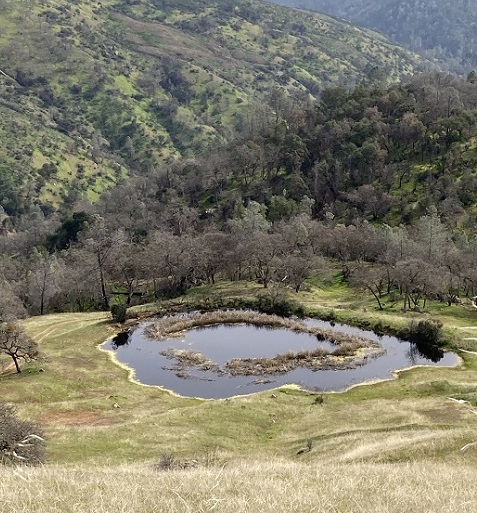 When you see Wood Duck Pond, you're close to the Falls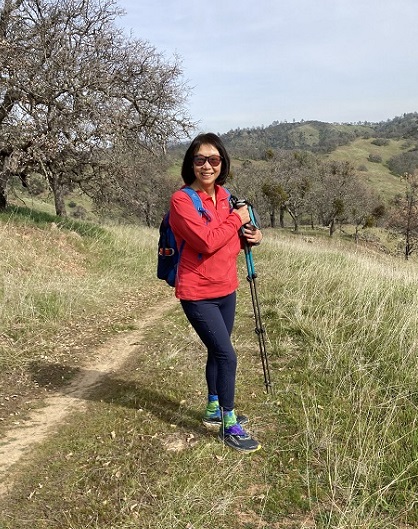 Yipeng wasn't going to let a sprained ankle stop her from getting there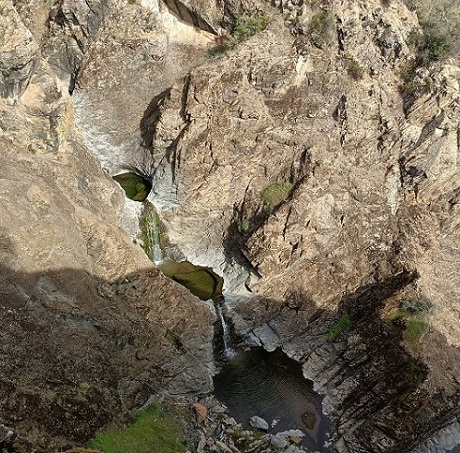 View from the top of the falls ...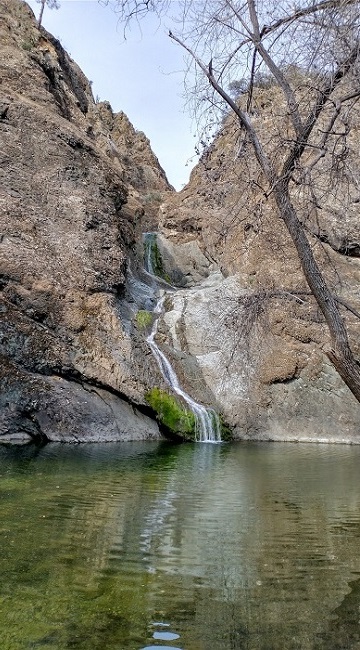 ... and the bottom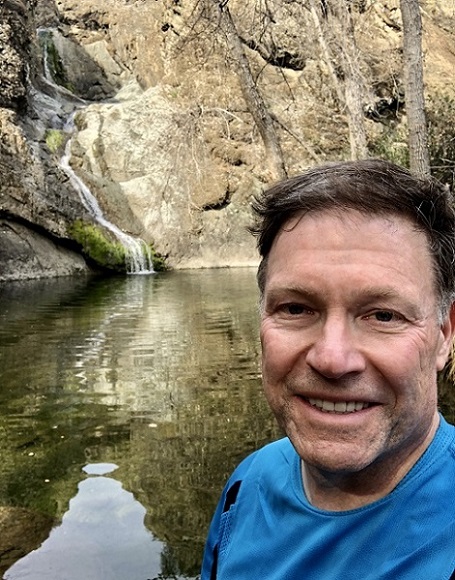 Couldn't resist taking a selfie since I will likely not be coming back here again :(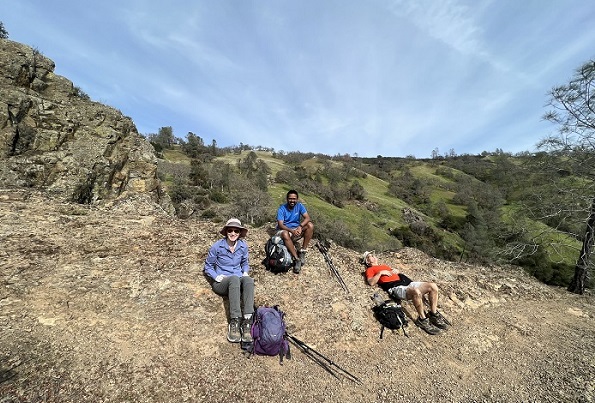 Resting at the overlook and enjoying the sun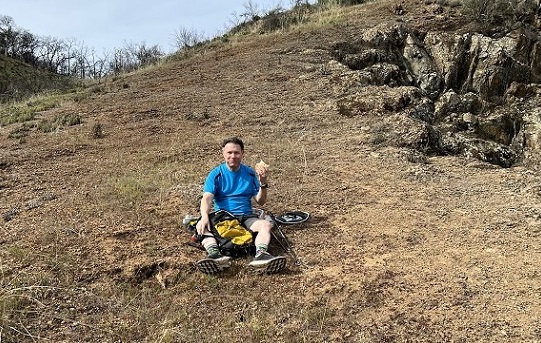 Lunch time!
From our straggler group, Yipeng was the first one to head out, followed by Arlene, Kevin, and Nagendra. I stuck around a little longer, enjoying the solitude and taking in the scenery on a beautiful sunny February day. I knew the clock was ticking, so I reluctantly packed up and prepared to head out. It was 1:30. Getting to this point had taken me five and a half hours. I was just over halfway through the hike and I had about four and half hours of daylight left, so I would have to go faster on the way back. The good news was that most of the elevation on this hike was front-loaded (Steer Ridge, Dexter Trail, Coit Lake bushwacking and climb out), my pack was getting lighter now, and it was easy fire road all the way to Willson Camp, so I was not worried. But I had packed a headlamp just in case! You never know what Big Henry is gonna throw at you (hold that thought for now).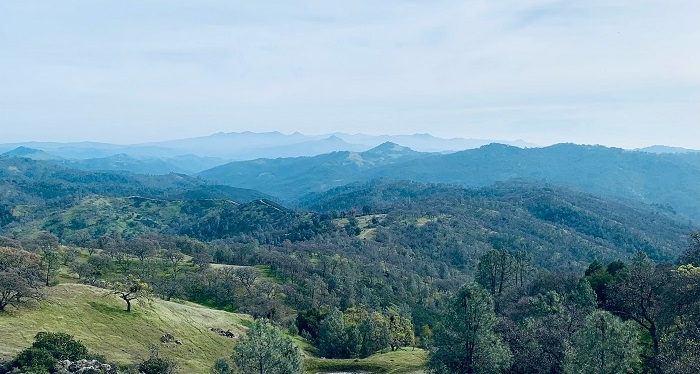 Nice view from the top of the ridge on the way back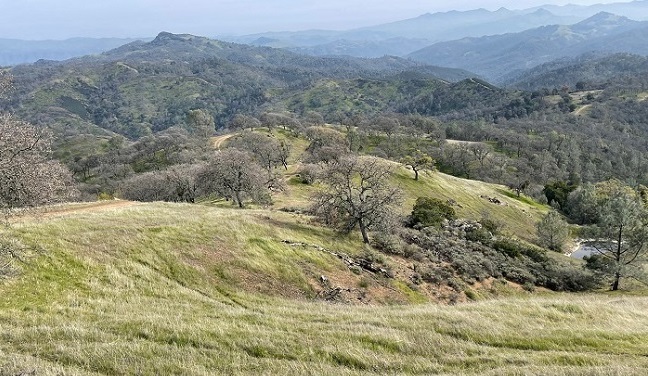 I gave Center Flats Road the finger as I went past -- I still have the scars
I made good time on the way back, catching up to Arlene, Kevin, and Nagendra at Rodeo Pond. We walked together to Willson Camp, where they stopped to take a short break, but I kept on going. I could see Yipeng up ahead on the Bowl Trail. I caught up to her close to the Lyman Willson Trail. Her ankle had been bothering her all day, but Yipeng's a warrior. No way she would let a thing like that stop her.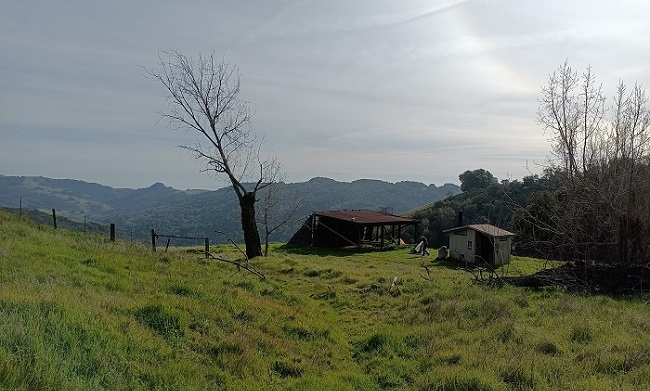 Some campers setting up tents at Willson Camp in mid-afternoon
I headed down Lyman Willson. It was all downhill from here, and not brutally steep like the Middle Ridge, so I was making great time. I was almost at the windmill when I looked up ahead and saw something on the trail. Mountain lion! It was walking slowly down the trail, looking from side to side. I froze. It was definitely a mountain lion -- reddish-brown fur, long tail, but not too big. Wow! It stopped and looked back at me. I just stood still. I wanted to take a photo, but my phone was in my backpack. I'd have to try and slowly take off the pack without startling the cougar. Just as I started to work the straps off my shoulder, I heard voices behind me. Kevin and Arlene were coming down the trail. I tried to wave to get their attention and get them to stop, but it was too late. The cougar had been scared off. We waited a couple minutes to see if it would come back, but it was too late. The moment had been lost. Damn!
Back at the parking lot, I excitedly told my story to the INCHers. It turns out there had been a volunteer there earlier talking about recent mountain lion sightings, including a 2-year old that had been spotted around the windmill area a few times. That was the kitty! I had hoped that my last hike out of Hunting Hollow would be memorable, and it exceeded expectations!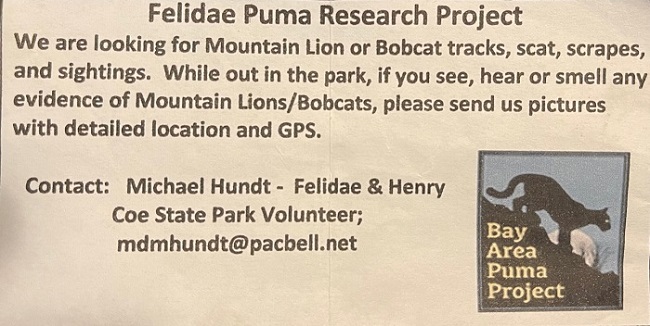 I have some data for them now!
Milestones:
Manfred's 80th leaf







Pages maintained by Steve Walstra, Peter Saviz, and Russell Gee.
©2022 Intrepid Northern California Hikers