1102. Mt. Tallac via Dick's Pass (09/30/17)

Hikers (18): Adam, Carissa, Chester, Chinyet, Christina, Giulia, Jeff, Jim, Manfred, Michele, Mihail, Rainer, Sabine, Sarbinder, Shuli, Sophie, Steve, Tiffany
Distance: 16 miles
Rating: 4 difficulty, 10 beauty
Park info: Desolation Wilderness at Lake Tahoe

Write-up by Steve -- Pictures by Giulia, Manfred, Tiffany, Chinyet, Shuli, and Steve
Once or twice a year, one of INCH's Tahoe land baronesses suggests it's time for a Tahoe hike. There are plenty of peaks in the Tahoe area, and INCH has slowly ticked them off over the years. So this time around, we repeated a hike we did almost twelve years ago. It was new to everyone on the hike except the hike leader.
1-2-3 INCH!
This hike is end-to-end, which means you have to strand a few cars if you can't get enough shuttle drivers. We almost had enough shuttle drivers, but two dropped out last minute and, as it was, I never knew who was going to be there. On top of that, I managed to get lost on the way to the trailhead, so got there just at the meeting time. The lot was packed, so we were spread out. In the end, we didn't even leverage one of the drivers (Ms. Sarbinder), so we stranded more cars than necessary. This was partly because Sophie wasn't going to sit around and wait. I should have known better than to try!
Anyway, we eventually all got to the Bayview Campground to start the hike. Everything around Tahoe looks great, and the weather was nicely cool. We made our way steeply up Bayview Trail.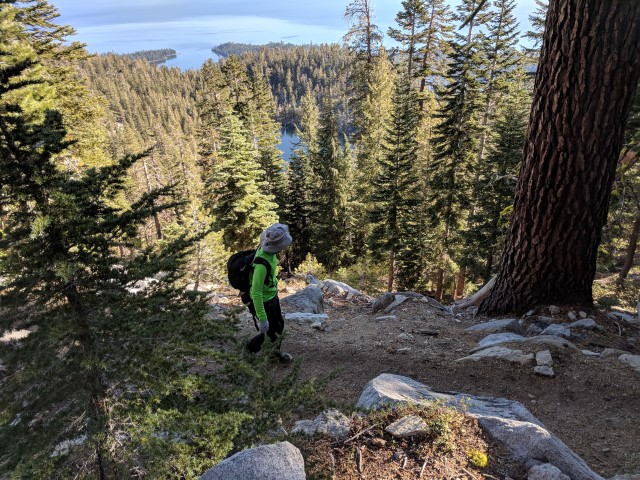 Sarbinder enjoys the views up Bayview
I mentioned at the last minute that there was an optional hike up to Maggies Peak along the way. Amazingly, most people took this detour. This was aided a bit by technology, as several people had put the maps on their cellphones, so could see how to get there.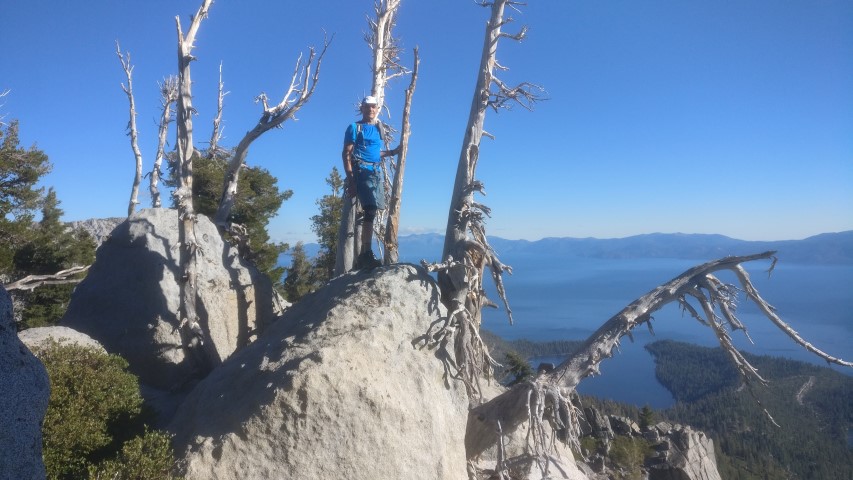 Mihail at South Maggie summit
After cresting near the summit, we descended a bit toward Dicks Lake and up to Dicks Pass.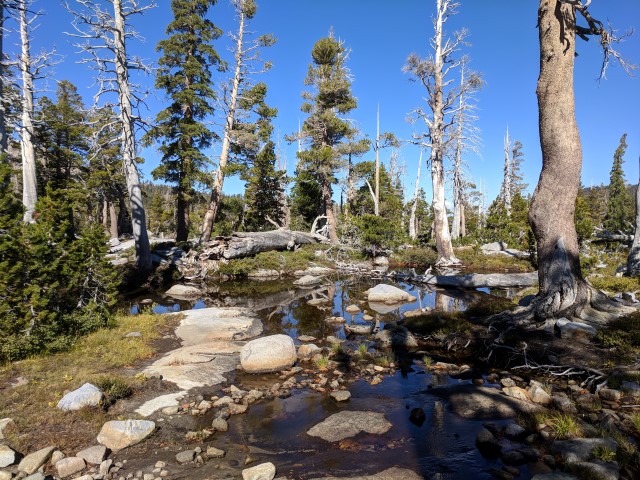 Nice looking wilderness
Eventually Dicks Peak and Jacks Peak were visible. I had made all of these optional, but intended to do them myself. The closer we got to Jacks Peak, the more rugged it appeared than I remembered. . .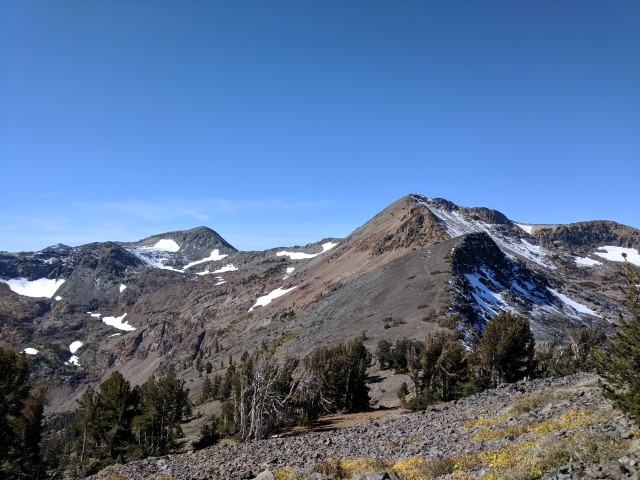 Dicks Peak (right) and Jacks Peak (left)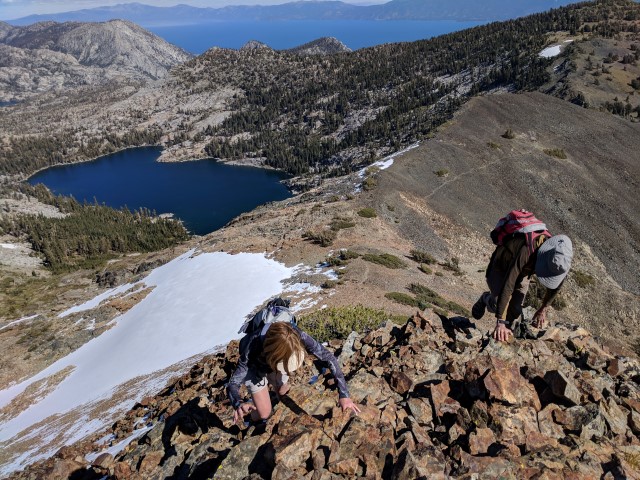 Giulia and Jeff doing some Class 2
Manfred, Mihail, and I got to the summit first. We took a look at Jacks Peak and all agreed that it looked like it would take too long. So we turned around and headed back. That's when we started running into people coming up. That was a surprise, because I'd checked a few times and didn't see people coming along the easy-to-see trail near the bottom of the route. As in turned out, a vast majority of INCHers made it to Dicks Peak. Good job!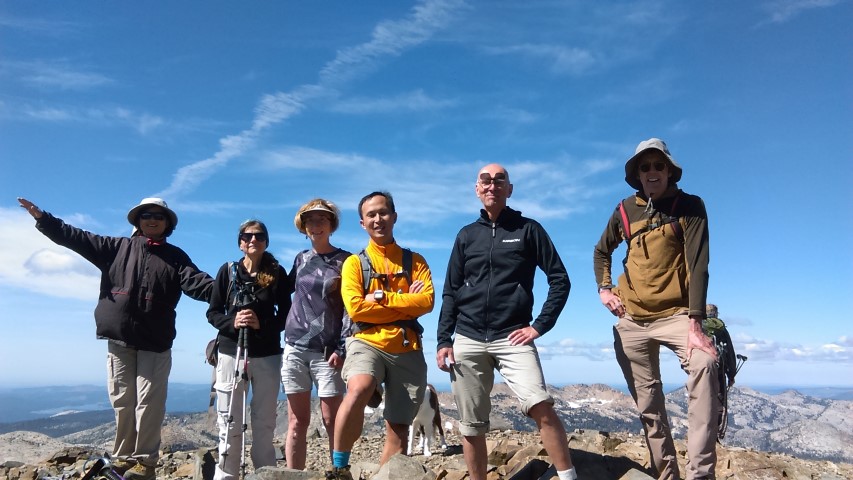 Dicks Peak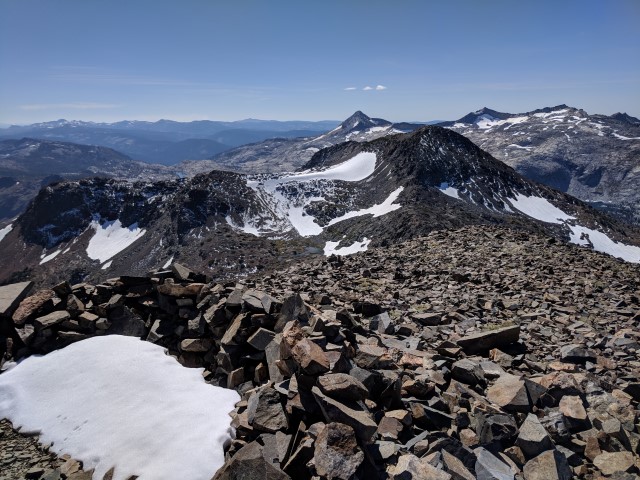 Jacks Peak from Dicks Peak
As I got off the use trail to Jacks Peak (and onto the standard Pacific Crest Trail), I ran into Chester and Carissa. They were so far behind the pack that I had initially guessed they were some random people heading up. Unfortunately, I didn't think to ask them for their keys, as they had been one of the vehicles that went to the second trailhead and they had just told me they were planning on going to go to Jacks Peak. D'oh! About five minutes later this occurred to me. Must have been the altitude.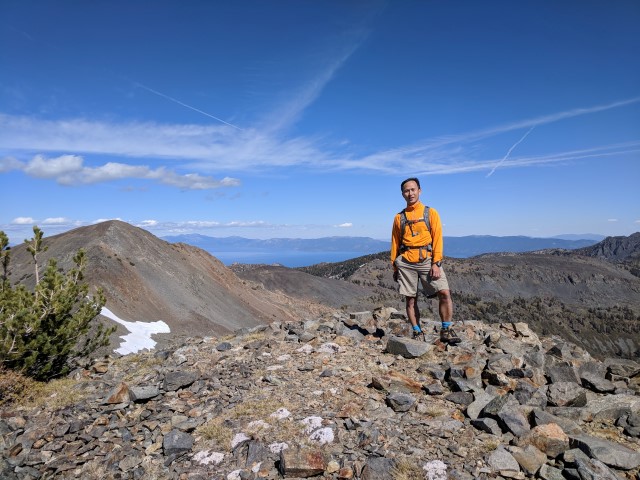 Chinyet (with Jeff) made it to Jacks Peak, an OGUL peak
From Dicks Pass, it's downhill a bit until finally heading steeply uphill. As I went up, I passed Michele. What the hell!? Michele was supposed to be a shuttle driver. She cleverly said, "Is this Maggie's Peak?". The premonition of a carpooling disaster was already clear!
Not too much later up this steep section I heard a woman asking some people about the way to Mt. Tallac. It was Tiffany. As I passed, I said "You can follow me". The people said, "Yeah, follow that guy". Well, maybe you had to be there, but the timing was just right. How Tahoe-acclimated Tiffany wasn't already on the summit after skipping Dicks Peak is a puzzle left for the reader, but that's how it was. Eventually passed Adam C and Christina on the way up, and then Sabine coming down. These people just aren't fond of Dick! Saw Manfred a bit ahead and, by the time I got to the summit, he had persuaded someone to take his picture at the summit. I got there just in time to photobomb it (not shown).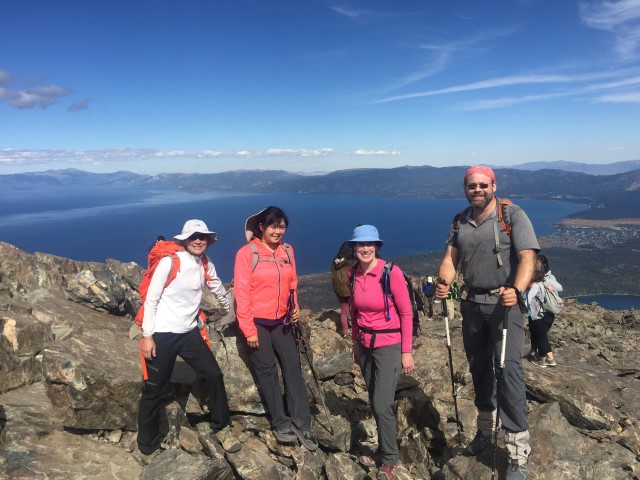 Dick adverse INCHers near Tallac's summit
On the way down, I was with Mihail, who quickly was ahead of me on the downhill. My plan was to take the original Mt. Tallac trail, which has been closed for a long time. When I got to the coordinates, it was clear where the old trail was, so I headed down. I was thinking, "Mihail is going to look back and wonder what happened. . .". The trail was clear the whole way, although a bit rugged. Nonetheless, it was a more direct route. Eventually, I was deposited on the main trail.
From there, hit the long, rocky downward section. This is where Manfred, Mihail, and Tiffany (!) caught up and berated me for "short cutting". They then continued to speed down the trail. While I'm admittedly slow downhill, no one else passed me the entire way down, but I passed several groups. So those guys were relatively flying down this fairly crowded, definitely rocky section of the Mt. Tallac Trail.
Eventually reached the less-rocky, more rooted part of the trail, where I could go at a normal pace. Had a few caches to do along the way, so kept running into the same group of women who must have been wondering why they'd see me putting containers in weird places and then passing them three times in a row. . .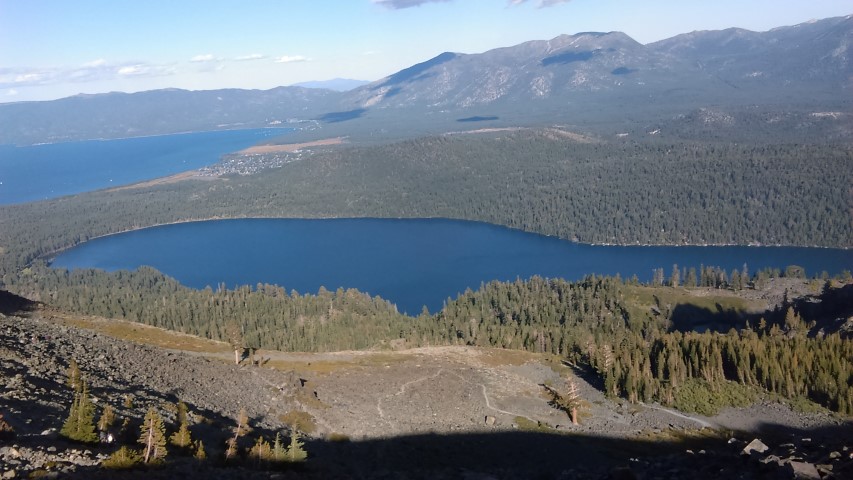 Fallen Leaf Lake from cache location
Eventually made it back to the parking lot, where Rainer was kicking back. Long story short, it was time to wait. . .Sabine, Tiffany, Mihail, and Manfred had already left to get the party started. There was some logic to that, except the Mihail and Manfred part. Eventually Michele showed up. She was supposed to be a shuttle driver, but ended up doing the hike. So her car was stranded as well. How ridiculous is this?
Eventually we had critical mass, so Rainer took everyone besides me to Bayview. Remaining hikers at that point were Jim, Shuli, Carissa, Chester, Jeff, and Chinyet. By then, I was getting pretty damn cold. Jim and Shuli eventually showed up, and didn't want to wait too long for anyone else. But Shuli did note that Jeff's truck was right there in the parking lot (for some reason, I didn't think the truck was his). So while Shuli used her feminine wiles to obtain a ride to the other trailhead, I drank a beer from the cooler in Jeff's truck, which was a a sad proxy for actually being cleaned up and at the post-party. . .A bit later, Chester and Carissa came jogging down the trail. Hooray! Turns out they didn't go to Jack's Peak after all. Whew! Knowing Jeff and Chinyet had transportation, I could drop C&C off at the Bayview Trailhead and get to a shower. Jim and Shuli were still packing up their car at Bayview when we arrived.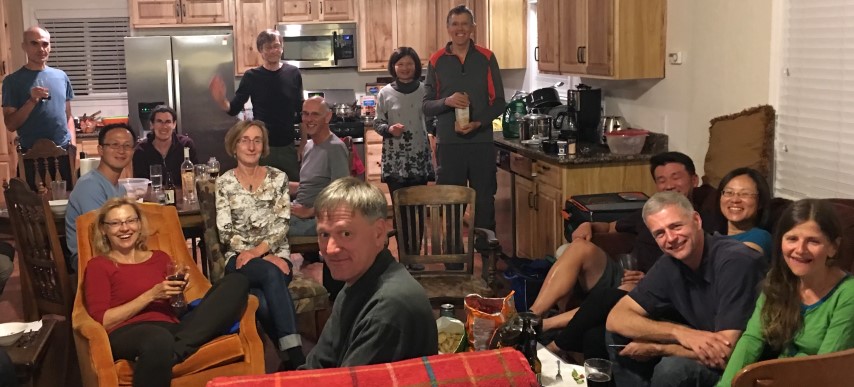 Post Hike party
The good part about hiking in Tahoe is that, if you are in town overnight, there might be a more traditional post-hike party. So it was this time. Thanks to Tiffany for hosting!
Milestones:
Chester's 130th leaf
Michele's 20th leaf
Shuli's 220th leaf







Pages maintained by Steve Walstra, Peter Saviz, and Russell Gee.
©2022 Intrepid Northern California Hikers