1161. Priest Rock Trail (01/05/19)

Hikers (30): Alan, Arush, Baltazar, Brad, Chinyet, Chris R, Ellen, Hima, Iris, Jeff, Jeff V, Karl, Kathryn, Kendra, Manfred, Mihail, Padraig, Peter, Praveen, Rainer, Rudi, Russ, Russell, Sabine, Sandy F, Sarbinder, Sophie, Steve, Vicki, Yipeng
Distance: 8 miles
Rating: 3 difficulty, 9 beauty
Park info: Sierra Azul Open Space Preserve near Los Gatos

Peter owes a writeup! -- Pictures by Karl
It was a cold, nasty, wet, and windy hike to start the new year. The vast majority did a quick up and back to get of the cold, but a few stalwarts did the longer loop. Intrepid!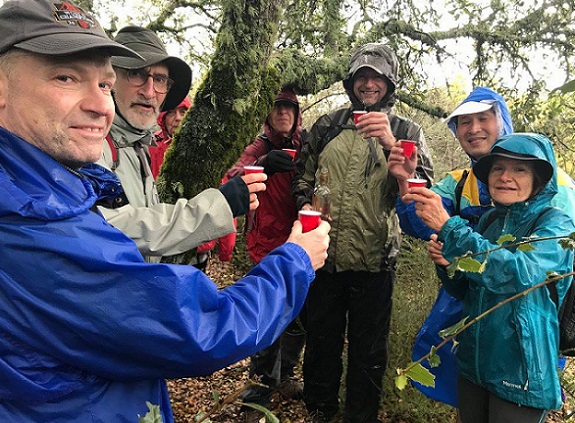 We huddled in a thicket near the top to get some protection from the elements to celebrate Steve's milestone. Cheers!
Milestones:
Steve's 151st leaf (and shot) × 6
Vicki's 90th leaf







Pages maintained by Steve Walstra, Peter Saviz, and Russell Gee.
©2022 Intrepid Northern California Hikers