1162. North Peak (East) (01/19/19)

Hikers (22): Adam, Baltazar, Chinyet, Craig A, Giulia, Gloria, Hailong, Hong, Jim, Karl, Milon, Pal, Peter M, Praveen, Qi, Rudi, Sarbinder, Shuli, Sophie, Steve, Susan S, Yipeng
Distance: 15 miles
Rating: 4 difficulty, 8 beauty
Park info: Mt. Diablo State Park in Clayton

Write-up by Steve -- Pictures by Yipeng, Rudi, Karl, Jim, Praveen, Qi, Craig A, Milon, Giulia, Chinyet, Sophie and Steve
We met at the Regency Trailhead. I never thought we could start an INCH hike from there because the parking seemed a little constrained. This trailhead would cut off some distance (relative to Mitchell Canyon), and was still bigger than the rinky-dink "Three Springs" parking area. Plus we could visit some new trails by virtue of starting and ending there. I sent the notice late, and figured the prior crappy weather would keep people away, but apparently it just fired them up.
Before the hike started, a ranger came by to request that we be extra courteous, as today there was some sort of survey going on to assess whether rowdy hikers were ruining the neighborhood. We wouldn't be a problem since we'd be gone most of the day. . .however we did have 22 people walking down the street and hanging a right up another street so that we could make the whole hike into a true loop.
1-2-3 INCH!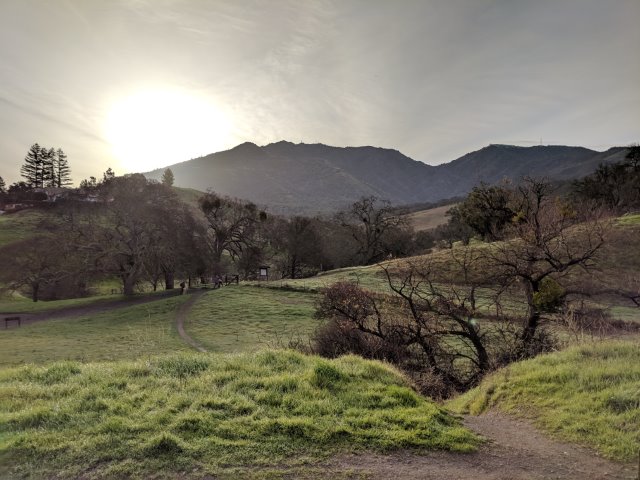 View from the parking area before the hike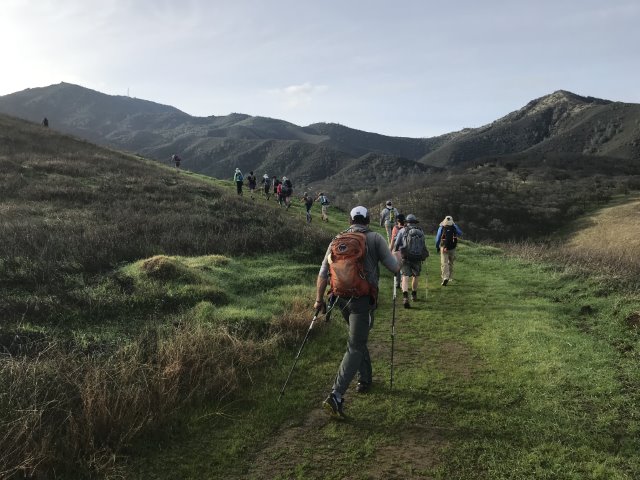 And away we go
Gentle inclines at the start
I got far enough toward the front that I could jump onto another trail without anyone following (well, after telling Hailong, Sarbinder, Mihail, and Chinyet to keep going straight). I'd attempted the route twice before (it's an extension of Bruce Lee Spring Trail through Young Canyon), and both times made it, but only after making mistakes. The third time was not a charm--took the turn too early and headed down, then up, some ranch road that eventually started heading in the wrong direction. Luckily, I had two waypoints along the correct trail, so eventually beat a route to the first one, after which I was back on trail. . .I'll get it the fourth time for sure.
From there, took a road that reconnects with Olympia Trail. Shuli and Jim were coming up Olympia Trail as I was reaching the gate at the end of the road from the other direction. Shuli immediately accused me of short-cutting, despite the fact that I had been ahead of her previously (so it certainly wasn't shorter in time). But, of course, I would have said the same thing in similar circumstances.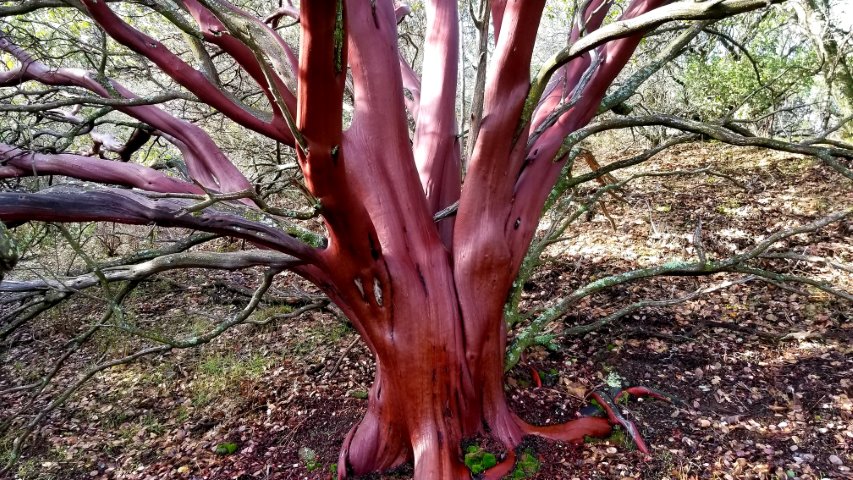 Nice trees on the south side of the mountain
Olympia Trail goes along the NE side of the park and eventually drops one down into the rarely visited East side of the park (rarely visited by INCH, anyway--the trails are in good condition). Lots of intersections around here make paying attention to the map helpful. I took a quarter-mile detour to hike to the end of Quarry Road, which is a dead-end road that has been on the Diablo map ever since I've seen it--always wanted to take it. The quarry itself is nothing to see, but Peter M mentioned there was a seasonal waterfall on the trail, and indeed there was--a prelude to the waterfalls to come! Ran into Peter M coming up Quarry Road as I was coming down, so at least 1/11th of the INCHers got an extra waterfall.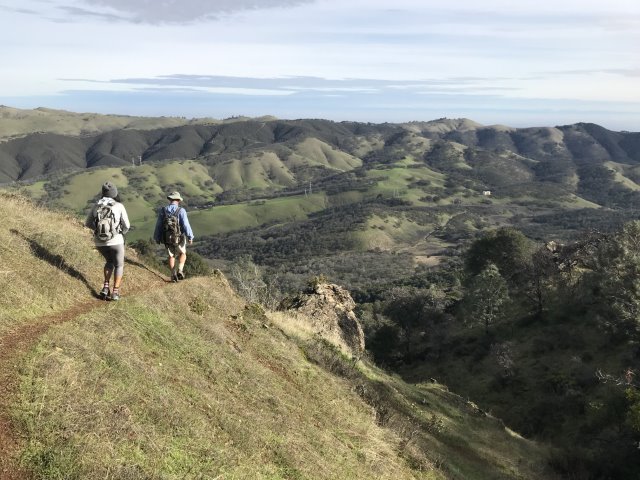 Heading back down the mountain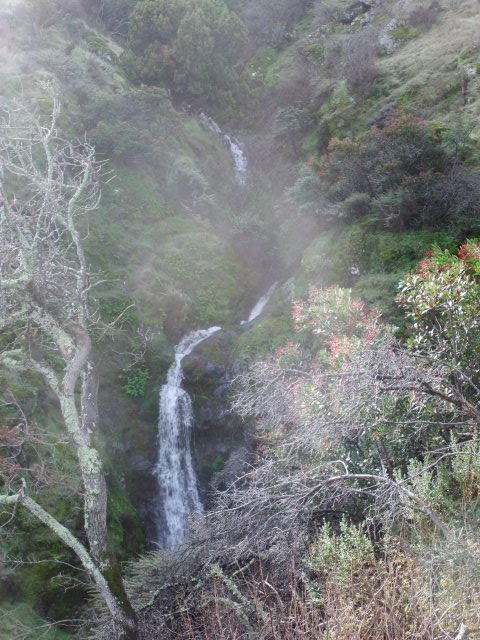 Prelude: waterfall off Quarry Road (side trip)
I had taken the route I highlighted on the map on my first visit, so this time took some different trails. Those slightly less-visited trails worked out as expected, and soon I ran into a big group of INCHers coming down from an intersecting trail. Glad to see so many people in the right place.
Hailong demonstrates proper usage of a map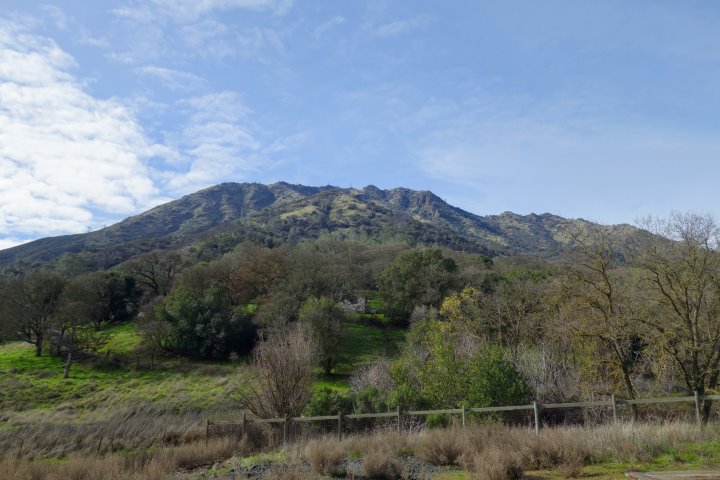 Daunting North Peak from the trail near Morgan Territory Road
There was one big creek crossing just before the impressive uphill climb to North Peak. I managed to find a narrow enough spot to jump over, but I heard others got a bit wet in the process. Oh well.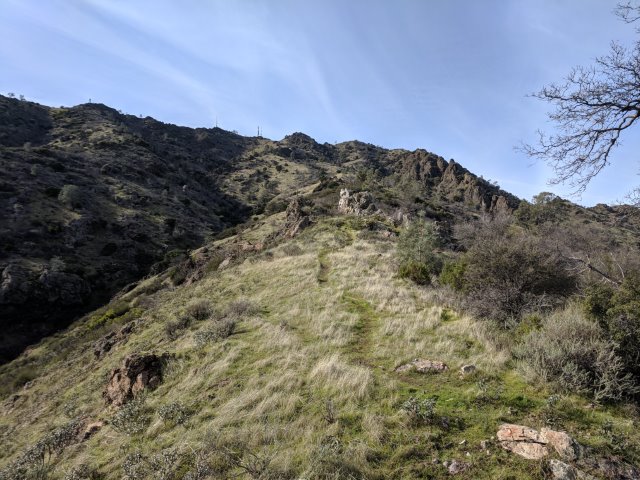 Getting there. . .
The uphill starts on "Power Line Service Road", which seems pretty steep. At the end of the road there is an official State Park marker where the trail begins. The trail is even steeper. It felt pretty warm on the way up, despite the fact that it was (1) January and (2) I was stopping every quarter mile to search for geocaches. Passed Pal and then Adam (who had missed a switchback and was taking an even steeper route up) a little after the end of the Utility Road. And that's all the people I saw over the impressive 2.8k ft of elevation gain in 2.3 miles.
Just a few minutes before reaching the saddle between North Peak and a sub-peak, some some clouds rolled up the back of the mountain, bringing a cool mist. I would have appreciated it about thirty minutes earlier as I was toiling away! Ran into Shuli, Jim, and Milon (enjoying lunch) at the summit.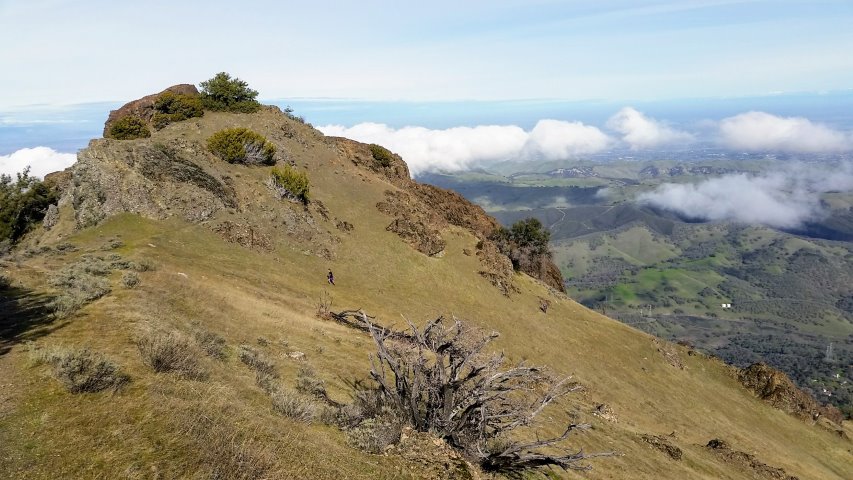 Tiny INCHer reaches saddle between North Peak and sub-peak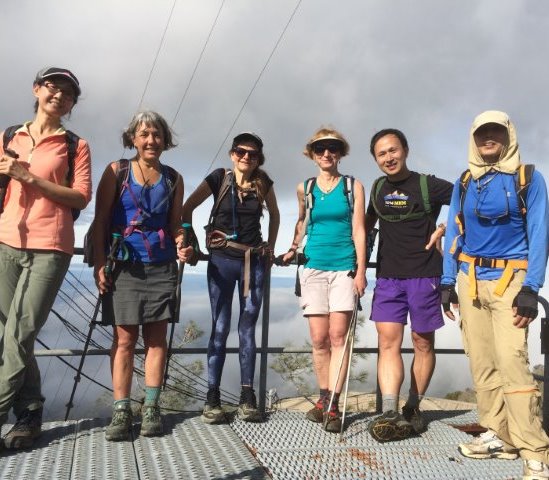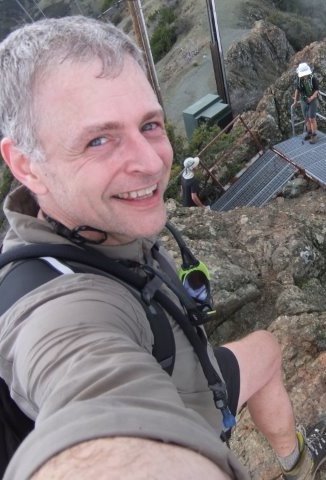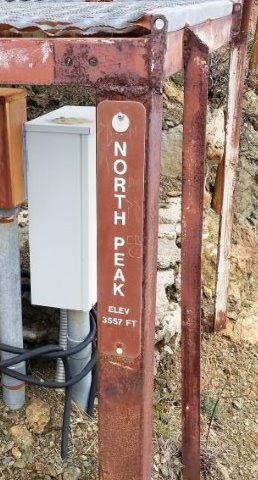 Three North Peak summit submissions of differing summit proximities
Now we were back on the "standard" trails. Shuli pointed out that it was easier going down North Peak Road after the rain. It really was less slippery, even though wet. Also unusual was not turning right onto North Peak Trail (and on to Mt. Olympia). I left an arrow there pointing away--just in case anyone zoned out and thought it was Thanksgiving.
From Prospectors Gap, we took the namesake road to Middle Trail. Middle Trail connects to Falls Trail and has the best overall views of Diablo Falls. They are more impressive from afar. Falls Trail goes up and around the falls, and tacked on enough elevation to get us over the 5k ft gain mark for the day. Great!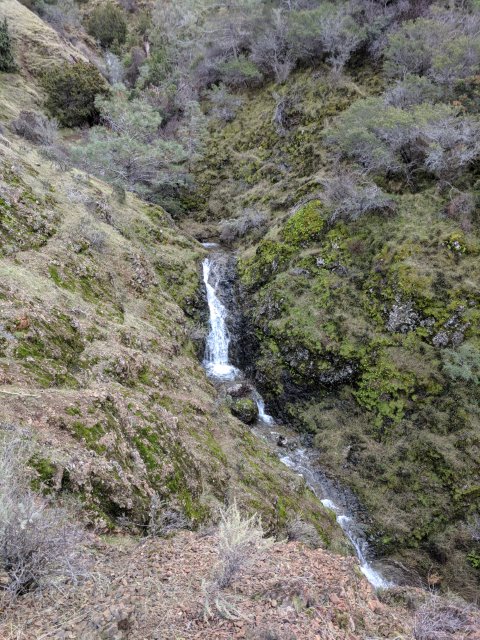 Diablo Falls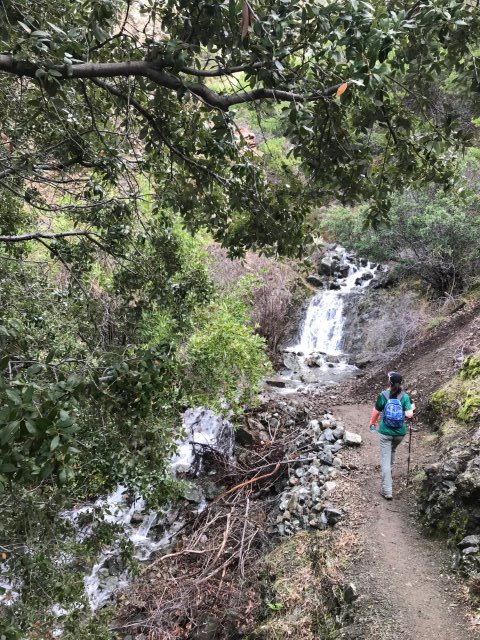 Diablo Falls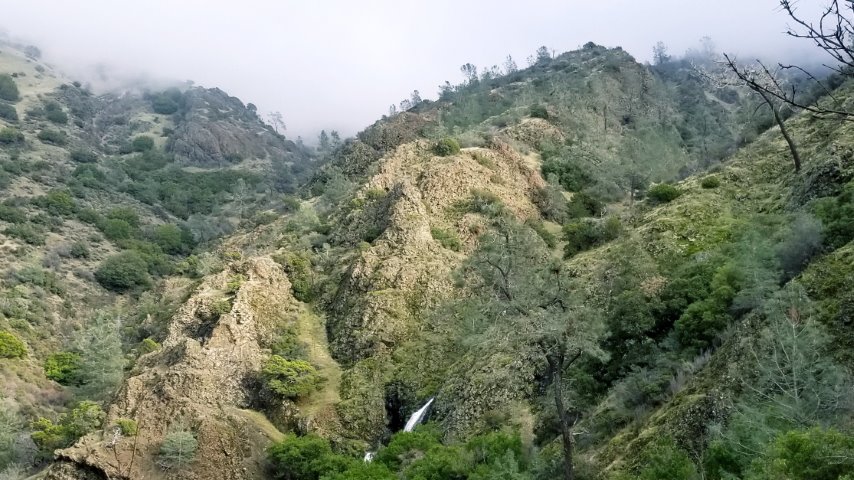 Diablo Falls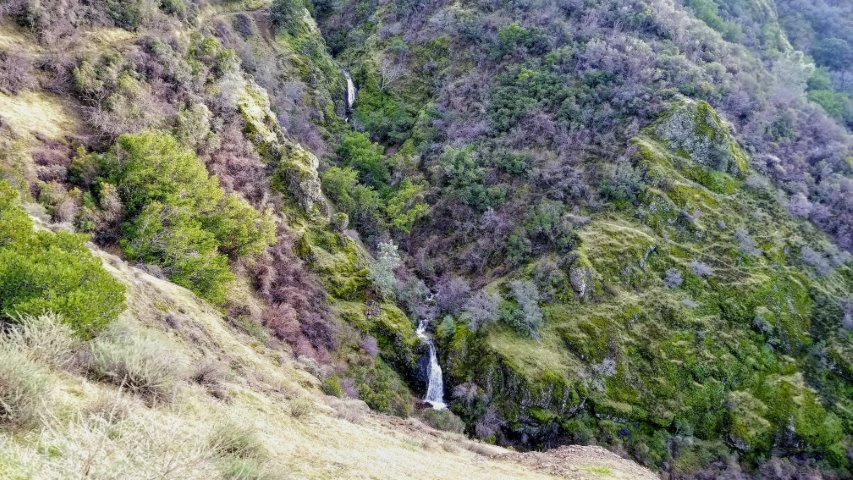 Diablo Falls
From the end of the Falls Trail, it was pretty much all downhill, ultimately following Donner Creek down Donner Canyon and back to the cars. An interesting aspect of the parking area is that there are two dead-end roads on either side of the creek: Mountaire Parkway and Regency Drive. Most went to Regency; I had parked on Mountaire. So after cleaning up, I didn't want to walk across the muddy trail to the other side where a group of INCHers was chatting away. I texted some people on the other side to say we (the carpool) were headed for the Mudville Grill in Clayton, which Sarbinder had recommended at the start of the hike (and then promptly bailed after the hike!). We ended up with a two tables of INCHers there--not a bad place for a post party.
Milestones:
Baltazar's 40th leaf
Chinyet's 160th leaf
Hong's 60th leaf







Pages maintained by Steve Walstra, Peter Saviz, and Russell Gee.
©2022 Intrepid Northern California Hikers