1170. Tipsea (03/16/19)

Hikers (34): Adam, Alan, Anand, Arlene, Chinyet, Christina, Crystal, Dan, David, David A, Giulia, Grady, Helen, Hong, Iris, Jarda, Jeff, Jim, Karl, Kendra, Kevin, Kristy, Mihail, Milon, Qi, Ralph, Robert, Sandy F, Sarah, Sarbinder, Steve, Theresa, Yannick, Yenya
Distance: 14 miles
Rating: 3 difficulty, 9 beauty
Park info: Mt. Tamalpais State Park in Mill Valley

Write-up by Steve -- Pictures by Dan, Giulia, Qi, Kristy, Karl, Iris, Milon, Jarda, Alan and Iris
Any hike with a stop for beer along the way is a winner, and the Pelican Inn near Muir Beach is one of the better places to make that happen.
This is the second time we've done "Tipsea", which provides all the altitude gain of a Double Dipsea without having to hike the same trail twice.
1-2-3 INCH!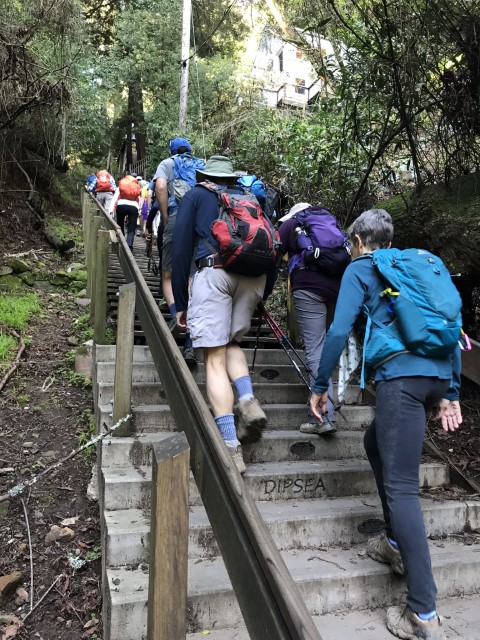 The stairs in Mill Valley get easier every time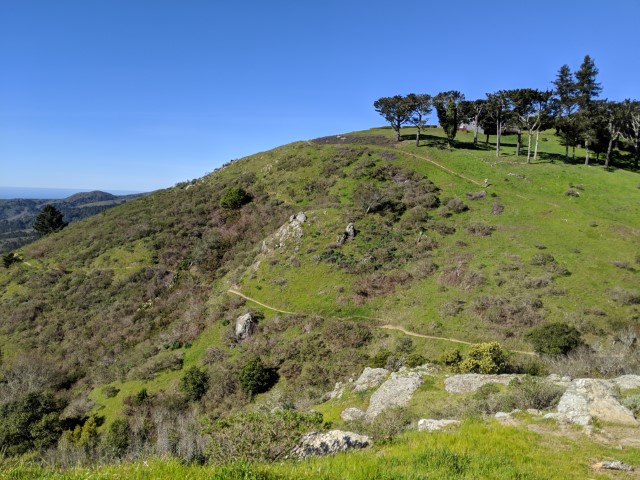 When you see this view, you've made it to Panoramic Hwy
The bridge that connects to Dipsea trail was "out" at Muir Woods, requiring a detour along the road to Deer Park Fire Road. Once we headed up there, I noticed many people never jumped back onto Dipsea, which itself crosses Deer Park several times. In fact, as we were waiting for everyone show up on Cardiac Hill, Crystal came from the wrong direction, having missed the last Dipsea intersection (and maybe having never taken any of them).
Several people enjoyed a little lunch while we waited for people to show up. Later we did tequila shots in honor of Helen's second forest. Coincidentally, the first and only other Tipsea hike was Helen's 151st.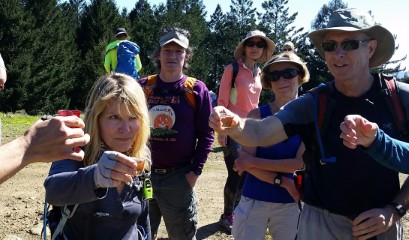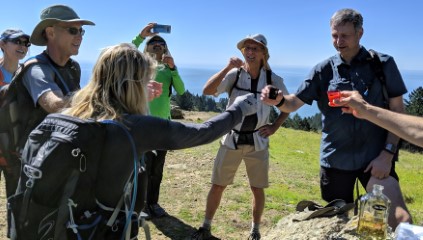 Two angles on same event: Helen's second forest celebration
While we did wait (and drink) for quite a while, not everyone had made it to Cardiac Hill yet. But the ones who were missing were "known slow" hikers, so we weren't too worried (and indeed, they all made it). While packing up, I was dismayed to see everyone go the wrong way--taking the ridge route instead of the Coast Trail. Only Milon went the right way on the slightly longer trail.
Caught up to most people by the time we reached the next decision location: the tried-and-true Heather Cutoff Trail or an ambiguous jog down to Owl Trail and Muir Beach. Turns out plenty of people had taken this second route before, and most of the INCHers opted for this route. Somewhat unexpectedly, most of crowd took the "silly" route down to Owl Trail despite the fact that I was hiking ahead of them and not going that way. Only Christina followed, getting us to Muir Point well ahead of the crowd. Like good citizens, we obeyed the sign saying not to climb up to the prominent point. Plus the intent of the visit was the overlook. But looking at some of the later pictures, it seemed a few people may have strayed a bit. . .
The "silly" (but first visible) route down to Owl Trail
Muir Point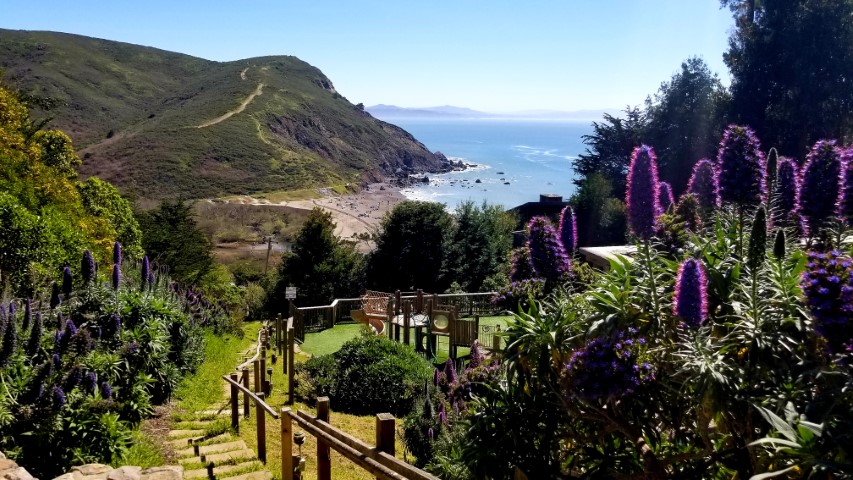 Flowery route through the Muir Beach community center
And now for the Pelican Inn visit. The front runners queued up in a long line for beer. After I while, I decided to get some pitchers, just like the last time. So several people went out to claim lawn area (and pitched in some $$$). Kristy got an entire plate of glasses after sharing her credentials with the bartender, which was pretty awesome. Soon we had five pitchers going. Could we finish them all?
The plan was four pitchers. Left Jarda behind to pick up the last pitcher, but when he appeared, he had two! We heard later (although never confirmed) that the very last people got a sixth pitcher, but I suspect it was actually water. Whatever the case, we were glad to see the reinforcements, because it was looking like we might not be able to drink all the beer!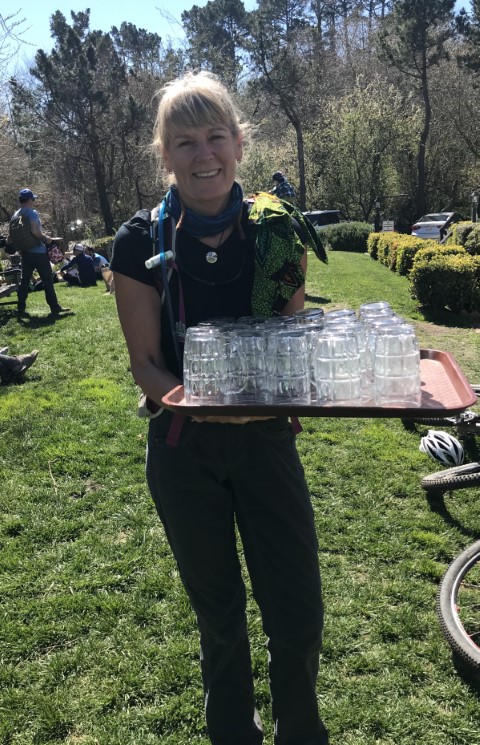 Crucial beverage containers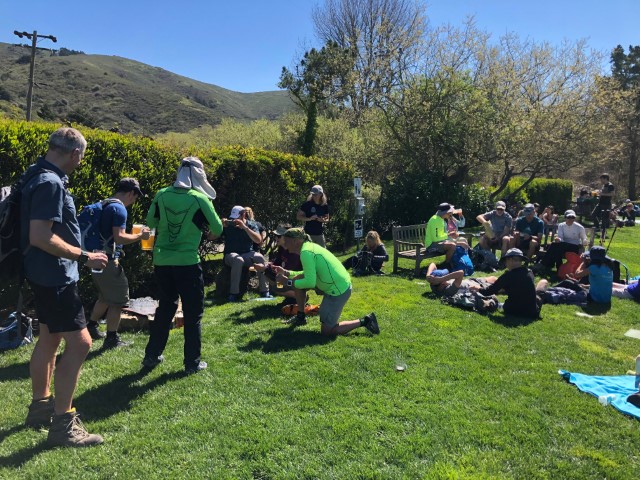 Jarda brings the last two pitchers to much fanfare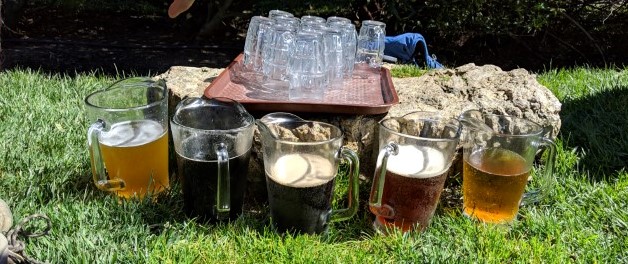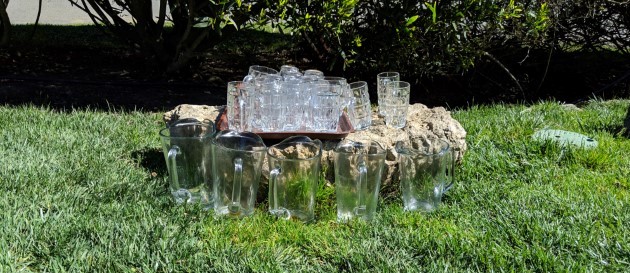 Before and After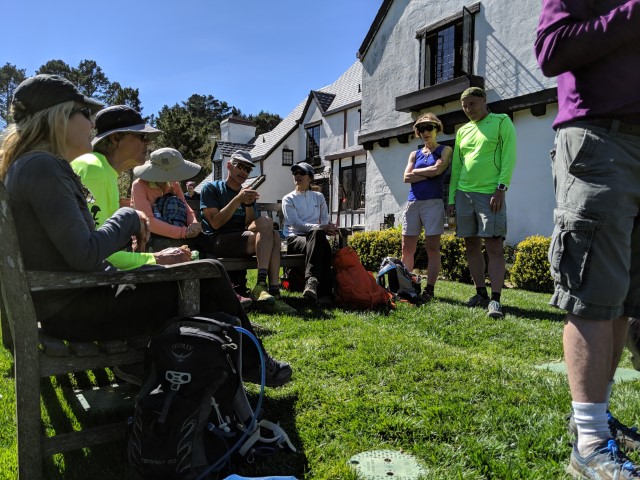 INCH takes over the lawn
We had a second tequila-shot ceremony for Helen because, well, it was her second forest.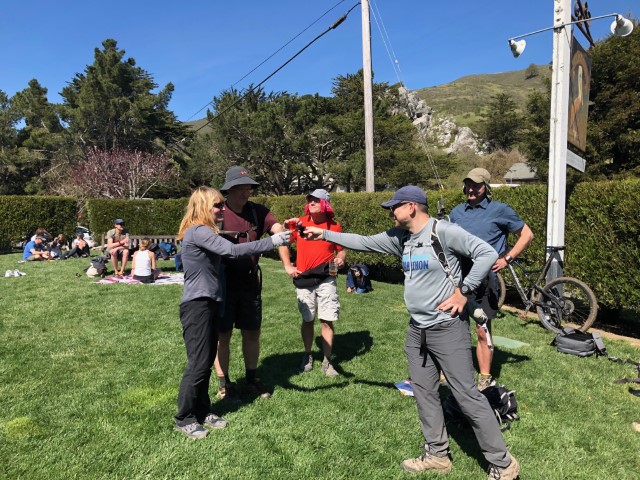 More celebration!
Soon we were hiking up Dias Ridge, looking back on the Pelican Inn.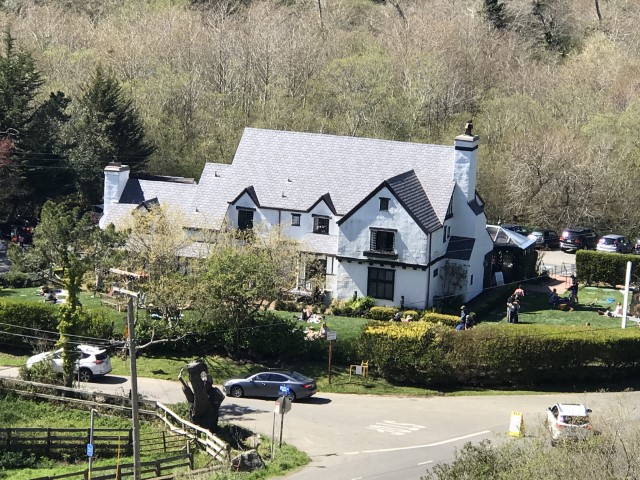 We'll be back. . .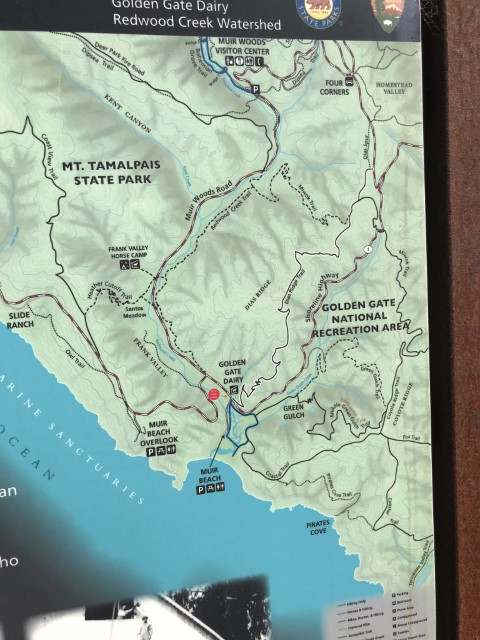 Local map showing the interesting parts of today's hike
Next stop--Homestead Hill. The above map shows all the action after Muir Woods today, including the diversion to Deer Park Fire Road due to the bridge being out in Muir Woods (top center). The Heather Cut-off versus Owl trail (on the left). And the multitude of trails one can take in Homestead Valley (top right).
As I was hiking up the last bit of Diaz Ridge to Homestead, two people were slightly ahead and blew by the correct junction (I've already forgotten who, so can't shame 'em). I left an arrow pointing the correct way and headed off. The views from the top of Homestead Hill are quite nice. I had a longer route off the summit planned to make it as much of a loop as possible, so warned the ever-growing group on the summit not to follow. That worked out very well, but it would have been nice to have a good map of the area. . .the trails were well signed and, indeed, there is a useful map for the Homestead portion. Next time! Lots of people had stories about getting lost around there, but if you have to get lost, that's not a bad place to do it. Nicely shaded.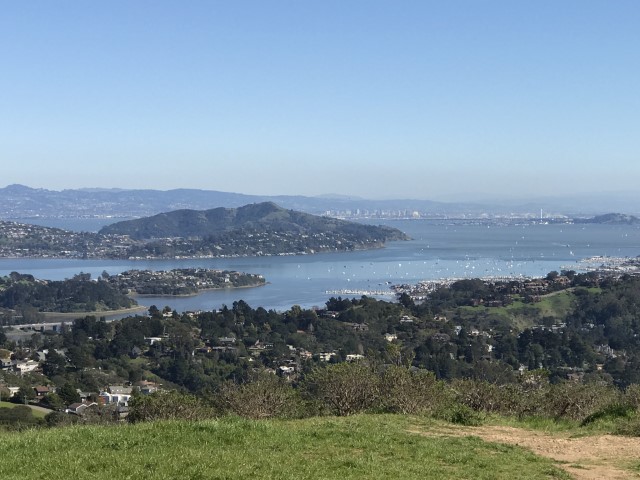 View from summit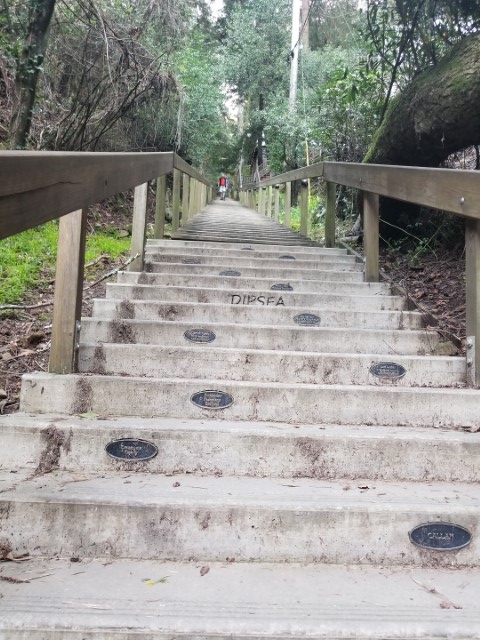 Coming down Dipsea at the end
Didn't see anyone in our normal party location at the Old Mill Valley Park as I proceeded to my car--very far away. That's when I ran into Jarda, who said he had a bad surprise for me. While avoiding another car on the narrow road, he managed to hit a car and, of all the cars in the world, it was mine. And, indeed, he'd dented the door frame slightly and taken the mirror cleanly off, making merging on expressways a new challenge. $1200 later, all is resolved except Jarda's college fund.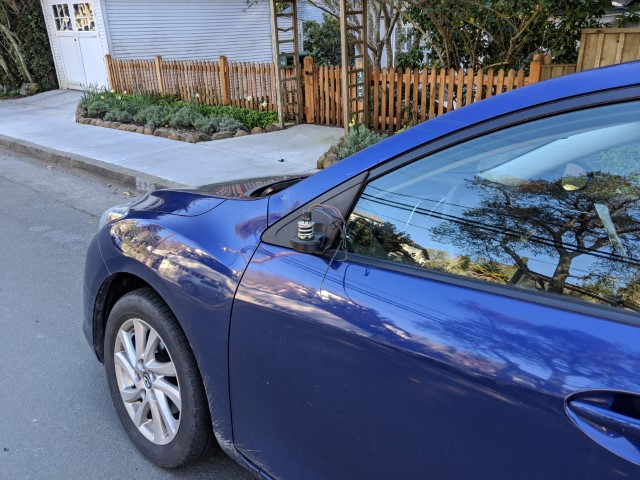 My poor car
Milestones:
Anand's 1st leaf
Grady's 20th leaf
Helen's 2nd forest
Kendra's 70th leaf
Robert's 160th leaf
Yenya's 10th leaf







Pages maintained by Steve Walstra, Peter Saviz, and Russell Gee.
©2022 Intrepid Northern California Hikers