1204. Montara Mountain via San Pedro (11/23/19)

Hikers (25): Arlene, David, Ellen, Gela, George, HaJo, Jarda, Kathryn, Kendra, Kevin, Manfred, Mihail, Mike He, Nagendra, Neil B, Peter E, Rainer, Robert, Sandy F, Sarah, Sarbinder, Sophie, Steve, Vicki, Yipeng
Distance: 7 miles
Rating: 2 difficulty, 9 beauty
Park info: San Pedro County Park in Pacifica

Steve owes a writeup! -- Pictures by Mihail
Pulled out this ol' favorite hike at the last minute. Most people purposely tacked on additional length and elevation gain, because INCH is hard core. Great views were to be had, although North Peak has added new fencing and someone was running a bulldozer up there when we stopped nearby.
Went over and tagged the next door summit instead, and then went over to The Peak (as named on the map), where I noticed a trailed going downward. Took it thinking it would eventually head north and meet up with one of the McNee ranch trails. It did not--instead, it headed left all the way down the ridge to just before HWY 1. Was wondering if I'd have to walk along the beach to get back when I ran into Sarbinder coming up. Later saw George right at the bottom of the steepest segment. Turns out INCH has done most of this route before, but it was new to me. Great!
Headed up the standard road from McNee Ranch back to San Pedro County Park, with the little jog near the end to Old Trout Farm. It was here that I ran into Sandy F and, soon after, informed a happy couple that they were about to be disappointed with regard to their outing to visit Brooks Creek Falls.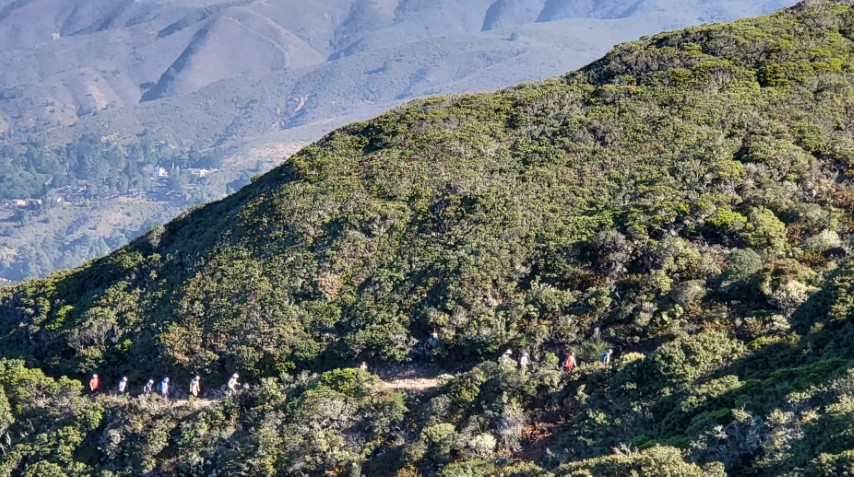 INCHers heading up to Montara Mountain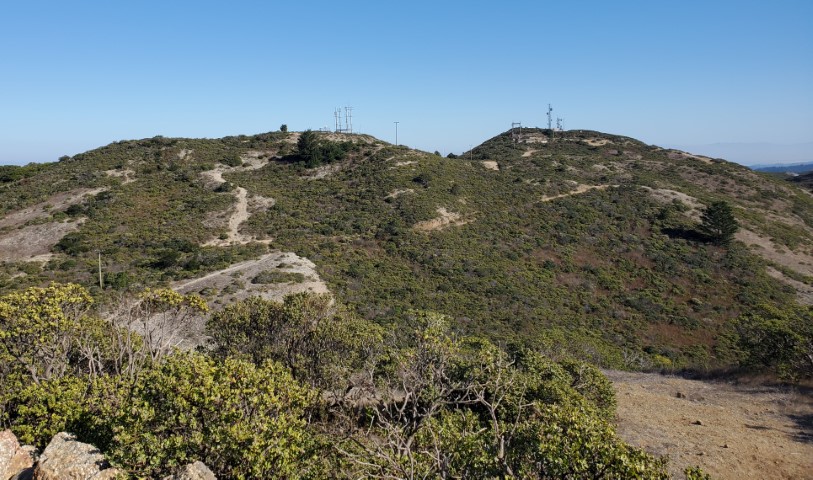 North Peak on the right (was fenced off)
Always good views from the ridge
Milestones:
Gela's 10th leaf
Neil B's 1st leaf
Peter E's 210th leaf







Pages maintained by Steve Walstra, Peter Saviz, and Russell Gee.
©2022 Intrepid Northern California Hikers