1264. Bear Mountain and Mississippi Lake (09/18/21)

Hikers (24): Adam, Bjorn, Brad, Chinyet, Christina, Crystal, Dong, George, Giulia, Hong, Iris F, Jim, Kathryn, Mihail, Milon, Pal, Peggy, Peter, Sarbinder, Shuli, Sophie, Steve, Susan CF, Yipeng
Distance: 26 miles
Rating: 5 difficulty, 8 beauty
Park info: Henry Coe State Park near Morgan Hill

Write-up by George -- Pictures by Adam, Chinyet, George, Jim, Milon, Pal, Sophie, Shuli, Steve,Susan, and Yipeng
Peter's note: Folks sent me a ton of photos, and many were similar. I could only upload a few. Sorry!
George's writeup: The weather was fantastic yesterday. At the start I was keeping up on the downhill with Giulia, Christina and Sophie. The first climb out of Poverty Flat to Jackass Pass they left me behind. I was not gonna push on the uphills because it was a long hike with a climb at the end.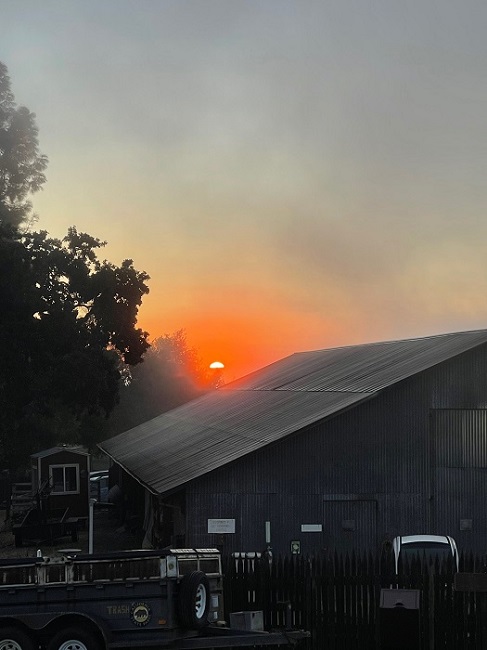 Fiery sky and a chilly 48 degrees at the start
Mihail and Sophie did the honors -- happy 200th Giulia!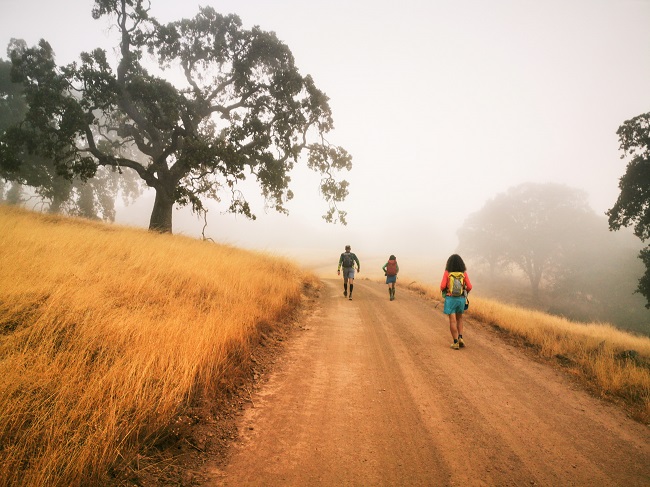 Starting out in the wind and fog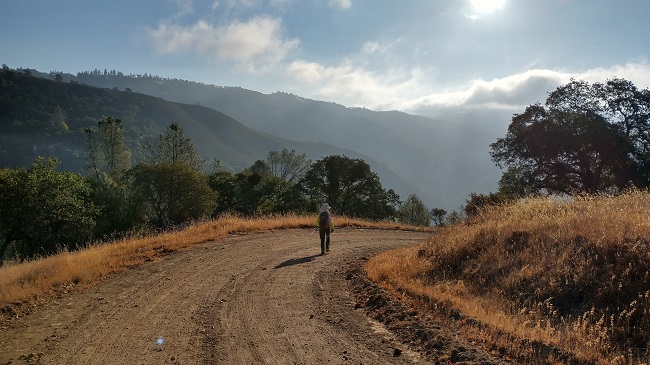 But the sun was out by the time we headed down to Poverty Flat
When there was some more downhill I did some jogging. Poverty Flat Road over to Blue Ridge Rd has a few ups-and-downs but I was slowly catching up with them. I was motivated because I had told them the "Karri Junction" story and I was thinking it would be fun to take a photo with them at the sign. I finally caught up with them close to the sign spot. There is no more sign, it has been removed. But we made a funny photo anyway.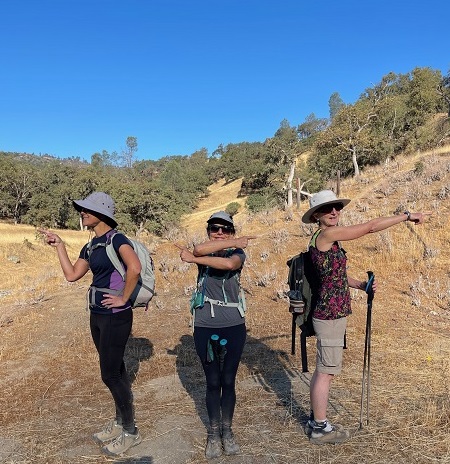 The wacky "Karri Junction" pose never gets old!
(and check out that gorgeous blue sky -- very welcome after weeks of bad air quality)
Lots of flat from there to the start of the Bear Mtn climb and I was in the lead and even pulling away. I started the climb and was a little bit ahead but they quickly passed me as I was taking it slow on the big climb.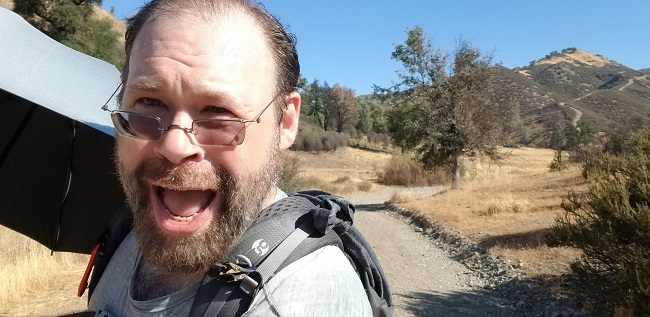 Adam sees The Bear!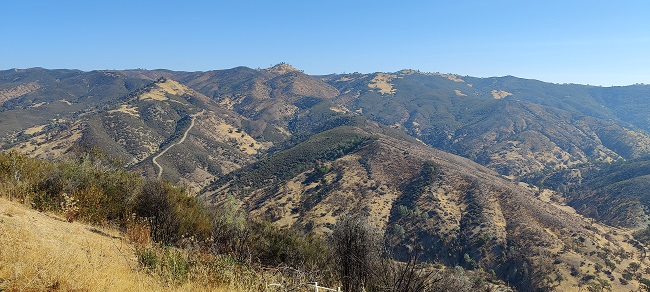 View of Bear Mtn Peak and Bear Mtn Road from where the cabin on top of the hill used to be (yes, someone went off-trail)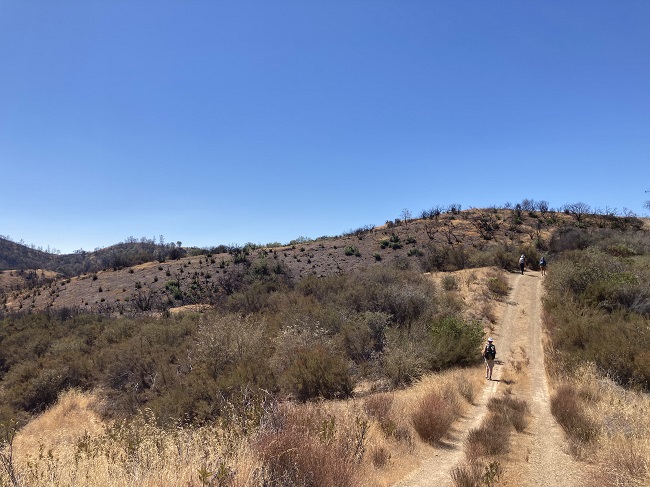 Lots of fire damage visible along the way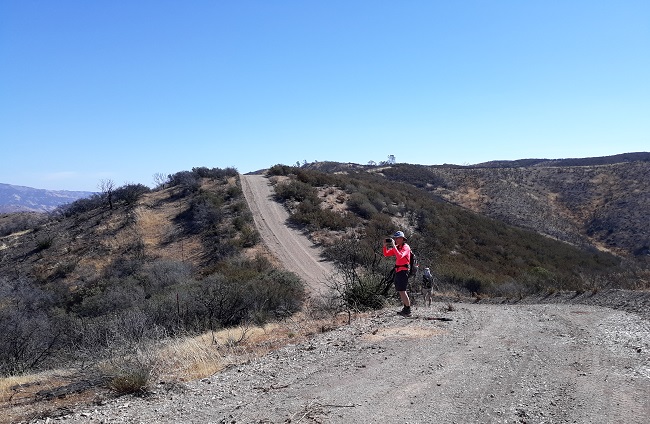 Milon enjoying the view from the top of the ridge on his first visit to The Bear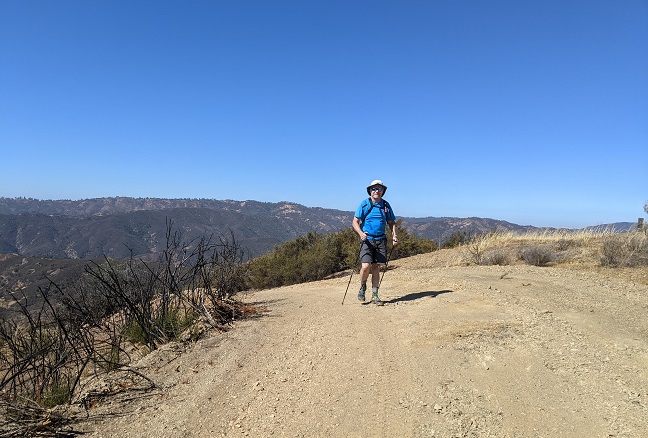 It's hard to smile when you're wrestling with The Bear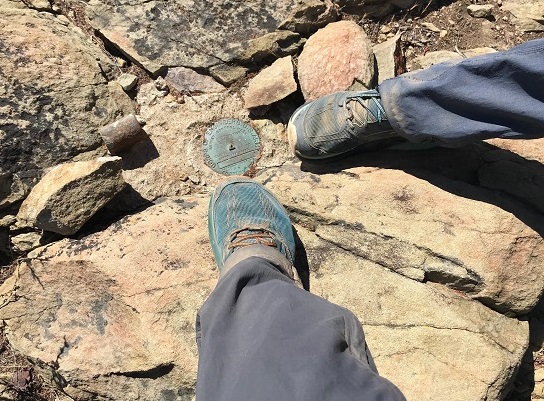 Pal and Peggy made it to the marker in good time
Finally made it to the top and started the downhill to Mississippi Lake and I was jogging on and off on my way down. Thought I might catch up with them at the lake. Right at the bottom where you hit a pretty much flat section along a creek and you make a sharp left turn, if you go right about 50 feet that is where Bear Spring was. I decided to take a look and the trough was full of water and a lot of nasty looking growth. But there was water dribbling out of a white pipe.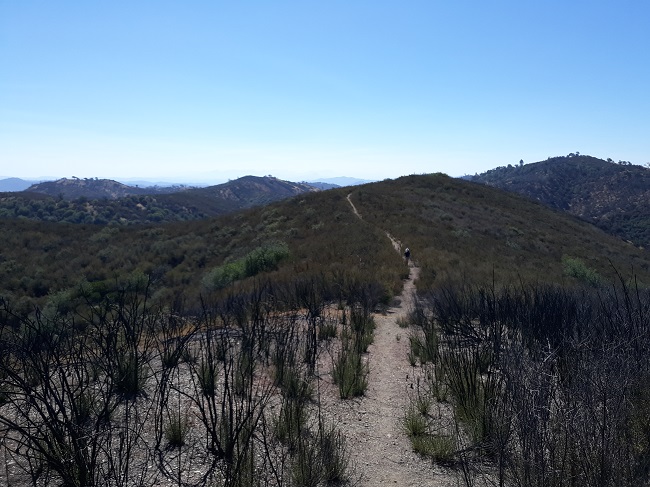 Heading down towards Bear Spring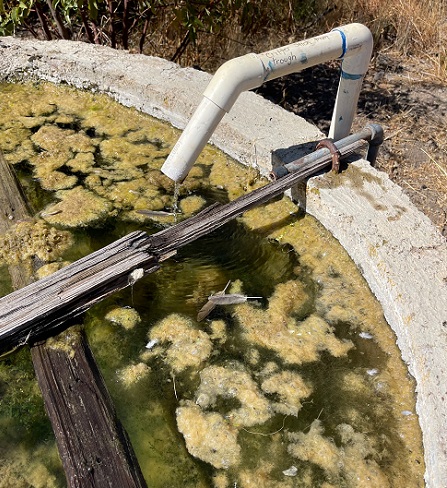 There was water in the spring (yum!)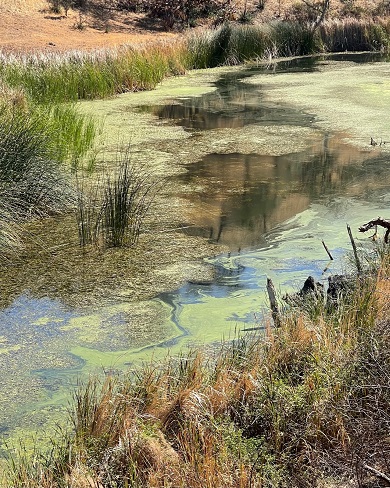 Or you could drink from the algae-filled lake instead
I filled my water filter which is 1 liter in about a minute or 2. The water looked perfectly clear and was cool. I drank filtered water - the whole liter. Then I filled up the filter again and put it in my hydration bladder. My pack felt heavy.
George enjoying lunch at the picnic area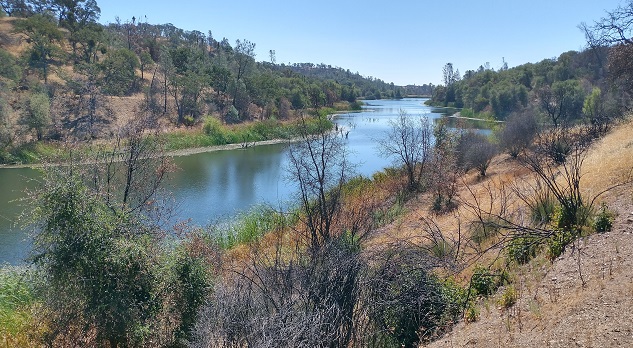 Lunch with a view!
At the table at Miss Lake I just caught a glimpse of the 3 ladies heading out on the trail. I had spent about 15 minutes at the spring. I decided to sit and rest and eat and drink. Drank my V8 with my sandwich. It was really pretty by the lake, all by myself, nice gentle breeze, pleasant temps, and I decided to finally follow Peter's advice after all these years and take it easy and enjoy myself on the way back.
After about 5 minutes some people started showing up. Chinyet, Yipeng, Jim, Shuli and Susan. Susan was low on water. I took a look in my bag, which as I said seemed very heavy, and it turns out I had only used about 1/2 liter of water, started with 2.5 plus a .7 liter frozen bottle. Now my bladder was full to 3 liters by the addition from the spring and I was happy to offload the .7 liter bottle to lighten my load and gave it to her.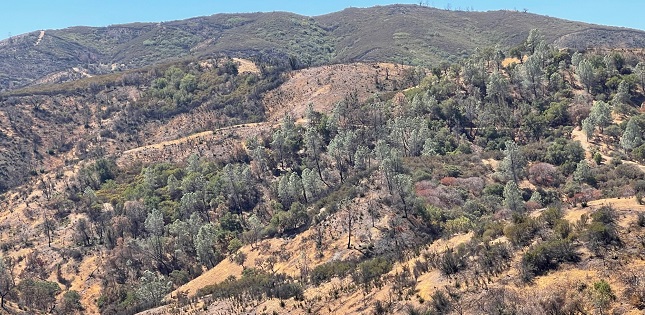 After lunch, you pay the price on the endless Interior Route, aka "the Meat Grinder"
I pushed to get the Interior Route over with as soon as I could (hate that road) and proceeded to jog most of the way down Willow Ridge Trail. I knew I would be paying for this higher pace and running later that day and the next couple of days too.
Milon did some trail work on the way ... before and after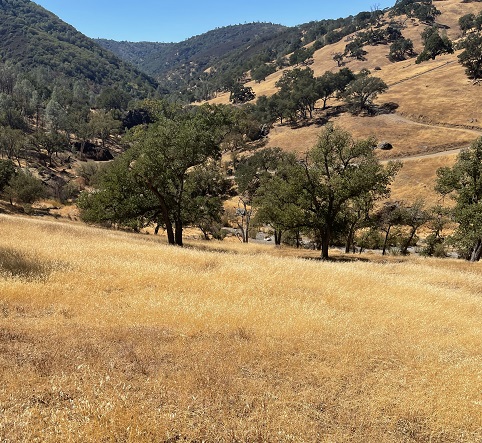 Approaching Los Cruzeros, with Mahoney Meadows Trail looming on the other side (that was the optional route for anyone needing rescue -- good luck with that)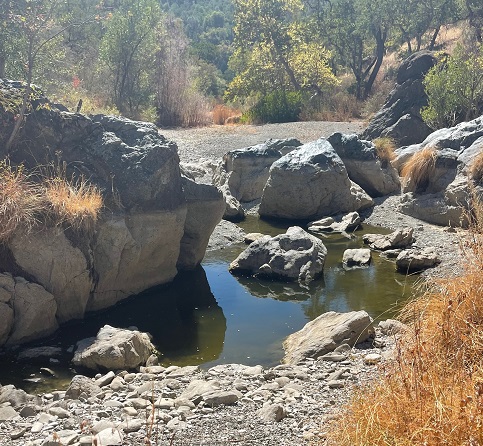 The official route went through The Narrows, aka "the Ankle Breaker"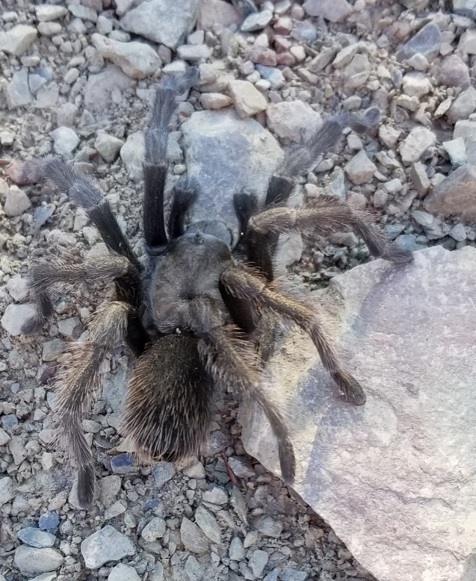 It's close to Tarantulafest time again at Coe!
I managed to catch up with Chinyet at Los Cruzeros but only because he seemed unsure which way to go. He was starting to climb the Mahoney MeadowsTtrail. I pointed him into the Narrows and we hiked together until we started the uphill on China Hole Trail.
I was able to keep up an ok pace because of the easy incline and shade but once again Chinyet left me in the dust. But when I got to Manzanita Point I saw Chinyet sitting at a picnic table. He looked wiped out. He would usually have already finished at this point so he must have been having a rough day. We sat there with our heads on the table and I kept yawning and yawning and he laid down on the bench. I could have gone to sleep right there.
Chinyet stood up and started hiking in the opposite direction of HQ so I got him turned around. I saw him sit in the shade of a tree along the road a little further along - he was having a rough day. But once again he left me in the dust.
I really would have liked to hike back at a relaxed pace and enjoy the day. Maybe someday, huh Peter?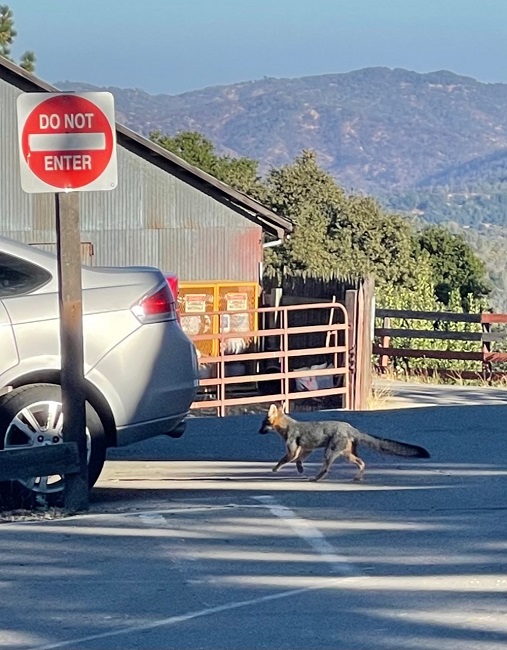 An unexpected visitor hanging around the Visitor Center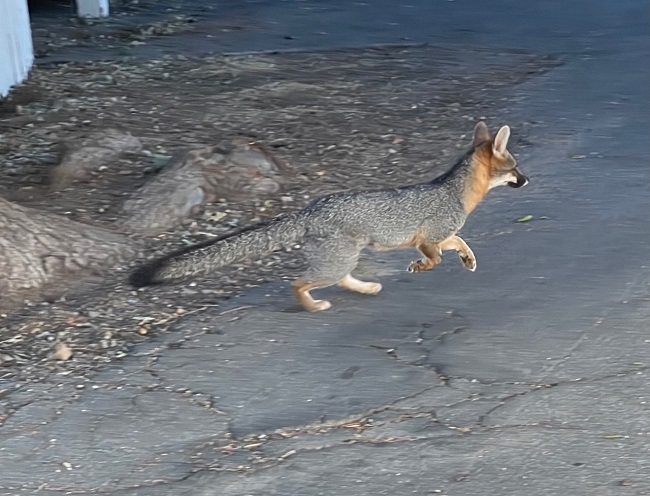 He wisely didn't want to have anything to do with us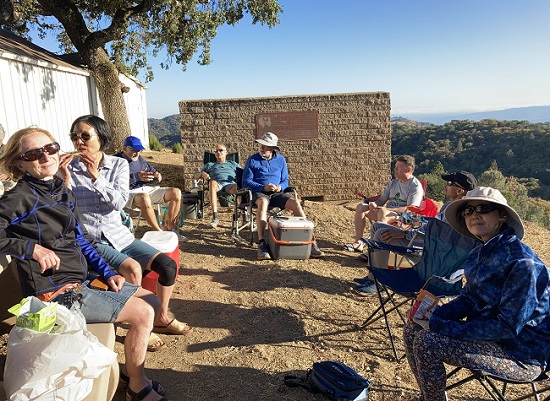 It felt good to finally sit down after a long day of hiking (last hike of summer)
Milestones:
Brad's 290th leaf
Giulia's 2nd forest
Mihail's 230th leaf
Shuli's 290th leaf
Susan CF's 20th leaf







Pages maintained by Steve Walstra, Peter Saviz, and Russell Gee.
©2022 Intrepid Northern California Hikers