1292. Mt. Sizer Loop (04/09/22)

Hikers (29): Adam, Arlene, Baltazar, Brad, Chinyet, Christina, Dan L, George, Giulia, Helen, Hong, Jarda, Jim, Kathryn, Kevin, Mihail, Mike He, Milon, Nagendra, Peter, Qi, Ross, Rudi, Sandy F, Sarbinder, Shuli, Sophie, Stacy, Yipeng
Distance: 16 miles
Rating: 4 difficulty, 8 beauty
Park info: Henry Coe State Park east of Morgan Hill

Write-up by Peter -- Pictures by Adam, Baltazar, George, Jarda, Jim, Shuli, and Sophie
My right knee was killing me, but I had to do my INCH birthday challenge hike for the last time ...
1, 2, 3, ... INCH!
There were a lot of other hikers at HQ on this day, but we (mostly all) managed to find parking and hit the trail by 8:30. I was eager to get going because I knew I was going to be even slower than usual on this day and needed all the time I could get.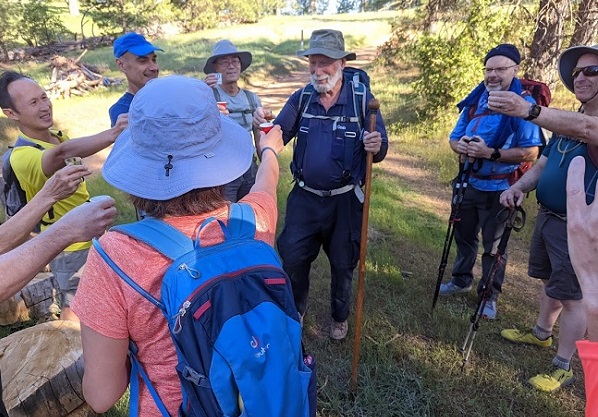 Happy 100th Sandy -- oldest INCHer to get to a forest!
After taking a quick break to pay respects to Big Henry and celebrate Sandy's forest hike at the Monument, the real hike began. I knew I would not see most of these folks until the end of the day.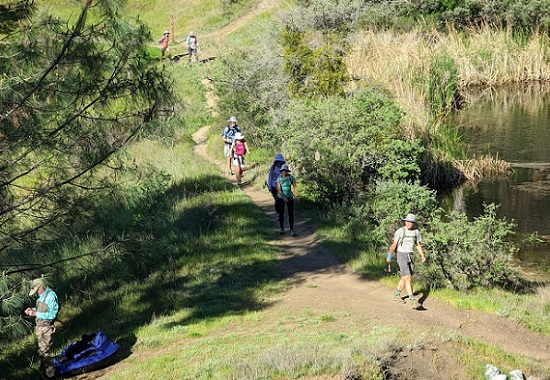 Slowing down briefly to check out a fisherman setting up near Frog Lake ...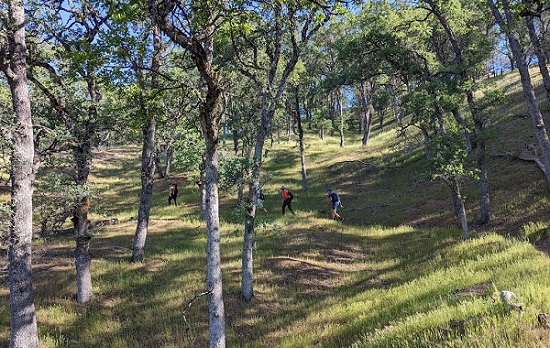 ... then picking up the pace again up the Middle Ridge ...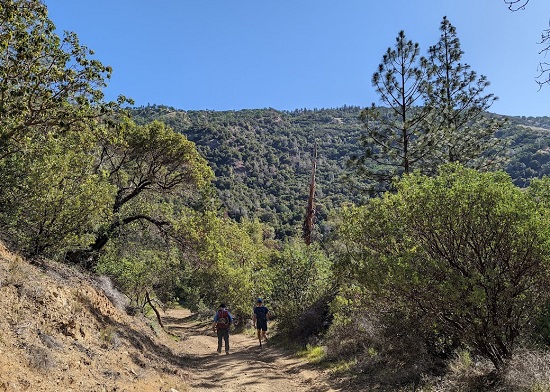 ... before heading down to the creek and the major climb up the other side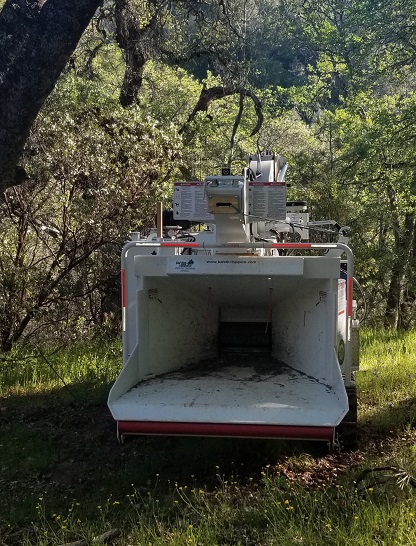 Adam says this is Big Henry's new alternative to the Sizer Shortcut... gets you to the same place in a fraction of the time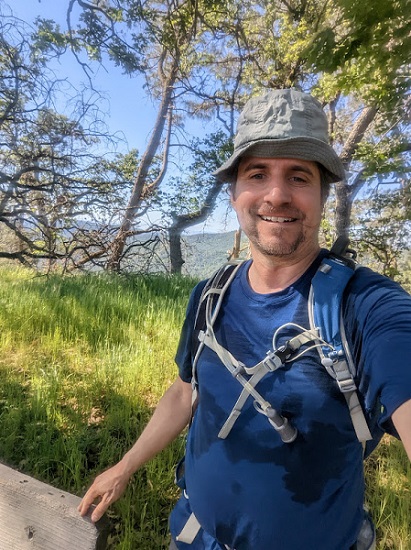 Jarda made it to The Bench in 34 minutes. Nice job!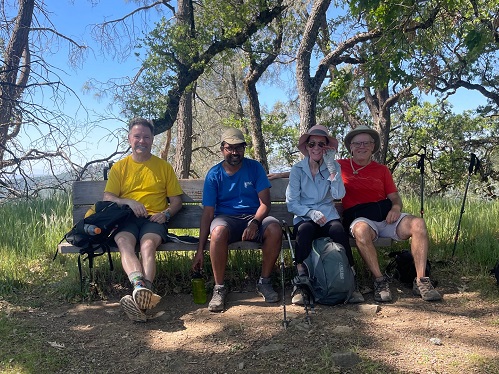 I beat my age, but that's about it!
(the solid color shirts in primary colors remind me of the Microsoft Windows logo)
My time to The Bench was an unimpressive 44 minutes and change, but at least I made it, thanks in part to the tequila. I was not looking forward to the downhill portions on the remainder of the hike, but I was past the point of no return.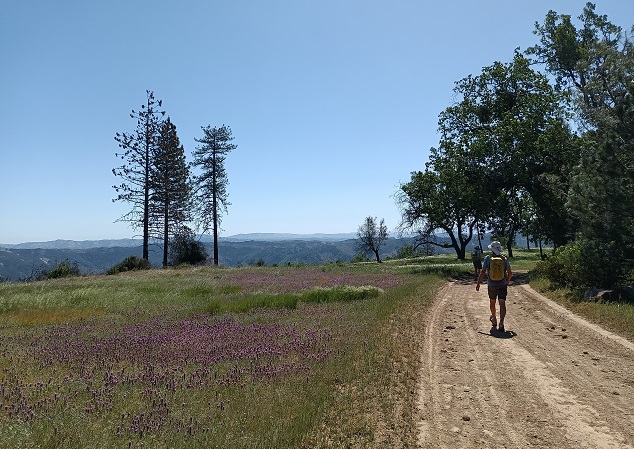 There were many wildflowers, but this is the only flower pic that I'm posting!
(I'm told this purple stuff is called Owl's Clover)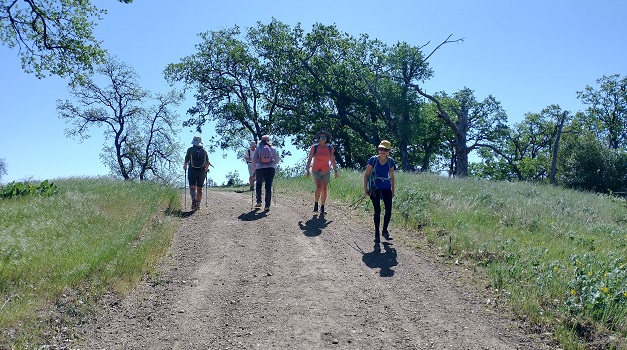 Going to and from the top of Mt. Sizer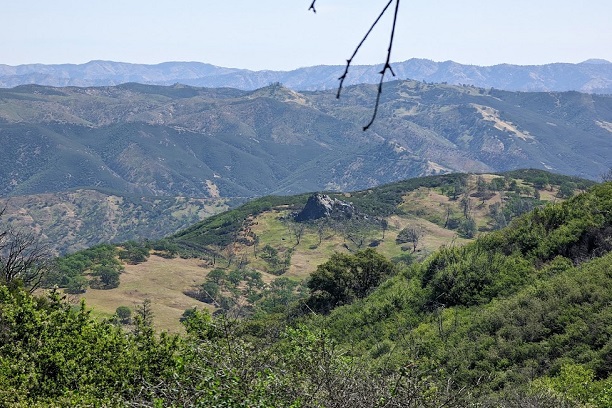 View of mighty Hat Rock from top of the ridge
Uncle George had been waiting for me at The Bench and kept me company most of the way back. We stopped to chat with a couple of folks just before the long downhill to the Jackass turn-off. The wife was hobbling pretty badly and was looking to get a ride back from Ranger John. She had just taken some prescription-strength ibuprofen and offered some to me, but I passed. I figured I'd just take it slow and push through.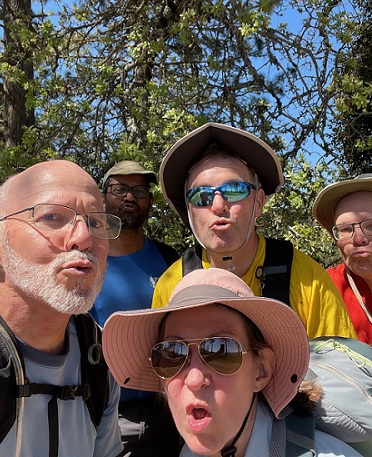 George made us all pucker up under the mistletoe
I stopped for lunch about halfway along the Jackass Trail. George kept going. The break felt good, and I didn't want to get going again, but knew I had to. I picked up my stuff and started out again at an even slower pace than before. I passed a big group of backpackers along the Poverty Flat Road, and up ahead saw Uncle George again. He'd been going slowly, and taking many wildflower photos along the way.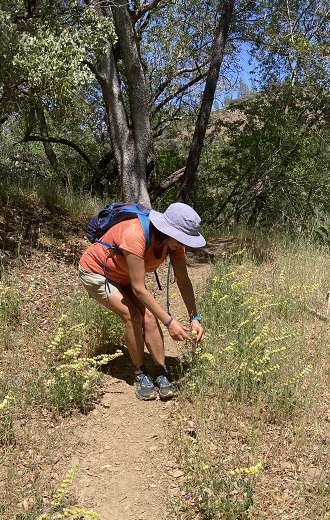 OK, one more flower pic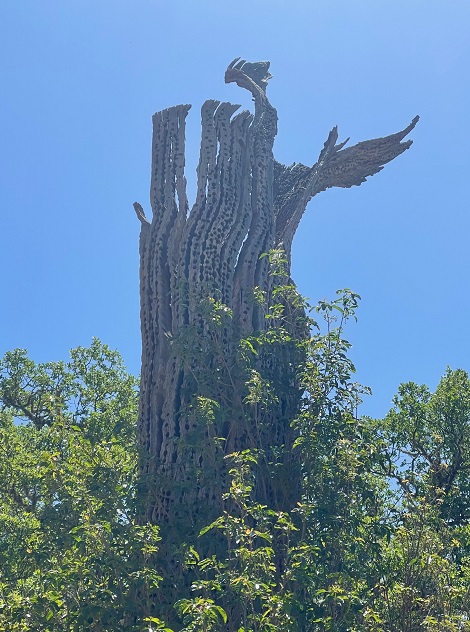 This poor tree just before Poverty Flat has been woodpeckered to death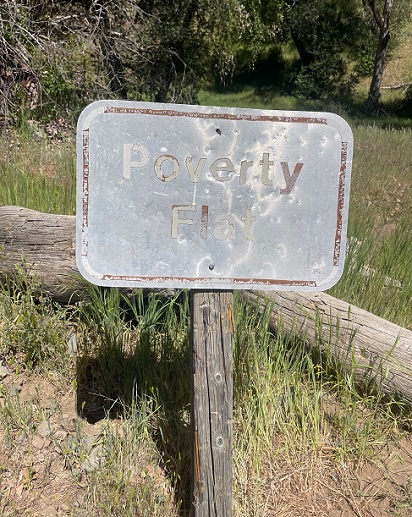 And the sign has seen better days too
We stopped to rest at the Poverty Flat picnic table. I really wanted to bail out and just take Poverty Flat Road all the way back in -- still not easy, but it would save about 1.5 miles and a few hundred feet of elevation, and there would be no damn downhill. George concurred. But just as we packed up and headed out, a Big Henry miracle happened -- my knee stopped hurting! Now I had no excuse, so I had to take the longer Middle Ridge route back in. Damn you, Big Henry!!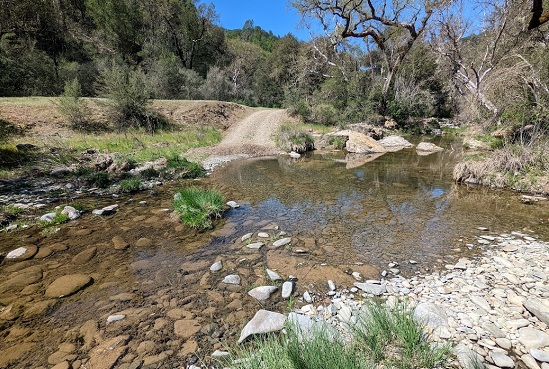 A little bit of water in the creek. Final climb coming up!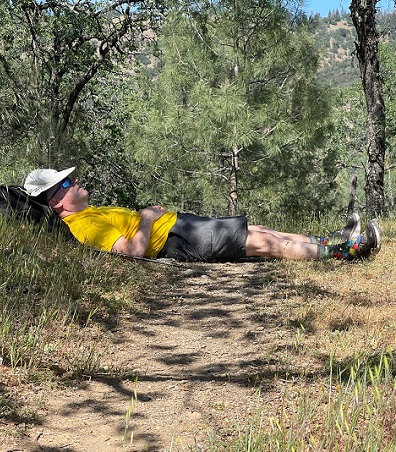 Resting after the slog up the Middle Ridge (some asked if I was levitating in this photo!)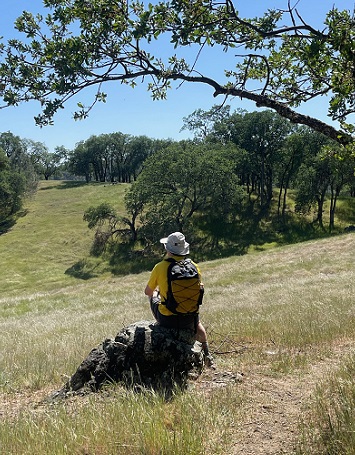 Probably my favorite spot in the park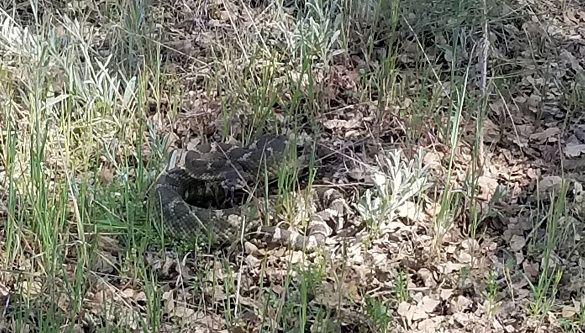 The guy was off to the side of the trail not too far from where I lay down -- he almost got Baltazar! (Arlene got an audio clip of the rattle)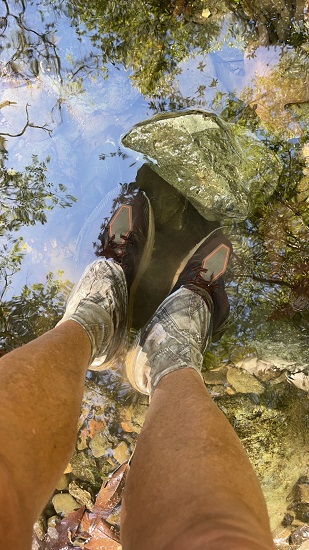 George cooled his heels on the Fish Trail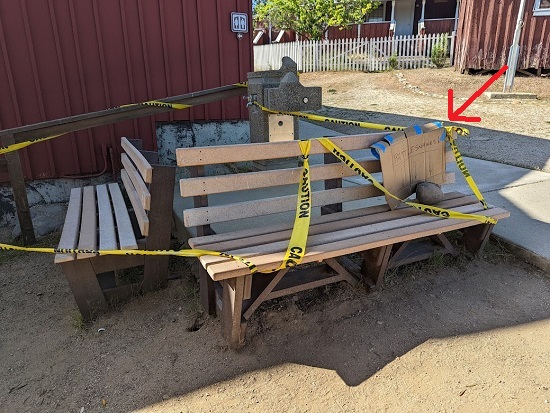 INCH had to move the party spot to accommodate more rattlesnakes ...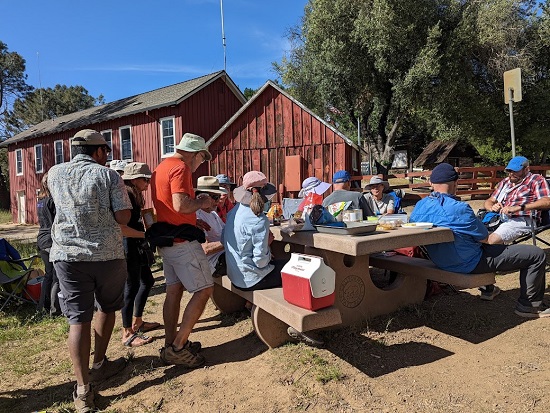 ... but got the party going anyway ...
... while waiting for the stragglers to come in
At least I wasn't the only one tired after the hike!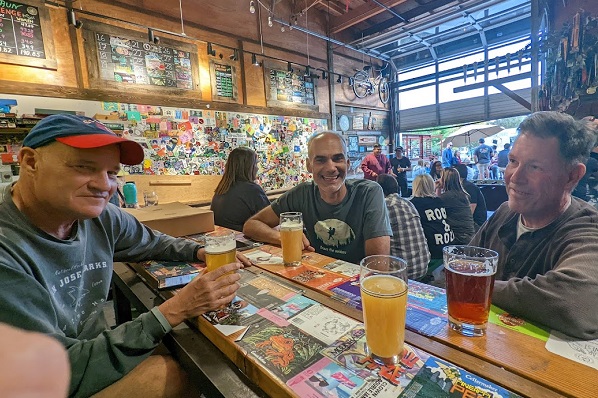 Karl's a smart man -- he skipped the hike and showed up for the after-party
Milestones:
Chinyet's 230th leaf
Christina's 170th leaf
Kevin's 170th leaf
Sandy F's 1st forest







Pages maintained by Steve Walstra, Peter Saviz, and Russell Gee.
©2022 Intrepid Northern California Hikers