1272. Rock House Ridge (11/06/21)

Hikers (26): Adam, Baltazar, Bjorn, Brad, Christina, Crystal, David A, Ellen, Gela, George, Giulia, Hong, Jeff, Jim, Kathryn, Lina, Manfred, Mihail, Milon, Peter, Qi, Rudi, Sarbinder, Shuli, Sophie, Yipeng
Distance: 20 miles
Rating: 5 difficulty, 8 beauty
Park info: Henry Coe State Park east of Morgan Hill

Peter owes a writeup! -- Pictures by Adam, Crystal, David A, George, Hong, Jim, Milon, Qi, Shuli, Sophie, and Peter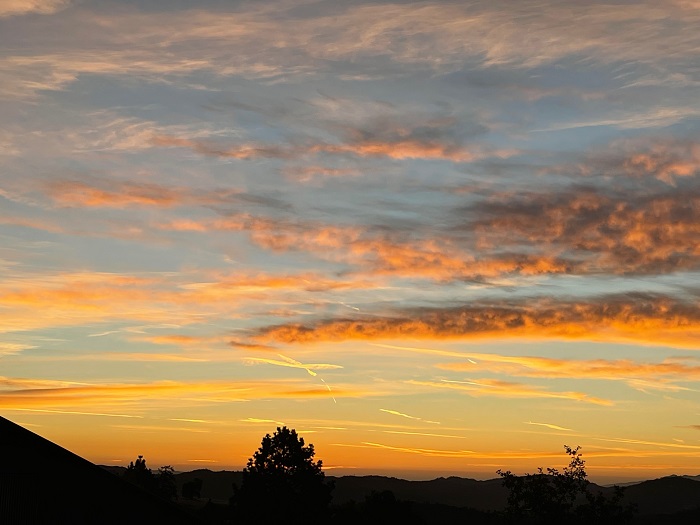 A beautiful sunrise greeted us at Coe!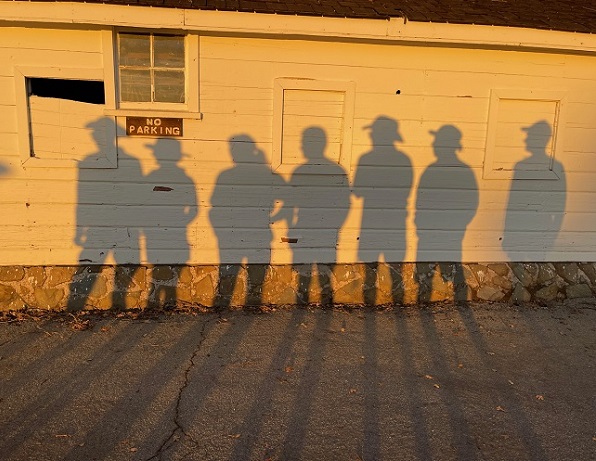 Be careful -- there are a lot of shadowy people around here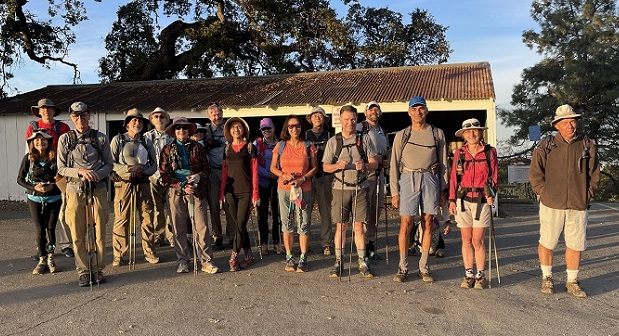 Enthusiastic group ready to get going
And they're off! It would be a long time before I'd see the blue ropes again.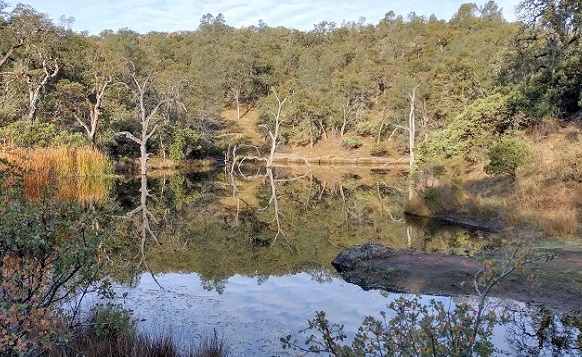 Frog Lake was looking good after the recent rains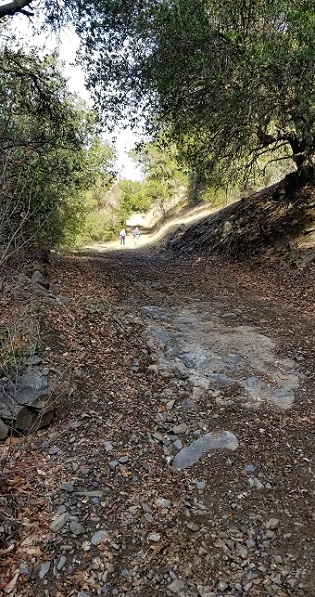 The dreaded climb up to The Bench never gets easier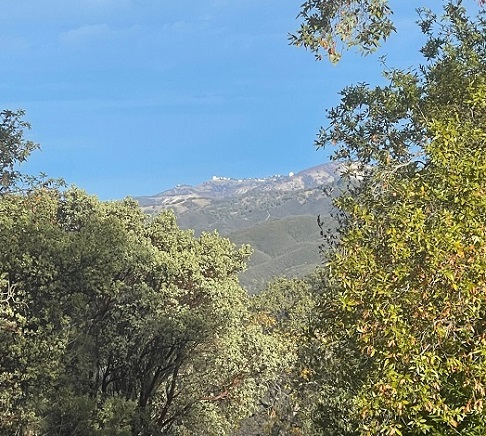 Nice view of Mt. Hamilton from top of the ridge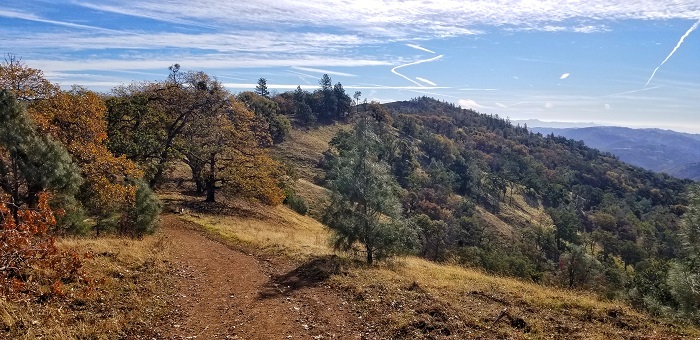 Looking towards Mt. Sizer ...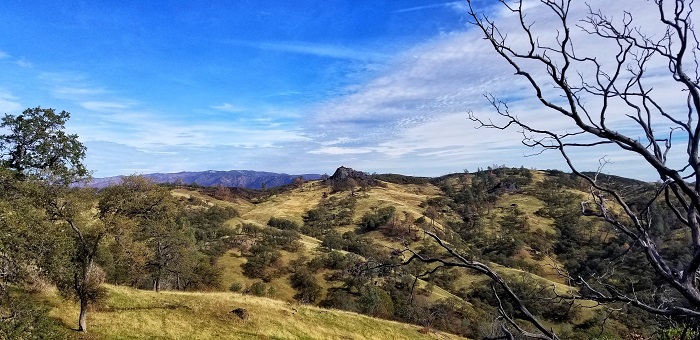 ... then across the valley to Hat Rock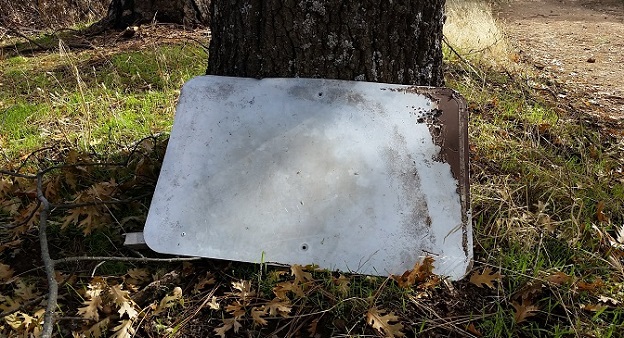 Just follow easy signs!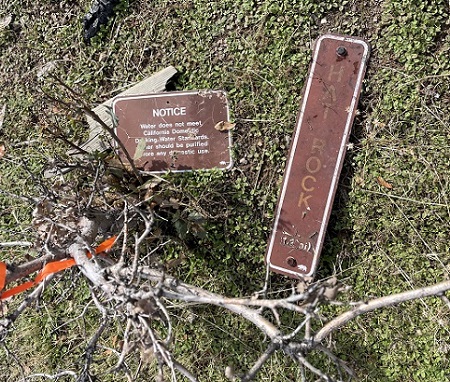 There's no way you can take a wrong turn! Good thing there were ribbons along the trail for those of us who don't use GPS.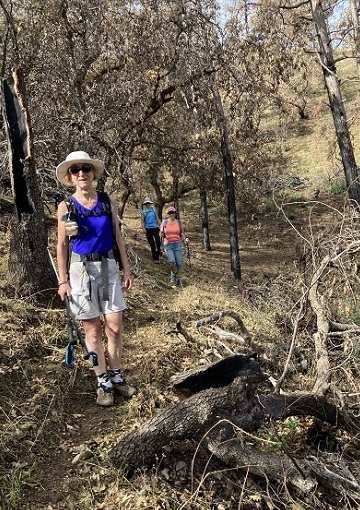 The ladies showing how it's done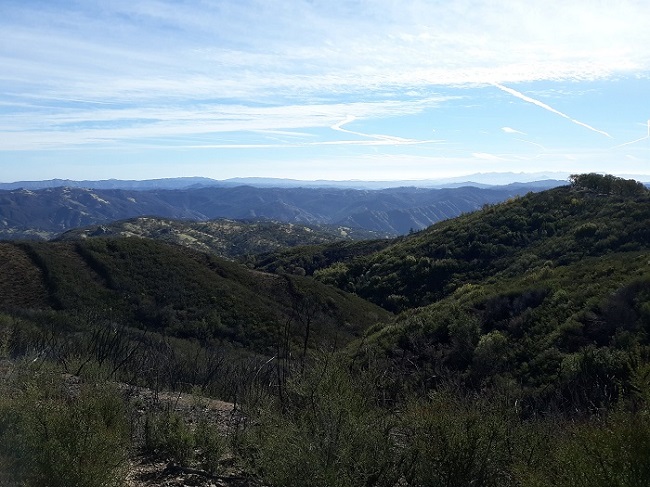 Some folks took me too literally when I wrote "get there any way you can", and took the road from Sizer to Hat Rock. For shame!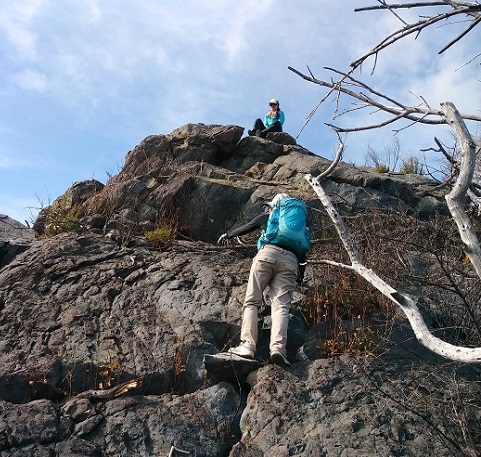 Newbies decided to climb The Rock ...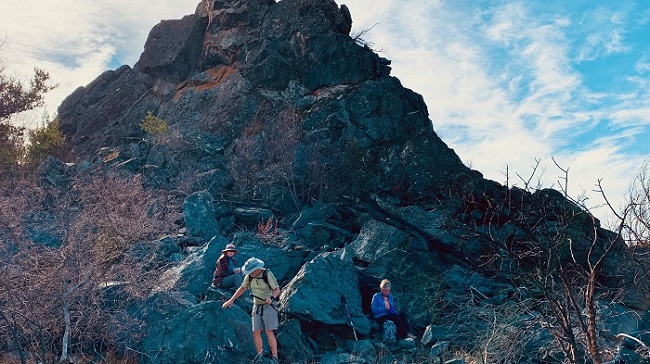 ... while old-timers just looked for a place to sit.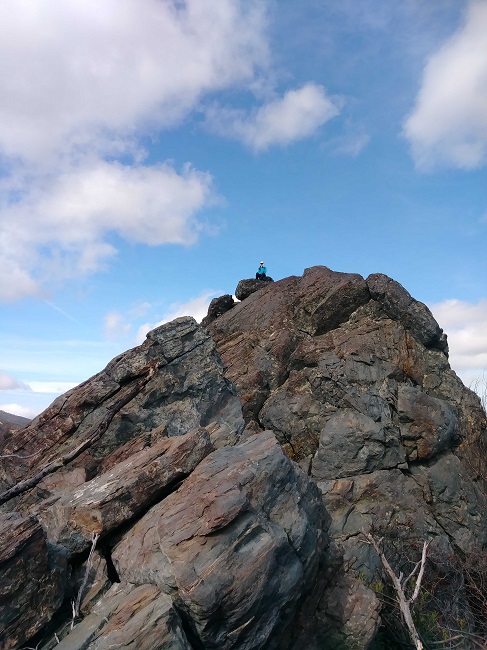 Crystal didn't want to come down!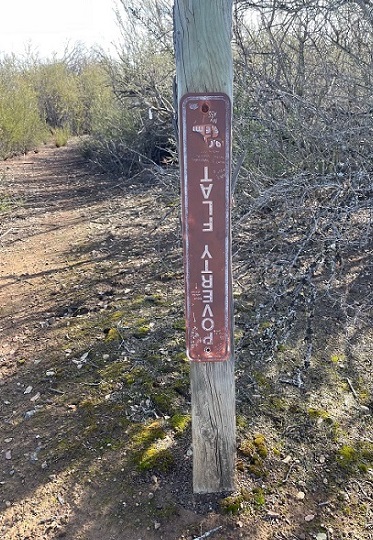 Now just follow more easy signs back to HQ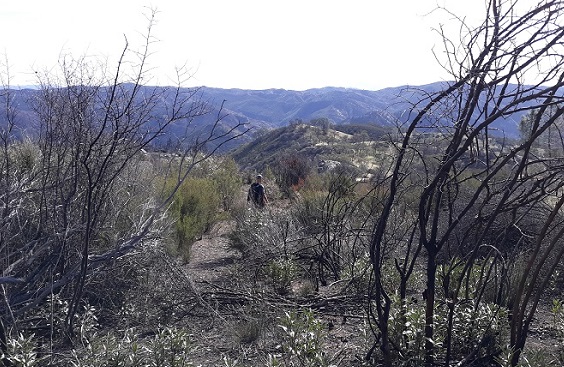 Jim fighting his way through the burnt brush on Rock House Ridge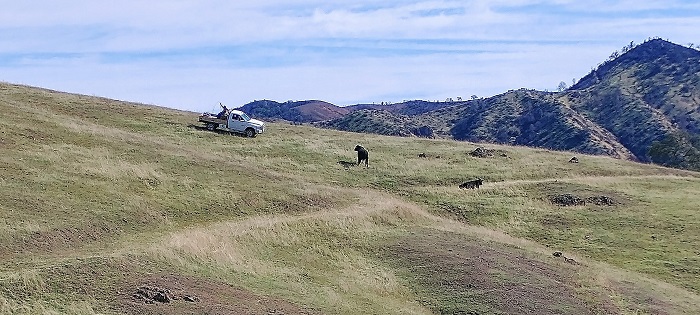 Jim and Shuli saw real cowboys rounding up a pair of tranquilized bulls. They used three dogs to harry one of them back toward the truck. Note the actual lariat being wielded by the guy on the truck. Yee-haw!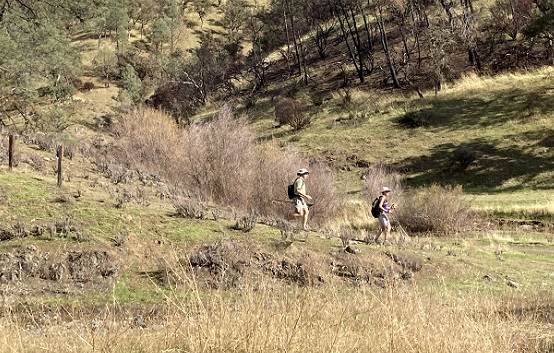 Meanwhile UG and Giulia were literally running to Karri Junction (no wonder they finished hours ahead of me).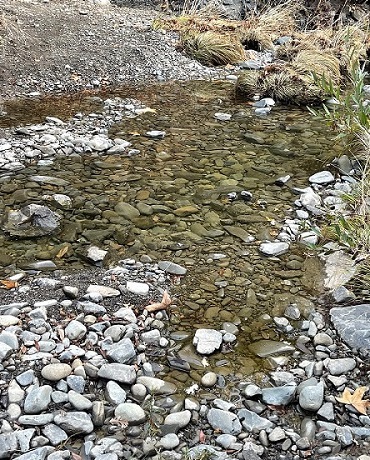 Good to see a little water in the creeks. I walked along the Narrows for a bit and then took Shafer Corral Trail up to the main road for a change.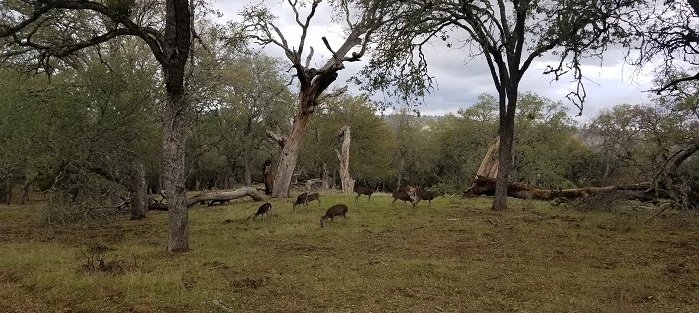 Oh, deer!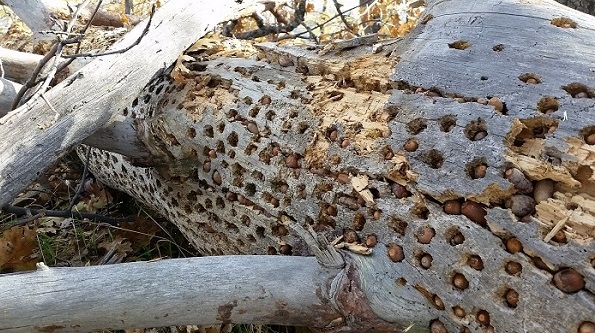 We must be nuts!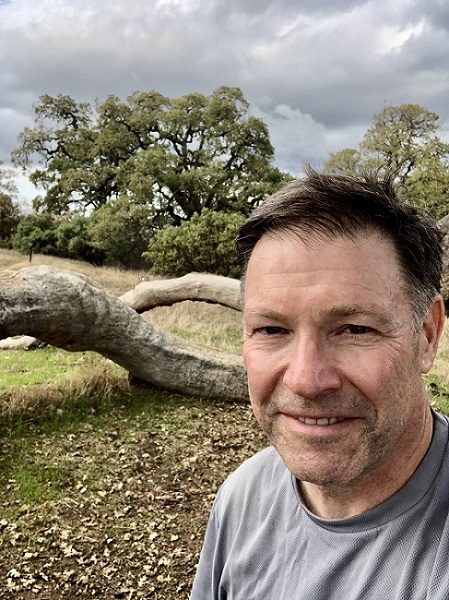 I felt like this dead tree after hauling myself out of Poverty Flat ... 18 miles down, 2 to go.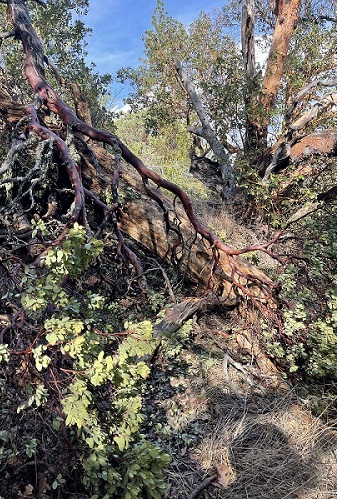 Big Henry (literally) threw down one last challenge -- getting around this fallen tree on the Forest Trail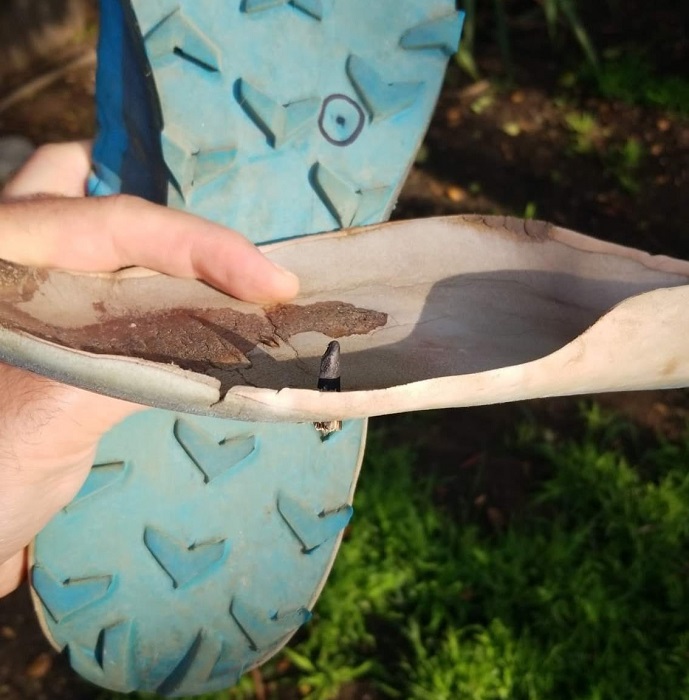 Adam got stabbed in the foot by chaparral -- right through the sole!
Milestones:
Kathryn's 280th leaf
Peter's 610th leaf







Pages maintained by Steve Walstra, Peter Saviz, and Russell Gee.
©2022 Intrepid Northern California Hikers