800. Garland Ranch (10/15/11)

Hikers (17): Angelika, David, Iris, Isai, Jeff, Karl, Kathryn, Linda L, Paul, Sabine, Shuli, Sophie, Sparky, Steve, Thomas, Wendy, Yipeng
Distance: 15 miles
Rating: 4 difficulty, 9 beauty
Park info: Garland Ranch in Carmel Valley

Write-up by Steve -- Pictures by Karl and Iris
We learned from our previous visit to Garland Ranch that it has some impressively steep hills to go with its varied and attractive scenery. Seemed like an apt selection for #800, with the bonus that final route would look like a stretched number eight. Much to my surprise (or chagrin), several people bemoaned that the hike wasn't easier and closer. This is INCH, remember? For reference, see hikes 400 and 500. I even tried to make 700 worthy, but it just happened to turn out easy.
Whatever the case, 17 stalwart INCHers showed up for big #800. About half the people had been on the previous Garland Ranch hike, so knew what they were getting into. The rest found out the hard way.
1-2-3 INCH!
The hike started out with a bang, heading steeply up past Fern Pond, to Inspiration Point, and up Sky Trail to Snively's Ridge. I started leaving arrows along the way when I was out of range of the group, and watched as the next hiker (Kathryn) blew right by the first arrow. No one reads a map if there is someone ahead of them, and if that person gets out of sight, momentum seems to set in. . .Oh well, everyone eventually got back on track.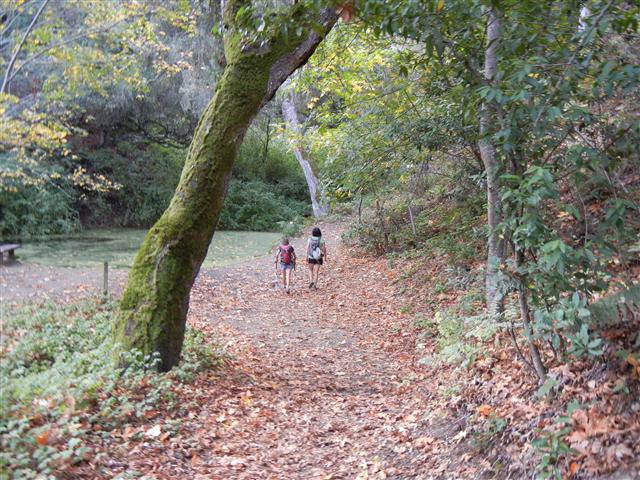 Fern Pond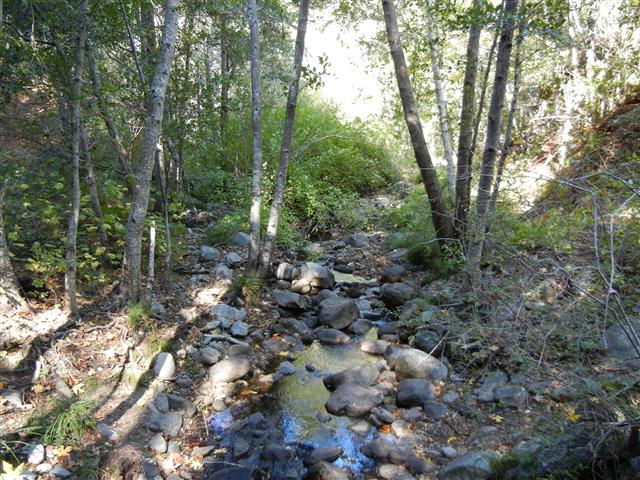 Happy creek along the trail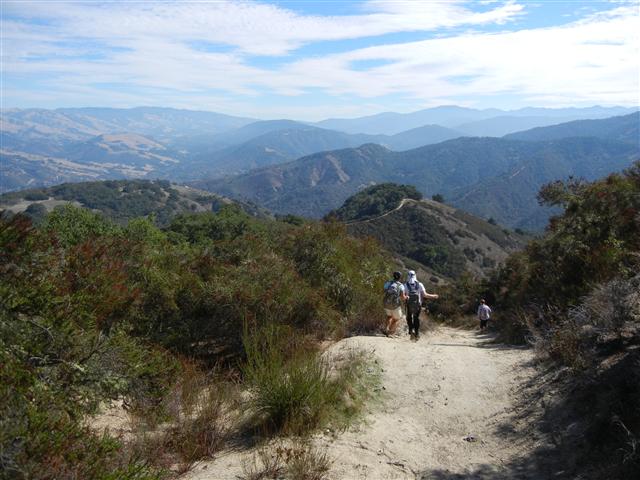 After every steep uphill is a steep downhill
We headed down, down, down off Snively's Ridge to a creek. From here we went up Redwood Canyon. In addition to the redwood, the trail also had plenty of seasonal footbridges for crossing the creek. Eventually we were heading up the steep East Ridge Trail, which everyone knew was coming because it looms in front on the way down Snively's Ridge (see picture above).
Near the top of East Ridge, we went to the end of the Vasquez Knob trail. Those near the front (Sabine, Jeff, Yipeng, and Shuli) headed up with me to the actual Knob, which isn't particularly impressive, but it does show up on topographical maps, so that's reason enough to visit. They also guided me out of the tree I had climbed to get a geocache. . .but that's another story. On the way back, we ran into a group of INCHers just making it to the gate.
With the summit done, my leader-ly duties were relaxed, so I started picking up geocaches, which quickly put me behind everyone. I tried to pick up the pace, but didn't catch anyone until coming up Spring Trail. There I saw Sparky, coming down Saddle Trail from the wrong direction. She assured me she was lost, and not just short cutting a mile off the hike. . .she took the trail I had come up as some sort of penance.
After Sparky, it was an even longer period until I saw anyone else. That happened on the next big uphill of Garzas Canyon. I was perplexed as I passed Iris and Kathryn, who were toward the end on the way up, because I could see a larger group just ahead of them including Sabine and Yipeng (who had been toward the lead). Considering I had been going full speed, I was certain that Iris and the slow crew had short cut somewhere! Long story short, it turned out Sabine and Yipeng had taken a long cut (i.e. got lost) by taking Terrance Trail instead of Garzas Canyon (the same thing Kirk tried to do last time), which explained why the two groups were now together. So much for my conspiracy theory.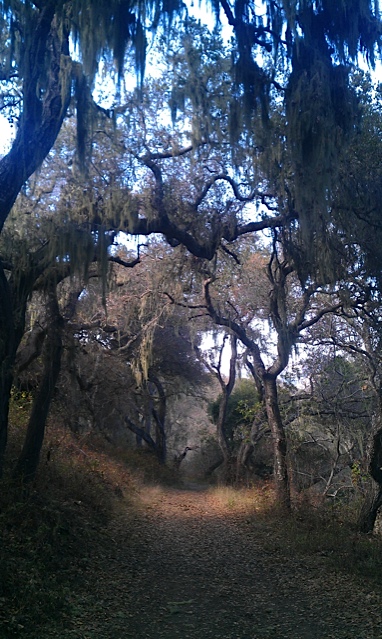 Spooky lane
There was much posing near the rock wall toward the end of the hike.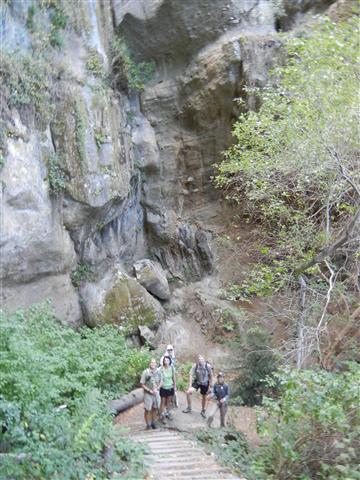 Rock wall near end of hike
At the end of the hike, there was much celebration. Iris made an INCH edible piece of art, as seen below. We ate and drank for quite a while before everyone headed off. A great hike and great festivities for a major INCH milestone!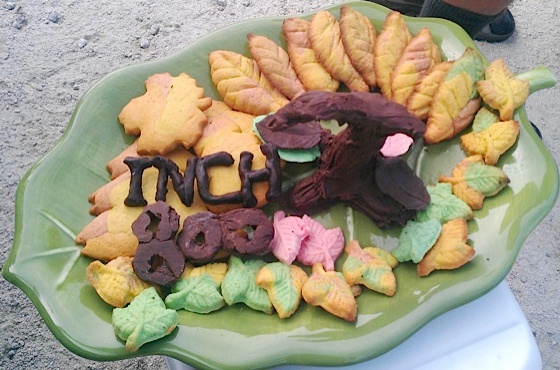 Iris's leaves within a leaf
Milestones:
Jeff's 140th leaf
Karl's 90th leaf







Pages maintained by Steve Walstra, Peter Saviz, and Russell Gee.
©2022 Intrepid Northern California Hikers