1010. Mine Hill Loop (12/05/15)

Hikers (35): Alan, Baltazar, Bill M, Biz, Bob W, Brad, Carol, Chinyet, Christophe, George, Gloria, Iris, Jackie, Jane, Janice, Jarda, Jeff, Jeffrey L, Jim, Jiri, Kathryn, Kendra, Mihail, Peter E, Praveen, Ross, Rudi, Russell, Sarbinder, Shuli, Steve, Suetfei, Xiuyan, Xun L, Yipeng
Distance: 15 miles
Rating: 2 difficulty, 7 beauty
Park info: Almaden Quicksilver County Park in south San Jose

Write-up by Steve -- Pictures by Biz
So I get a cryptic message from Russ's wife suggesting he's on his death bed, asking if I could run his hike. Then I realize it's a day before his birthday. Was he playing hooky? Speculate whatever you like. Happy B-day Russ!
Since it became my hike, I added a trip to Church Hill to express my flair, which several people commented was their first visit despite being Almaden regulars. That's what INCH delivers.
1-2-3 INCH!
Besides the incline a few miles after the start of the hike, it was a cake walk. Once Church Hill was conquered, the only other interesting point is Senador Mine on the other end of the park. After that, it was a quick loop around Mine Hill Trail to shady New Almaden Trail, all the way to the parking lot. A surprisingly robust party ensued. A few bottles of wine later, Peter E appeared high in a tree, and several women and men pursued him. You had to be there! Perhaps it was the mercury fumes.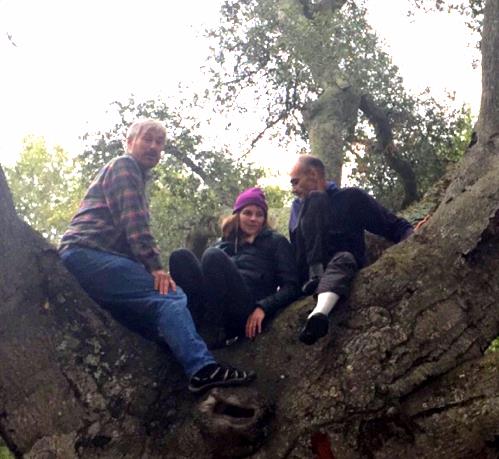 Tree-some
Milestones:
Iris's 120th leaf
Jarda's 10th leaf
Praveen's 10th leaf
Shuli's 160th leaf







Pages maintained by Steve Walstra, Peter Saviz, and Russell Gee.
©2022 Intrepid Northern California Hikers