965. Montara Mountain via San Pedro (01/17/15)

Hikers (33): Adam, Bill M, Brad, Carol, Chinyet, Chris P, George, Giulia, Hima, Jackie, Jane, Janice, Jeff, Karl, Kathryn, Kendra, Nagendra, Padraig, Patrick Be, Peter E, Peter M, Robert, Russ, Sarah, Sarbinder, Shuli, Sophie, Steve, Thai, Tiffany, Tim R, Vicki, Wendy
Distance: 7 miles
Rating: 2 difficulty, 9 beauty
Park info: San Pedro County Park in Pacifica

Write-up by Steve -- Pictures by Sarbinder, Eric L and Karl
I had skipped the last two hikes because they were too short. . .so why was I committing the same crime with a 7-mile hike? Well, I wanted to allow a few variants but not "require" (hint: lead) them.
1, 2, 3. . .INCH!
After the notice went out, Kendra warned me that there was a run going on in the park the same day. Based on the details, I picked a route that would maximally avoid the runners. Luckily, all the races were scheduled to start before the hike, so at least we wouldn't have throngs of runners standing around in the parking lot. As it turned out, the first 0.5 miles was definitely swimming against a tide of runners, but the next mile (which was not on any of the running routes) was clear and by the time we reconnected with the course again, only a few stragglers were still coming down from North Peak.
I had told everyone I'd wait ten minutes at the top before setting off on the longest variant of the hike. Most of the INCHers were there by the ten minute mark, and eight of us headed off for a cool destination INCH hadn't visited in seven years. The previous visit had been foggy, which had lent a "magical" element to the whole thing. This time it was clear, so the route-finding was easier and the distant views much better.
As if that weren't good enough, when we returned, the post-hike party was still going strong! It turned out that many people had done the 13-mile variant of the hike, and four did a 10-mile variant by getting lost. . .but, thanks to the magic of GPS-enabled phones and map overlays, turned it into a loop (by walking through a residential area), so kudos to them for the save.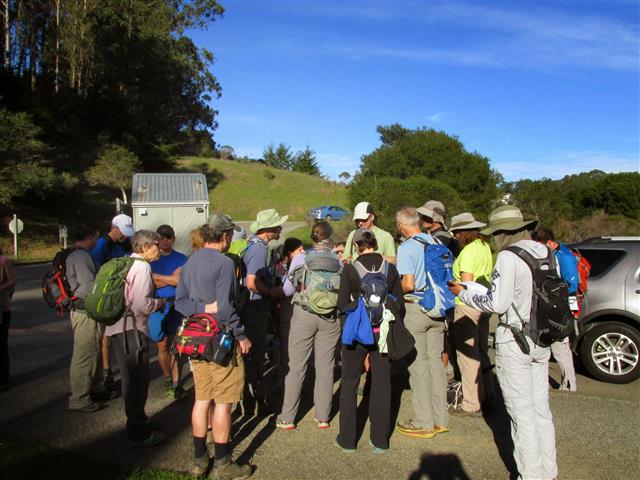 Preparing for the start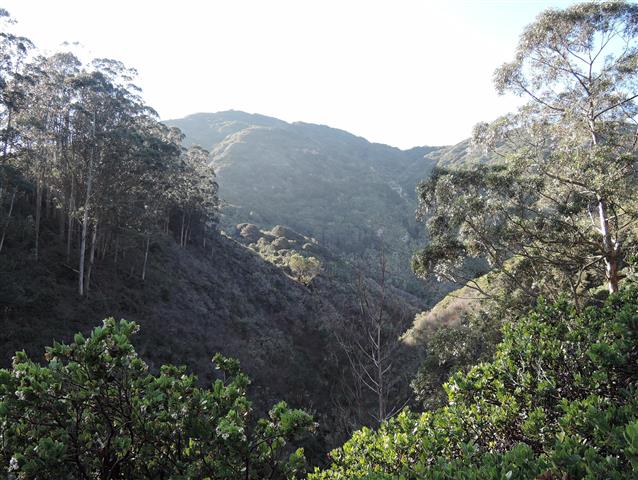 The view up Brooks Creek toward the summit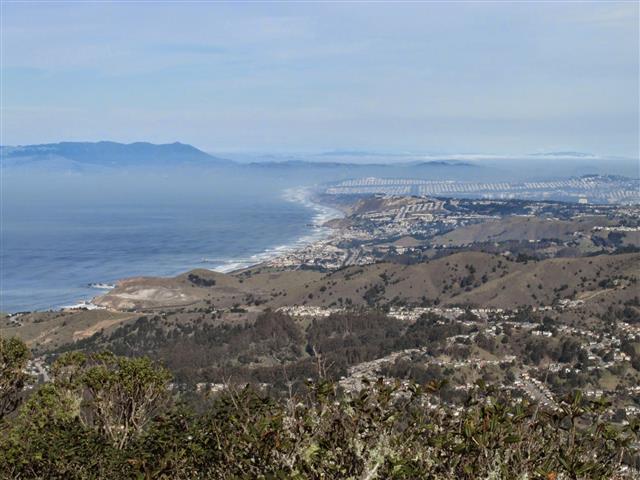 Pacifica from Montara Mountain Trail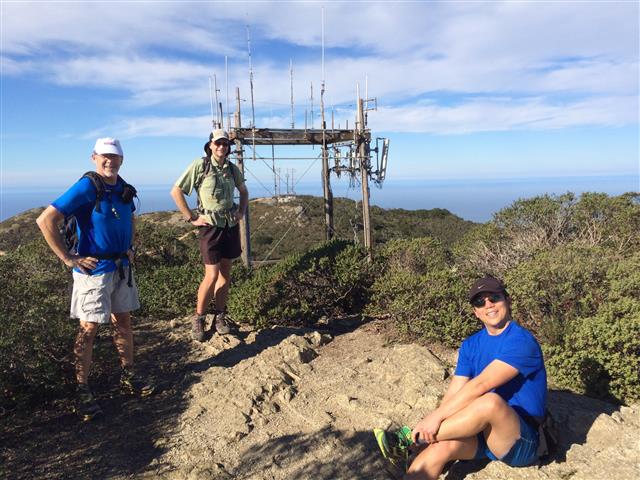 The "front runners" chill at the peak. . .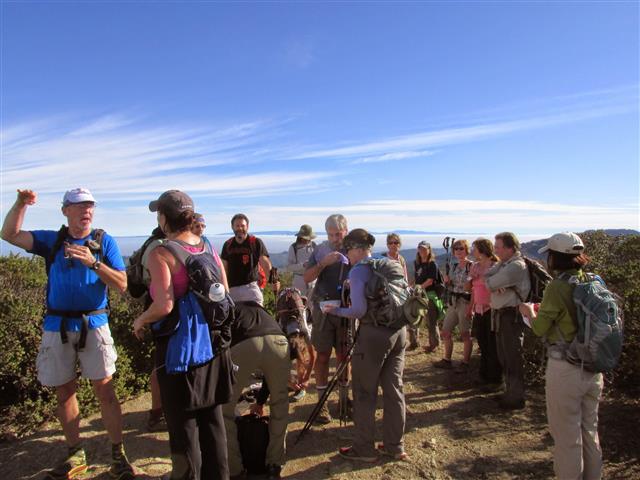 . . .and soon everyone is there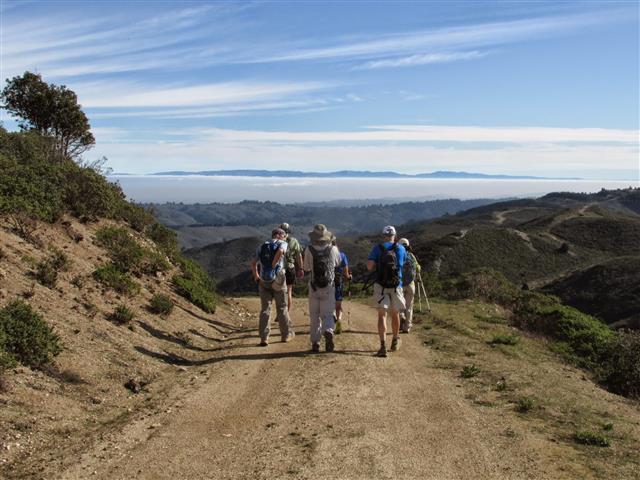 Setting off for the longer variant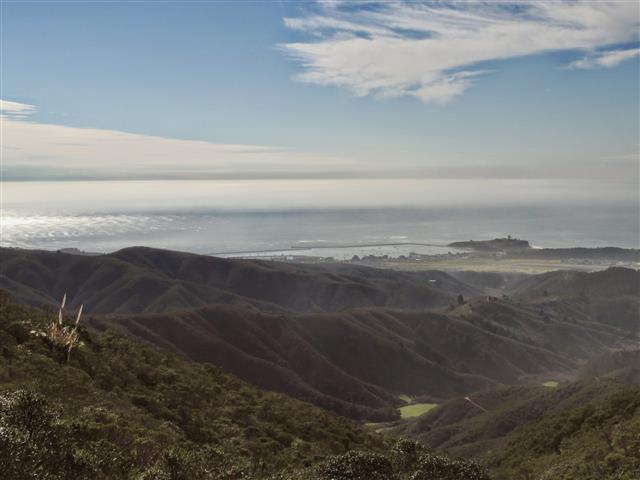 View from the ridge down toward Sail Rock and El Granada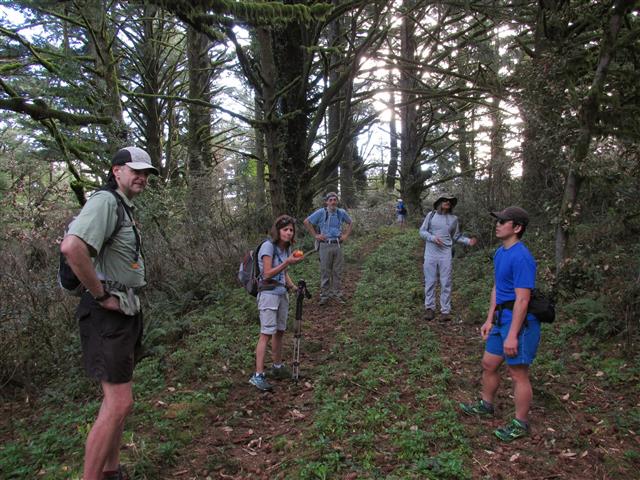 The best area on Montara Mountain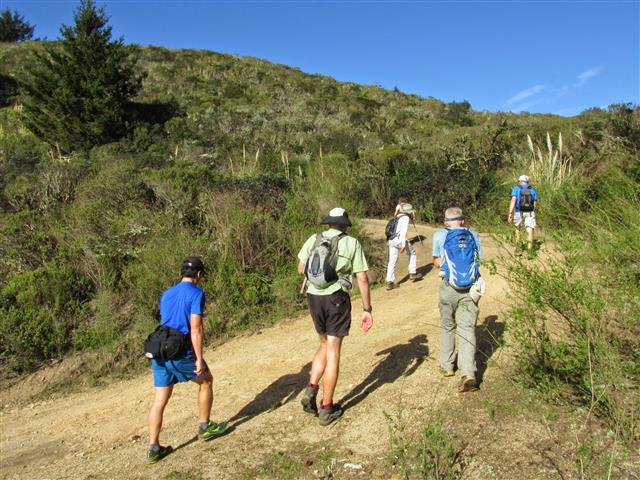 Heading back for beer






Pages maintained by Steve Walstra, Peter Saviz, and Russell Gee.
©2022 Intrepid Northern California Hikers