1300. Huddart Park Loop (05/29/22)

Hikers (84): Aaron R, Adam, Adelaide, Alan, Alex R, Arlene, Arthur, Baltazar, Biz, Bunny, Callum, Carol, Cecilia, Chinyet, Chris P, Chris R, Clive, Crystal, Dan L, David, David A, Edita, Ellen, Eng-Shien, Gela, George, George Re, Giulia, Glen, Helen, Hima, Hong, Iris, Jarda, Jeff, Jim, Jinglan, John, Karl, Kathryn, Kendra, Kevin, Kristy, Linda, Manfred, Max 2, Megan P, Mihail, Mikael, Mike, Mike H, Mike He, Milon, Nagendra, Nick S, Nohemi, Padraig, Peter, Peter E, Peter M, Qi, Rainer, Ralph, Robert, Ross, Rudi, Rufina, Russ, Sandy F, Sarah, Sarbinder, Shuli, Sophie, Sparky, Steve, Susan S, Theresa, Tiffany, Tina F, Tina R, Vicki, Yenya, Yipeng, Yvon
Distance: 8 miles
Rating: 2 difficulty, 8 beauty
Park info: Huddart County Park in Woodside

Write-up by Peter -- Pictures by Janice, Jarda, Jeff, Jim, Milon, Qi, Rufina, and George
I'd been thinking about this day for a long time. We'd been planning to end INCH after our 25th anniversary, but were talked into extending it by one year. Over the last few weeks many people had been asking me "Is this really it?", and attempting various bribes (beer) to get us to change our minds. I wish we could have ended it at Big Basin, but it was not meant to be, so we went back to Huddart as we had done the previous year.
It was a surreal feeling knowing that this was my last time driving to an INCH hike, and there was some doubt in my mind as to whether we were doing the right thing. I was wrestling with these thoughts while driving along 280. As I approached the Woodside Road exit, Green Day's Good Riddance came on the radio. I remember this song came out shortly after we began INCH. The part that always stands out is the chorus:
It's something unpredictable
But in the end, it's right
I hope you had the time of your life

I turned off the radio after that, and drove in silence the rest of the way.
A mighty crowd had started to assemble. I had checked the website and had not seen any rules against or permits required for a large group, so I was keeping my fingers crossed that we wouldn't get thrown out on our last hike. Here we go, one last time ...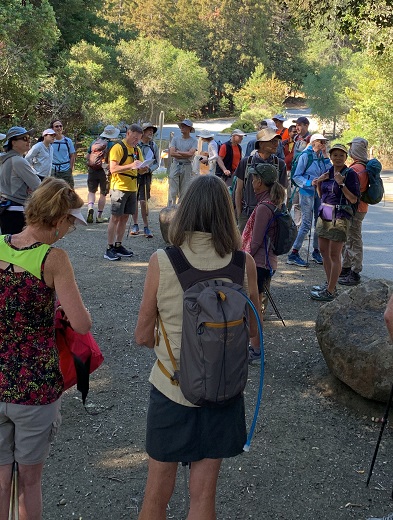 Taking roll call was a challenge ...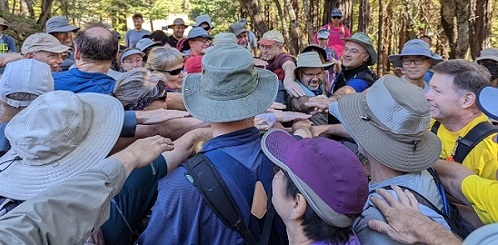 80+ got cozy for the last INCH cheer -- 1, 2, 3 ... INCH!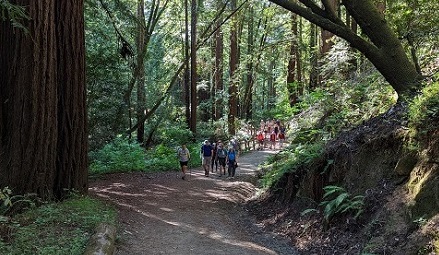 We went for a party and a hike broke out!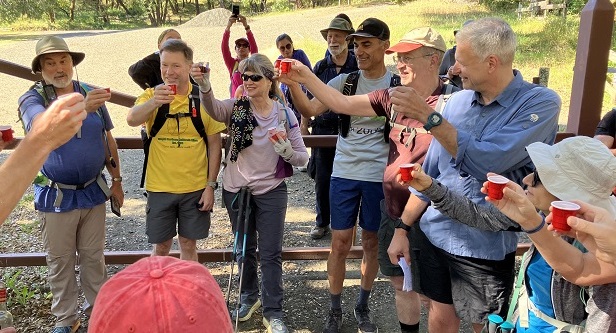 Kathryn was the last person to get an INCH milestone 151 shot -- cheers!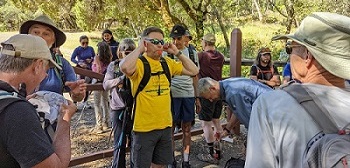 Many INCHers offered to crush the damn whistle at the end of the hike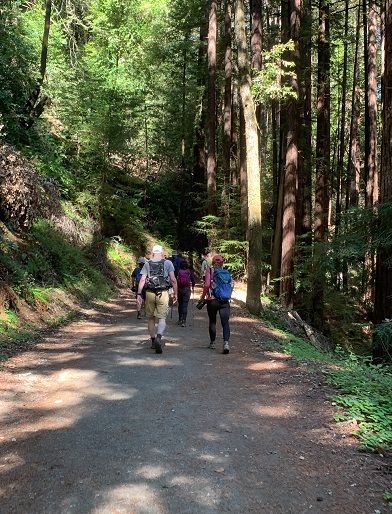 Continuing on under the beautiful redwoods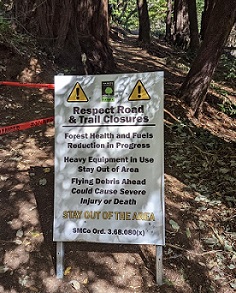 As often is the case with INCH, the hike does not go according to plan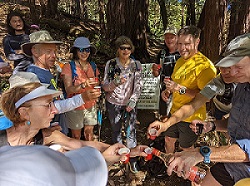 But it allowed us to hold up the crowd and do the second shot -- cheers again!
This being the last hike, many of the INCHers who would normally be way ahead of me were hanging back and savoring the last few miles. In fact, they were holding me up! There's a party to get to! I called up ahead for them to pick up the pace, and of course George made everyone come to a complete stop just to give me a hard time. UG!!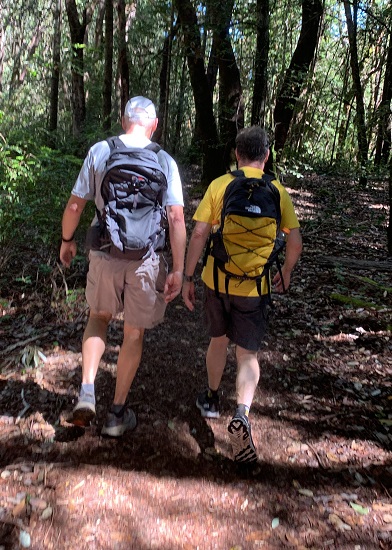 UG and I heading to the finish line
I tried to get back quickly so I could high-five people as they came in, but many finished ahead of me and others took different routes in (as usual on both counts).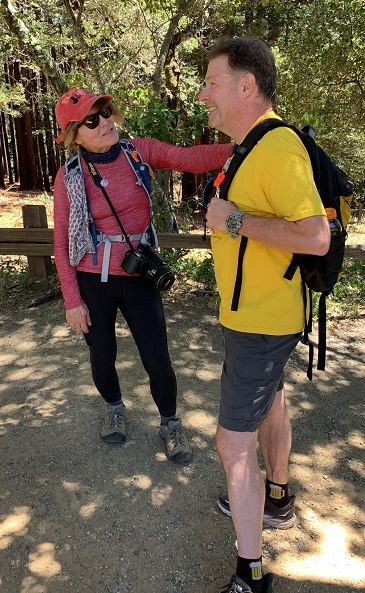 Helen tried to negotiate for a Black Leaf -- if you want one, you can't have it!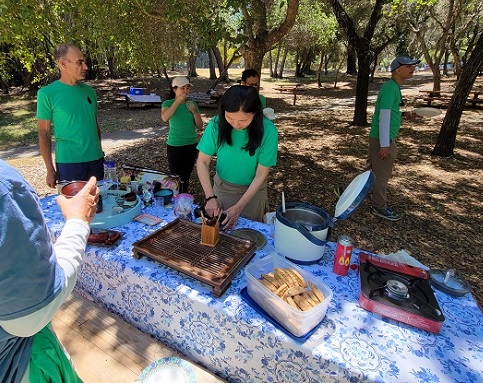 Setting up the party
Scott did the honors and cut the celebration cake that Jinglan had brought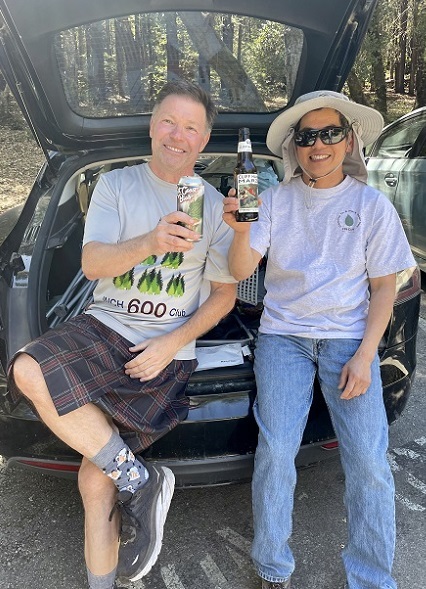 Eugene's last hike with us was in 2009, but he showed up for the farewell party!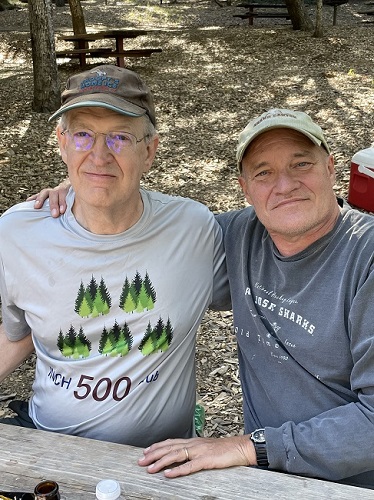 A couple of grizzled INCH veterans with a lot of battle scars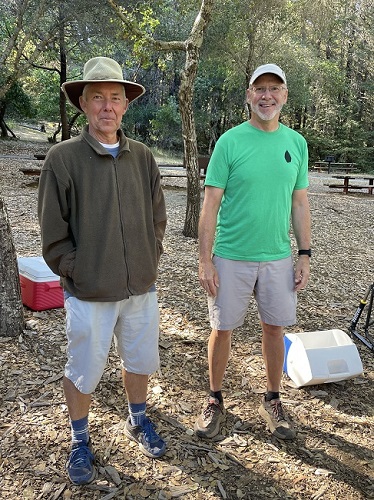 I'm sure Rudi and George will still be making trails long after INCH is done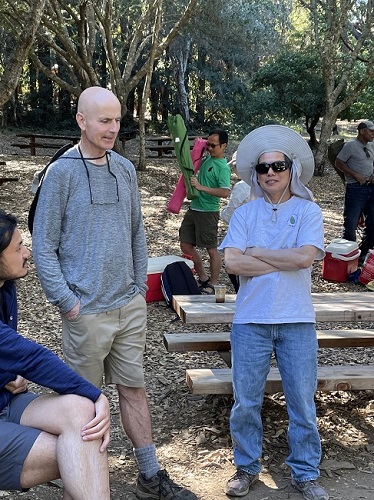 The construction firm of O'Reilly & Chang discussing their next project
(O'Reilly is the Chinese guy and Chang is the Irish guy)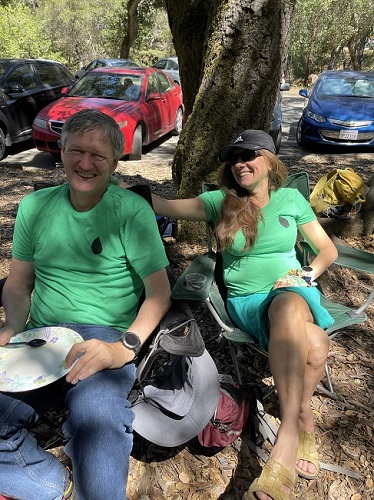 Gela is smiling because she's not doing the 250 mile hike around the Bay with Manfred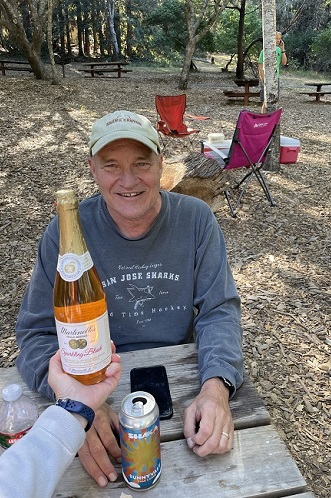 Karl got a hard time for drinking ros&eacute wine from a guy wearing a kilt
INCHers gathered by year of their first hike

Happy 1300th INCH!
It was definitely a bittersweet day and one that I will remember for the rest of my life. Big thanks to George for organizing the post-hike party, including T-shirts and photos organized by year of joining. A special shout-out to David and Alan who drove hundreds of miles from Boise and San Diego respectively to be here. It was great to also see a bunch of old friends who joined us for the celebration -- Blinky, Brad, Christina, Eugene, Janice, Hoy, Stacy, Su, Scott & Wennie & their twin girls. Jane and her son also did a portion of the hike. Almost 100 people were part of the last event!
Epilog: In April 1996, my sister Camilla gave me a birthday gift -- The Complete Guide to California Hiking by Tom Stienstra and Michael Hodgson. A few weeks later, on Memorial Day weekend, I suggested to my girlfriend (later my wife) Taylor and couple of Intel co-workers, Russ and Steve, that we should go for a hike, so we headed down to Big Basin. We thought it was fun, so we did it again the next week. We started to invite some other friends to join us on hikes in the following weeks, and this became a group that I named the Intrepid Northern California Hikers (INCH). I came up with the idea to log our adventures on a website and give people leaves and trees to count the number of hikes they had done with us. A couple of years later, Steve took over the website and greatly expanded it with many cool features such as the sign-up sheet, many different stats, etc. Since then, 1200+ people have joined us on 1300 hikes. Altogether we have covered 325,000+ miles (13X around the globe) and had many wonderful adventures and memories that we will keep forever. For those who were with us on the journey -- I hope you had as much fun as we did. Cheers!
Milestones:
Aaron R's 1st leaf
Adelaide's 1st leaf
Alex R's 1st leaf
Arlene's 240th leaf
Arthur's 10th leaf
Baltazar's 90th leaf
Callum's 1st leaf
Dan L's 20th leaf
Eng-Shien's 1st leaf
John's 110th leaf
Kathryn's 151st leaf (and shot) × 2
Max 2's 1st leaf
Mike H's 10th leaf
Peter's 620th leaf
Tiffany's 90th leaf
Tina R's 1st leaf







Pages maintained by Steve Walstra, Peter Saviz, and Russell Gee.
©2022 Intrepid Northern California Hikers